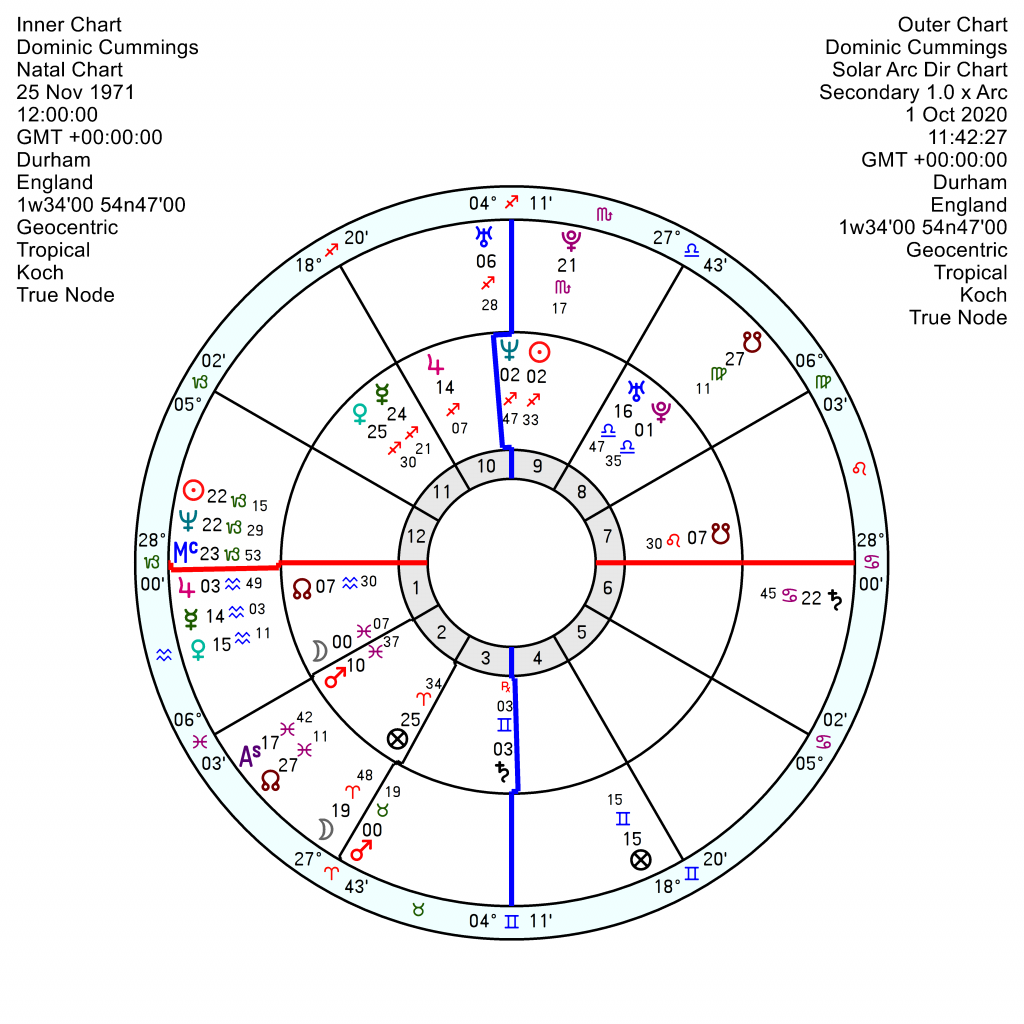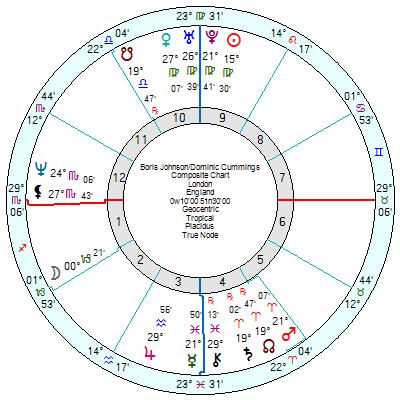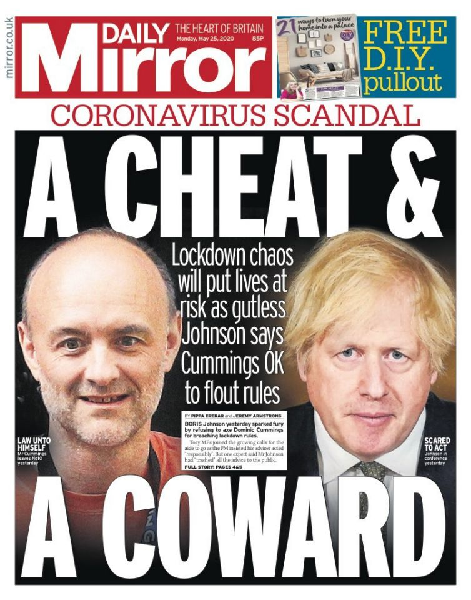 Dominic Cummings, Boris Johnson's special adviser and 'dark arts' practitioner, has garnered a toxic reputation like many PM advisers before him which eventually led to their downfall and ousting. Indeed he's been round this circuit before as bagman for Michael Gove in the Department of Education when the dirty tricks and abusive name-calling of opponents got to such a pitch in 2014 that Gove was removed to a political sinecure.  Cummings reinvented himself via the successful if less than honest Vote Leave campaign into Brexit and thence onto No 10.
He's had significant crashes in his career including early on involvement in a "spectacularly unsuccessful" project to set up an airline in southern Russia where he spent three years after university.
Described as "mad, bad or brilliant – perhaps all three", he's known not to suffer fools or those who disagree with him gladly and is openly contemptuous, often in offensive language.
Born 25 November 1971 in Durham, he has a Sun Neptune in Sagittarius opposition Saturn in Gemini square Mars in Pisces. A focal point Mars tends to be strong-willed and aggressive, attracting antagonism and conflict. In a Mutable sign it makes him scattergun in approach and high-wire in temperament, often not successful because he goes off in too many directions at once and lacks focus.
   I'd hazard a guess at an Aquarius Ascendant given his boho-anorak style of dressing and because it would mean tr Saturn was heading downhill in his chart over his Russia fiasco in the mid 1990s.  That possible birth time circa 1pm would put his self-righteous Jupiter in his 9th with his antagonistic Pluto in his 7th, and Mars in his 1st. Maybe wrong but makes sense.
   His chart was head-scratchingly obtuse over Boris's win and indeed Brexit – he clearly has odd reactions. Though on a 1pm birth time it would put tr Saturn heading for his Midheaven and now moving through his upper quadrant thereafter until 2021/22 which would make sense. Thereafter he may sink again.
  For all his sang froid he looks seriously shaken this month, which is when the Boris government chart starts its meltdown. (See previous post).  Cummings will be jittered, jangled, nerve-stretched and making bad decisions for several weeks. He'll get a lift in this December and next February but is heading for real disaster come mid-March into April 2021, repeating in September and the New Year into 2022. He'll be tripping over  one disaster after another. The Solar and Lunar Eclipses from mid 2020 to late 2021 are rattling up his five Sagittarius planets so it will be a crisis point in his life.
  His relationship with Boris is one of the world's great mysteries since there's a bad-tempered and restrictive composite Mars Saturn in their relationship chart which is (even worse) in a hostile inconjunct to Pluto; an argumentative, conflicting-standpoints Mercury opposition Uranus Pluto and a needs-space Venus conjunct Uranus.  And their synastry is no better, with Cummings T Square of Sagittarius Sun Neptune opposition Saturn square Mars colliding with Boris's Saturn in Virgo opposition Uranus Pluto square Mars in Gemini. They are absolutely not what the other needs since both go off at tangents and spin around like Catherine Wheels in a Force Nine gale.
  Their relationship chart doesn't indicate an instant separation but there's a decidedly swampy, undermining and dissatisfied feel with tr Neptune opposition the Sun/Pluto midpoint now and then opposition Pluto around that sinkhole phase next March 2021 and continuing on in the same vein into 2022. They don't look in lockstep or harmony over the alleged Brexit point on December 31st.
  Cummings and Carrie Symonds are not remotely sympatico and the gulf between them will widen late this November into December with tr Saturn conjunct the composite Mercury, Sun. with upheavals through December and aggro over the New Year till late January; with more fireworks from mid 2021 onwards.
With his old buddy Gove, he's sensing panic in the air now with a definite chill between them from mid November through December; by late March 2021 onwards they won't know where to turn – and whatever they had going as a partnership will be sinking in a morass of question marks.
With the Chancellor Rishi Sunak, he has an odd connection with a supportive composite Sun trine Jupiter; but the Sun also on the focal point of a composite Yod of Saturn sextile Venus – so a fated bond that will irrevocably change both their lives. It's under darkening clouds from late February onwards for two years with a discouraging mood between them.
Cummings and the Tory Party 1912 aren't a great match with a hostile, power-struggling composite Mars square Pluto which is being upended from July 2021 onwards worsening through 2022.
The UK are no more enamoured of him with a ratchety-dislike composite Mars square Saturn. There'll be more discontentment and disappointment between them from February 2021 onwards, with the March/April dip marked on this chart as well.
Nothing definite regretfully from the astrology. Though none of this batch look remotely chipper as they set foot into 2021.
His chart is better suited to an airline business (albeit unsuccessful) than affairs of state. He does have fairly extensive business interests some of which have raised eyebrows about conflicts of interest.