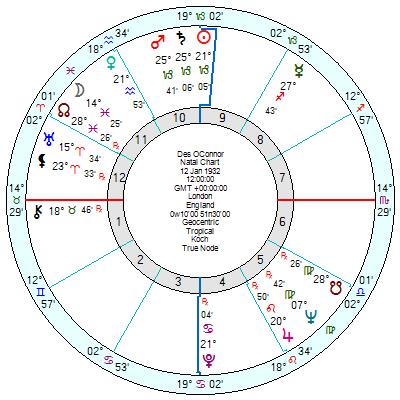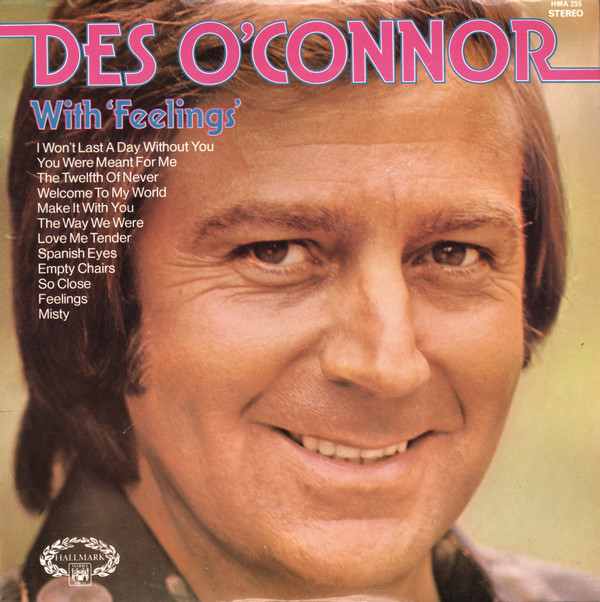 Des O'Connor, the singer, comedian and presenter, known as the quintessence of niceness, has died aged 88. No one had a bad word to say about him. Fellow comic Jimmy Tarbuck said: "He was a joy to work with, the most easy-going and charming guy. The laidback smoothie you saw on stage was exactly the same in the dressing room – never flustered, always upbeat. What made him unique was his generosity with the laughs. Whether he delivered a gag or left the punchline to me, it made no difference – he just wanted to see the audience happy."
What is astro-extraordinary is he had a hair-raisingly difficult chart. Born 12 January 1932 in London with an Irish dustman father and Jewish cleaner mother, the family were so poor he developed rickets as a toddler and had to walk with calipers. He said he blanked out much of his childhood, which had little warmth. He was knocked down by a drunken driver and badly injured; then evacuated during the war to a callous, profiteering landlady who didn't feed him, so he was skin and bones by the time his father tracked him down.
He started performing during his National Service and gradually rose to prominence after a long apprenticeship in the variety theatre.
He had an ambitious Capricorn Sun conjunct a hard-edged and unfairly-treated Mars Saturn in a scary, frustrating, suppressed opposition to Pluto square Uranus. All the cruelty of his childhood tied up there.
  What was his saving grace was an inspirational and ever-optimistic Fire Grand Trine of Jupiter in flamboyant Leo trine Uranus in a wide trine to Mercury in Sagittarius; with Jupiter opposition Venus in Aquarius. With Venus as the leading planet, he had charm in abundance, backed up by a great deal of self-belief, despite his self-deprecating manner.
He was married four times, with three divorces, mainly put down to his workaholic tendencies. Though underneath all that easy-going amiability there would be a good deal of tension and a fair few demons chasing him – as is often the case with comedians.
Oddly enough – in the syncronicity of similar charts popping up the same week – he was born within a week of Matthew McConaughey's mother, who had a wild and very sexual relationship with his father. Time of birth and houses will make some of the difference. But Des O'Connor's public image wasn't as close to the private reality as you might imagine.