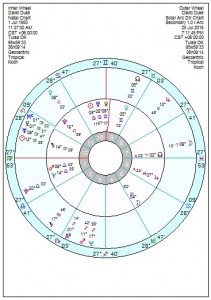 David Duke, former Grand Wizard of the Ku Klux Klan, is one of more than 20 candidates seeking a Senate seat in Louisiana. He is a white nationalist, anti-semitic conspiracy theorist, Holocaust denier and has been an outspoken supporter of Republican presidential nominee Donald Trump, who has finally distanced himself from Duke, after appearing to fudge the issue recently. Duke pleaded guilty to tax fraud in 2002 and spent a year in federal prison. According to The New York Times: "Mr. Duke was accused of telling supporters that he was in financial straits, then misusing the money they sent him from 1993 to 1999….. for personal investments and gambling trips…."
Born 1 July 1950 11.37am in Tulsa, Oklahoma, he's a Sun Uranus in Cancer square Mars Neptune in Libra and trine Jupiter in Pisces, so a maverick, publicity-hungry and confident. With (probably) an Aquarius Moon in an Air Grand Trine to Venus in Gemini trine Mars – ideologues often have a heavy Air emphasis and in his case it is an Air Water chart, so he won't find it easy to find psychological balance, since he fluctuates between feelings and thoughts.
Mercifully he looks to be sinking in 2017 with tr Neptune opposition his Saturn; with confusion this month and across Oct/Nov as tr Pluto squares his Neptune. With worse in 2018 as his Solar Arc Sun is conjunct his Saturn. Though tr Jupiter crossing his Ascendant from this August will no doubt give him a confidence lift to step out into the spotlight briefly.