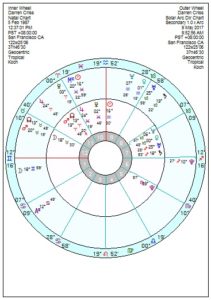 Darren Criss, an American actor, singer, songwriter is a high-energy bundle of multi-talents, best known for Glee and has also co-founded a Chicago Musical Theater company, been lead vocalist on best-selling albums, played on Broadway and is now acting in films.
Born 5 February 1987 12.37pm San Francisco, his father was a banker and patron of the arts and his mother from the Philippines. He studied classical violin from age 5, plays a handful of other instruments, studied the performing arts and first appeared on stage aged 10.
He has an Aquarius Sun conjunct the MC from the 9th square Pluto in the 6th so clearly driven, ambitious and a force to be reckoned with in his working life. His Sun is on the focal point of a mini-Grand Trine of Mars in high-octane Aries in the team-oriented 11th trine Saturn in Sagittarius, so quite ego-centric and loves excitement, but has discipline has well.
He has Mercury in musical Pisces in his 10th  is sextile Neptune Venus in Capricorn and trine Pluto, so not short of persuasive powers or vocal ability. And talented, lucky Jupiter also in his 10th is square Uranus Saturn in his 7th, so he likes taking risks and they usually come off. Plus a 12th house Taurus Moon.
He does have Neptune in the 8th which is often found in movie stars who have the (probably unconscious) ability to project an aura.
His 7th house is packed with Saturn Uranus Venus, so relationships won't be as easy as outer ambitions and success.
He looks set for a super-triumph in four years from now when his Solar Arc MC is conjunct his Jupiter, and clearly has a good deal ahead of him.
His creative 5th Harmonic is exceptionally strong with a Half Grand Sextile, a Grand Trine formed into two Kites, and a T Square. His creative 7h which is possibly more musical ability is strong as is his actor's 15H. So lots going for him.