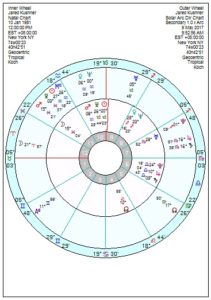 The Kushner family are in the news for the wrong reasons as Jared's sister, Nicole Meyer is accused of using the presidential connection to sell real-estate in China.
Jared himself has supposedly set up blind trusts to distance himself from the family businesses, though no doubt will hope to step back into them once the White House days are over.
He will face considerable pressures in 2018/19 with tr Pluto conjunct his Capricorn Sun; and before then he has tr Saturn conjunct his Neptune and later this year his Venus (romance & money). In 2018 as well he has a high-insecurity tr Uranus square his Sun/Mars; and a stomach-sinking tr Neptune square his Mars/Pluto extending through 2019 as well.
He doesn't look quite as exuberant as Ivanka is in 2020/21 with tr Pluto square her Jupiter Pluto. Indeed he looks fairly jammed in through a chunks of the 2020s.