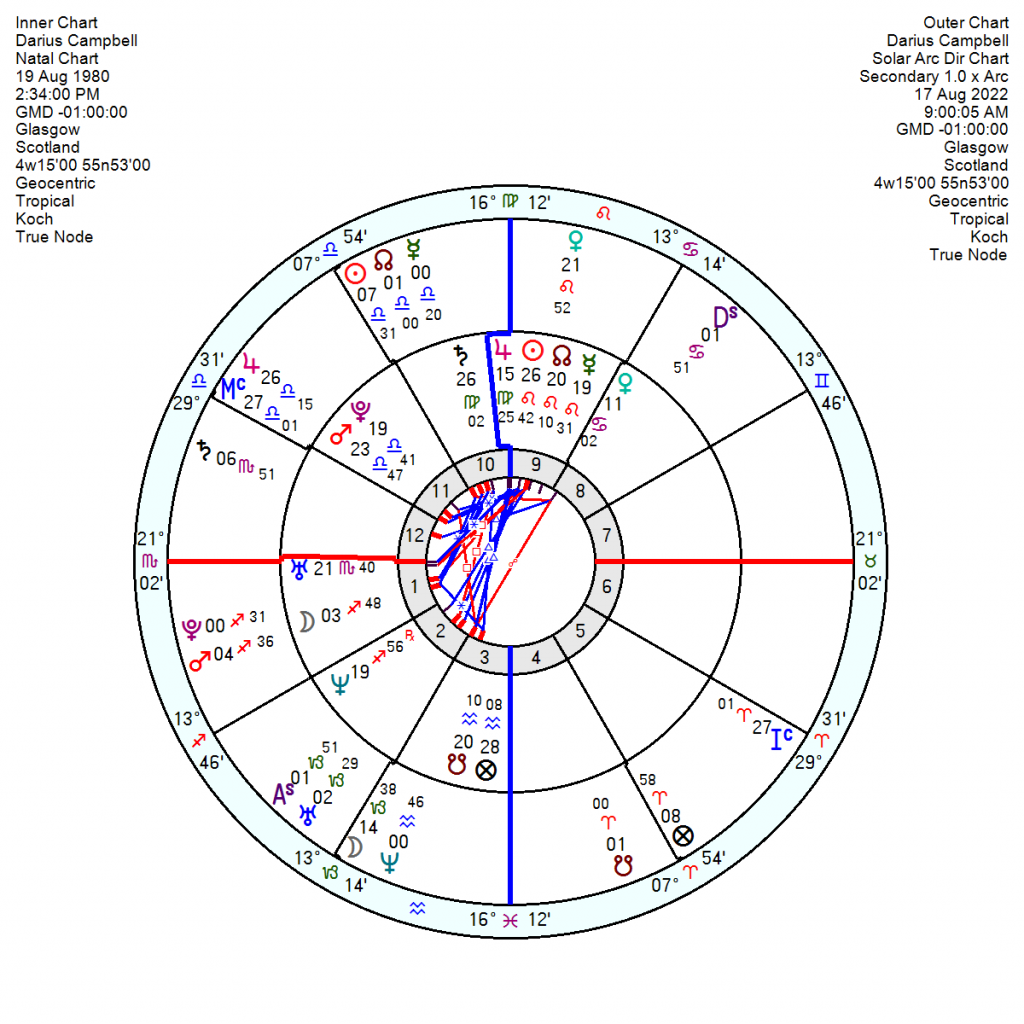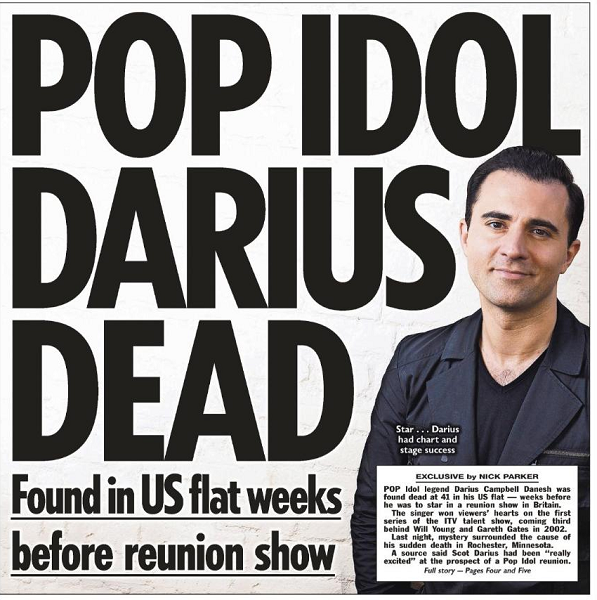 Singer Darius, of Pop Idol and West End Musicals renown, who has twice before survived near death experiences, has died at the young age of 41. No cause has been given. In 2010 he broke his neck in a car crash which could have paralysed or killed him. Then he was left seriously ill in 2017 when he went into a near-fatal coma after drinking Thames sewage water while promoting water filters for a charity which left him with bacterial meningitis and severe brain swelling.
He shot to fame in 2001 and after Pop Idol appeared on stage in Chicago, Guys and Dolls and Funny Girl. He was married to actress Natasha Henstridge from 2011-2018 and was weeks away from a reunion tour with his former co-stars.
Born in Glasgow, Scotland on 19 August 1980 2.34pm, he had a Scottish mother and Iranian father, and started singing as a teenager, appearing at Covent Garden with Scottish Opera.
He had a lucky/talented Jupiter in Virgo on his Midheaven with a hard-working, well-organised Saturn in Virgo also in his career 10th. His entertaining Leo Sun was conjunct his North Node and Mercury in Leo in his communicative 9th house trine musical Neptune and square an independent-minded Uranus on his Scorpio Ascendant. His adventurous Sagittarius Moon was in his 1st house and – most significantly for his high-risk life he had Mars Pluto conjunct.
At the moment his Mars Pluto had moved by Solar Arc to cross over his Moon which would bring considerable challenges both physical and emotional. His Progressed Mars was also exactly conjunct his Uranus for a shock and a collision of sorts; and his Progressed Moon through his 8th would bring an intense time psychologically.
In 2010 when he had his car crash he was on his First Saturn Return; with his Solar Arc Mars just over the conjunction to his Uranus which can accompany accidents; with Solar Arc Pluto to follow; and his Solar Arc Neptune was in a devastating square to his Pluto.
When he contracted meningitis in 2017, tr Pluto was square his Pluto for the start of his mid-life/individuation crisis; with his Solar Arc Pluto approaching the square to his Sun; and his Solar Arc North Node was conjunct his Saturn.
  His outer planets did seem to mark up his major life events strikingly; with the transitions – Saturn Return and Individuation crisis – seemingly difficult to negotiate. Next year he was heading for his Uranus opposition which is the end of the Individuation phase from late 30s to early 40s.  
Add On: By all accounts he was quiet, gentle and polite, never got angry, which begs the question of what he did with his Mars Pluto conjunction. In its negative manifestation it can be overly forceful, ruthless, cruel, criminal, greedy and destructive. It won't be noisily angry and impatient since Pluto anchors the Mars down, but it does harbour a volcanic reservoir of molten hot feeling – hostility, hatred, bitterness, desperation. It does give superhuman courage and endurance and individuals who have it can work well in crisis or risky areas of work. But it is one of the aspects in a chart that has to be lived out otherwise it turns inwards and causes damage.
In raw form, Mars is about aggression and Pluto about power. When experienced in childhood the only option is submission. Robert Maxwell, Ghislaine's father, was a Mars Pluto type. In adult life, learning to utilise Mars Pluto can be scary since to means facing up to the internal demons which the parent or early circumstances implanted. It is usually more difficult for women than men. But continuing to live out the docile, submissive side only attracts the energy to attack from the outside. As in Carl Jung's thought that what we are not conscious of and refuse to live out meets us on the outside as if it were fate. Both Darius's previous two brushes with death came during periods when his Mars Pluto was being triggered in his chart – as it was for this final event. See above.
Similarly Gandhi. He had a Mars (Venus) in Scorpio opposition Pluto (Jupiter in Taurus) square a Leo Moon and had an enduring commitment to peace and non-violence. He was assassinated when the tr Saturn in Leo (conjunct Pluto) was tugging on his Mars opposition Pluto square Moon configuration. I never quite bought into Gandhi's ascetic, holier-than-thou image since it is not reflected in his chart which reflects a boiling cauldron of darker feelings – lust, power, ego and greed. But arguably what he didn't live out came to meet him on that fateful day.
What can happen is that individuals are scared of a) turning into the Mars Pluto monster who made their lives a misery; or b) admitting their desire and capacity for power and not knowing how to own and use it in a positive way. Mars Pluto can move mountains and cope with cataclysmic disasters. What it is not good at is living a sedate 9-5 humdrum suburban existence.