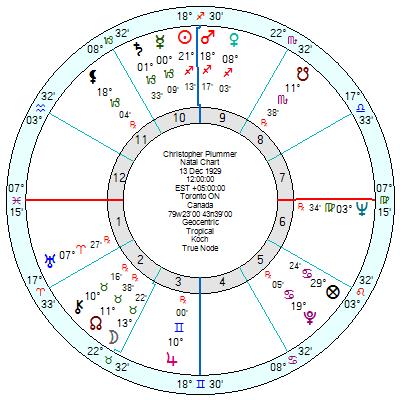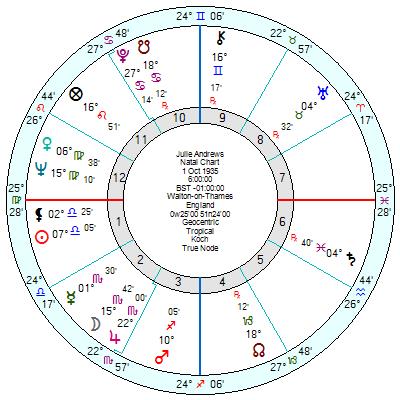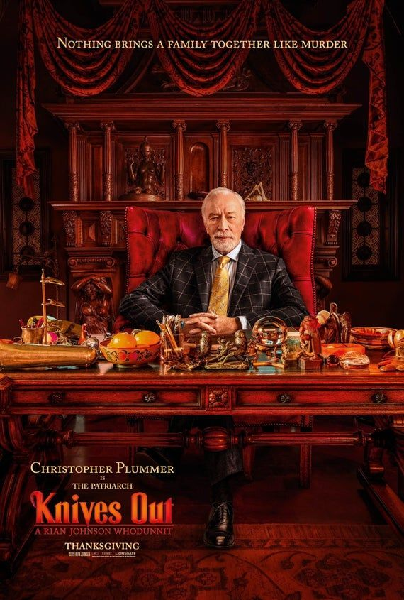 Christopher Plummer, acclaimed for a wide range of standout stage performances as Lear and Iago amongst many others, became a household name because of his role as Captain von Trapp in The Sound of Music alongside Julie Andrews. He loathed the movie and the indelible imprint it made on his image describing it as like being beaten to death by a Hallmark card. He has just died aged 91 after a fall.
His long career was marked by periods of excessive drinking and boorish behaviour but he staged a late revival in his 80s with an Oscar for Beginners and other creditable movies.
Born 13 December 1929 in Toronto, Canada, no birth time, he had a fiery and outspoken Sagittarius Sun Mars conjunction; with Venus in Sagittarius opposition Jupiter square Neptune and Venus trine Uranus in Aries. Lively to say the least. His Moon was in heavyweight Taurus conjunct the North Node.
When The Sound of Music premiered the tr Uranus Pluto in Virgo opposition tr Saturn in Pisces was moving to hard aspect his Sagittarius planets and his Jupiter – for highs and lows. He wasn't the easiest mix for Julie Andrews with his Uranus falling in her 7th house of relationship and his chilly Saturn in her 4th. Though his Jupiter would smooth over a few rough edges. There is a slight crossover of each of their North Nodes which is probably significant for such an iconic movie – his Moon North Node in Taurus fell in Julie's 8th opposition her Moon; and his Pluto opposed her North Node.
He was married three times, the first two only lasting a few years each, and the third cleaned up his act and survived for 53 years. His third wife Elaine Taylor was a Libra like Julie Andrews – and both ladies had hard Saturn Mars aspects allowing them to put up with difficult men.