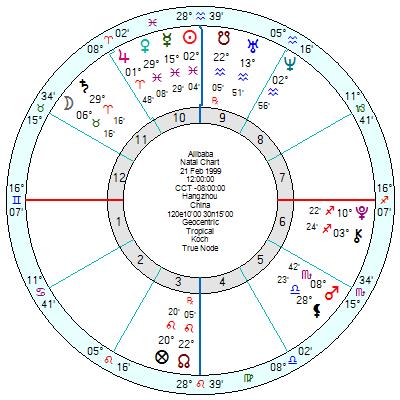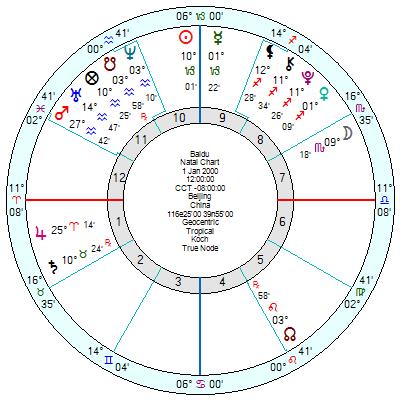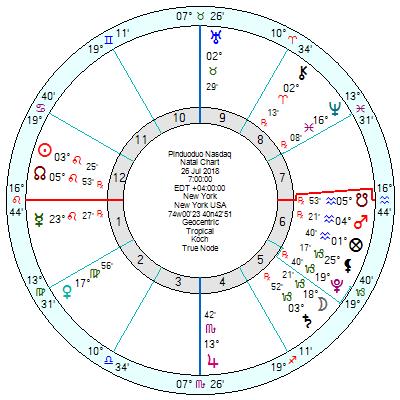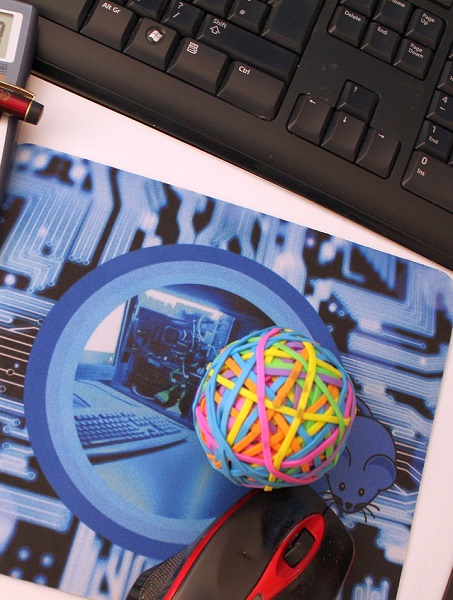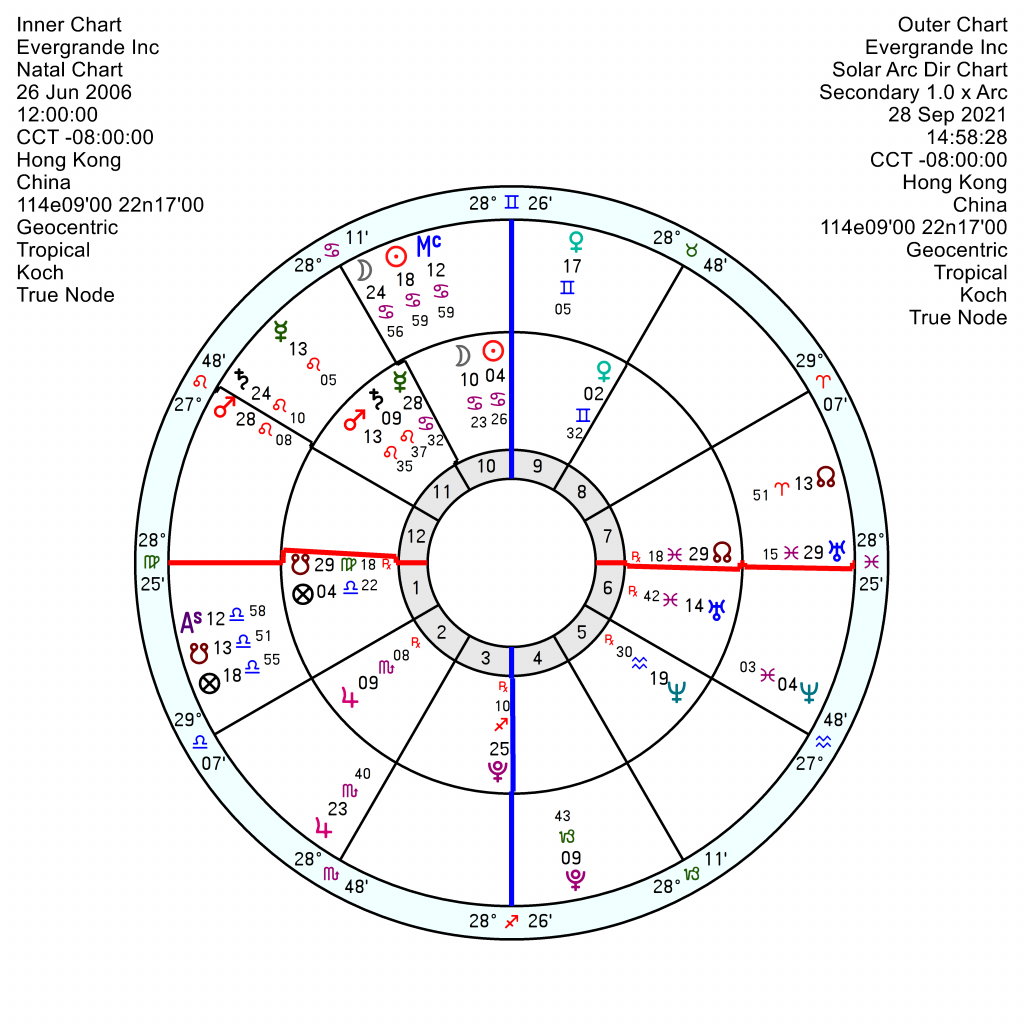 China's micro-managing and communist government still oversees an astonishingly capitalist economy. Regulators have pledged to clean up the corporate sector by letting "debt bombs" like the sprawling Evergrande Group collapse. It grew lush on the epic property boom of the late 1990s, over-diversified into multiple businesses and ran into trouble. It is now a rickety threat to China's biggest banks and even risks damaging the broader economy if it were to fail. It has the distinction of being the world's most debt-saddled property developer and has been on life support for months.
It launched in 1996 (no date) when Pluto was just putting a toe into Sagittarius and there was the financial-bubble-prone Jupiter and Neptune in materialistic Capricorn. By 2018 it was reckoned the most valuable property empire in the world. It's fitting that two Pluto cycles later it faces collapse.
  It raised three quarters of a billion on the Hong Kong Stock Exchange on 5 November 2009 which gives it a Scorpio Sun square Mars in Leo which is being buffeted by the economically-challenging tr Uranus square tr Saturn this year, into early 2022. That chart also has the over-hopeful, dreams-of-wealth-with-no-effort Jupiter Neptune conjunction.
Add On: It was incorporated on 26 June 2006 in Shenzhen, China with a New Moon in Cancer and a hard-edged see-saw Mars Saturn in Leo square Jupiter in Scorpio which is catching the full might of the tr Saturn square tr Uranus this year into early 2022. And its Solar Arc Uranus is conjunct the North Node for a defining moment in its destiny.
Taking a brief look at leading prosperous Chinese companies mainly in the internet, technology, e-commerce areas what is striking is the consternation and confusion writ large around the transition 2023 to 2026 years when tr Pluto makes its presence felt in Aquarius.
Alibaba which specialises in e-commerce, retail, Internet, and technology was founded on 28 June 1999. It owns and operates a diverse portfolio of companies around the world in numerous business sectors. Like Baidu, another multinational technology company, one of the largest AI and Internet companies in the world, 1 January 2000, it was founded with Neptune in the early degrees of Aquarius which will catch the transiting Pluto conjunction in 2024/25. Baidu will be under pressure even before then with a muddled 2022 and panicky, undermined 2023.
Pinduoduo, founded September 2015, is one of the fastest-growing tech companies in the world, that connects farmers and distributors with consumers directly. It was launched on Nasdaq on 26 July 2018. The founding chart has, surprise surprise, Jupiter (in Virgo) opposition Neptune and Mars Venus in Leo with Saturn in Scorpio square Mars. It is facing a bumpy ride through the next few years with the foundation planets getting a buffeting from tr Uranus square the Venus Mars and then opposition Saturn by 2025 with along the way tr Saturn in Pisces in 2023/24 giving the Jupiter Neptune a sharp reality check. The Pinduoduo Nasdaq chart is also facing a hair-raising 2024/2026 as the Sun, Mars and Uranus catch the full force of tr Pluto in Aquarius.
There can always be individual reasons why companies hit troubled times but the timeline does fit in with the Bank of China being swamped in 2024 to 2026. See previous post 10 September 2021 below.