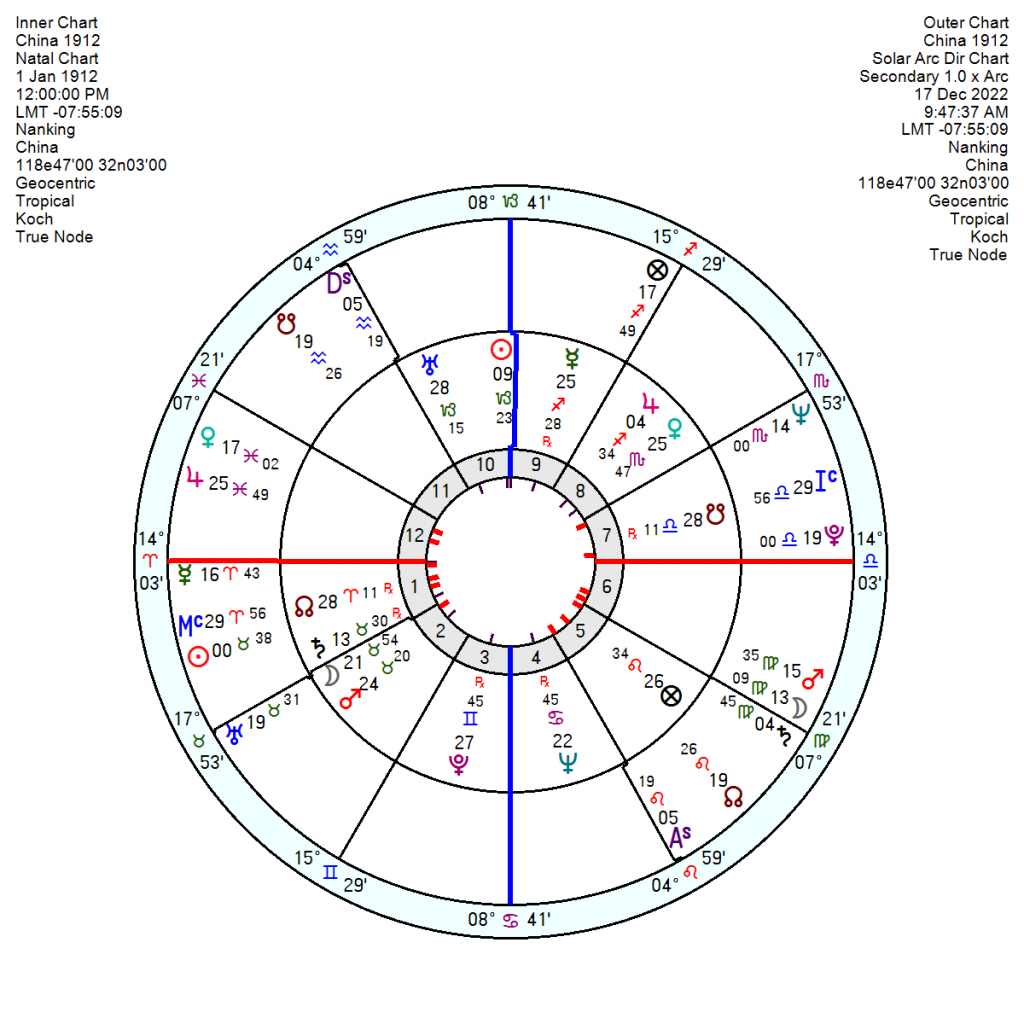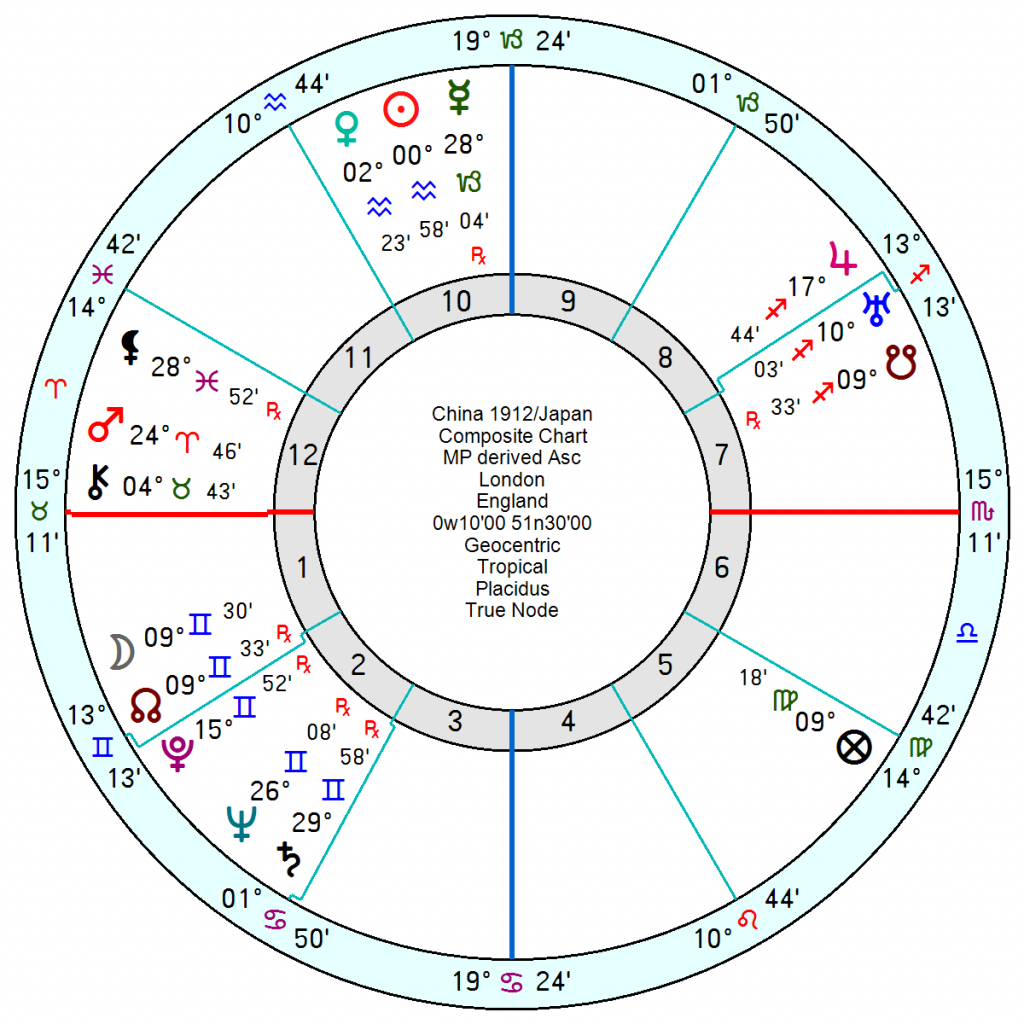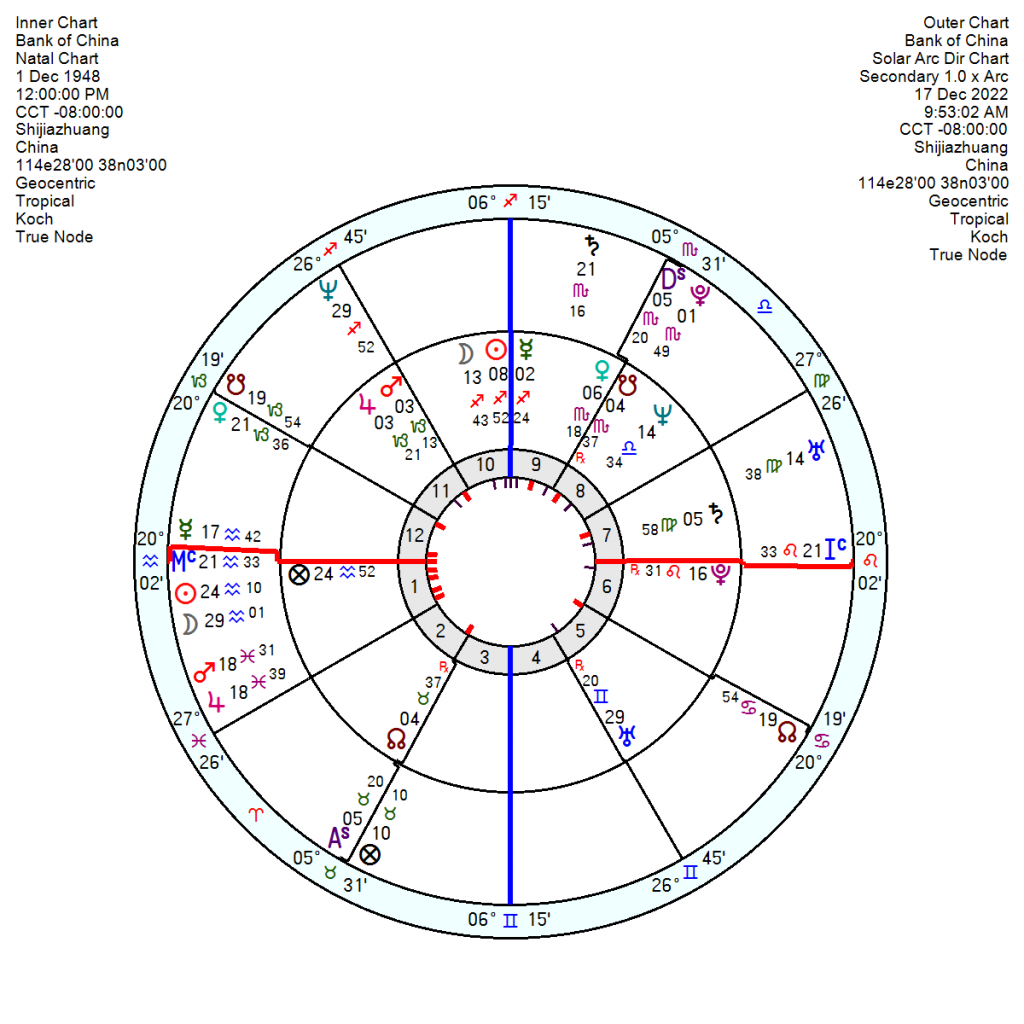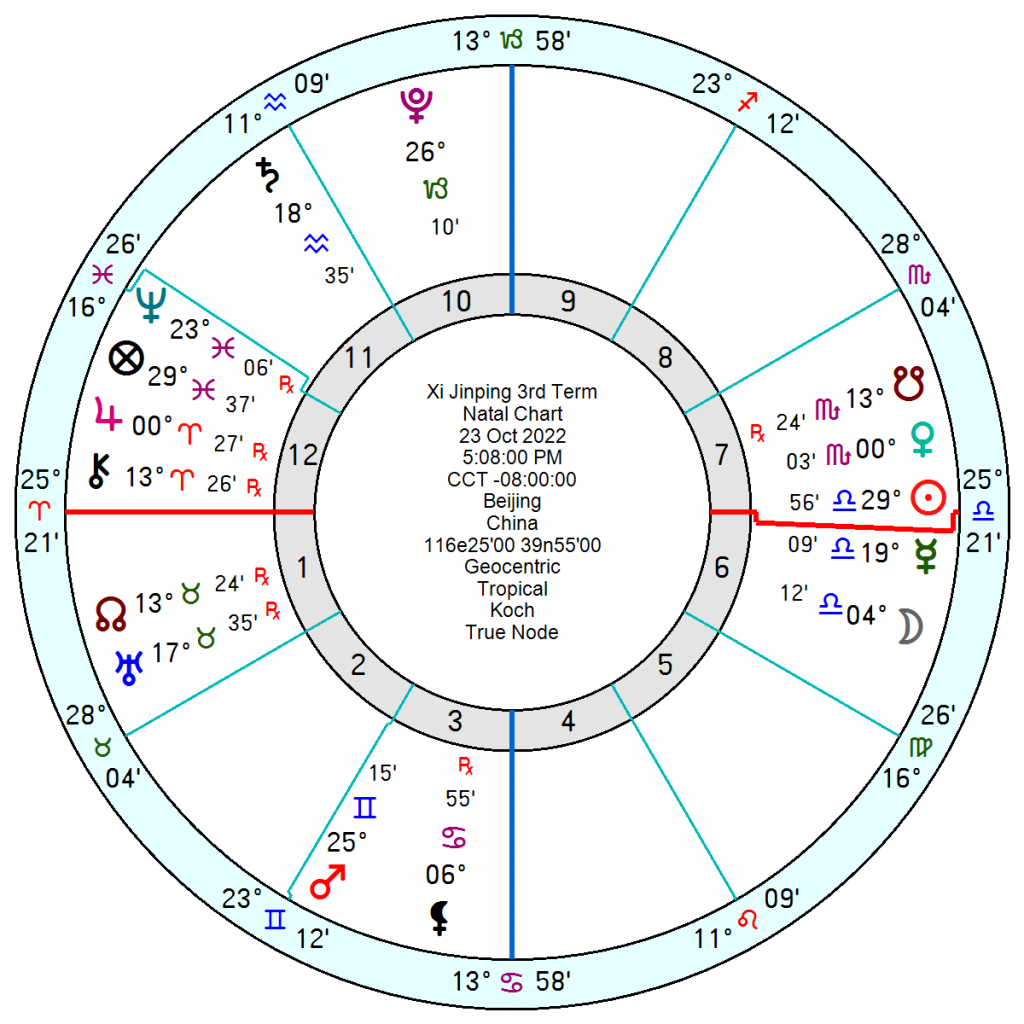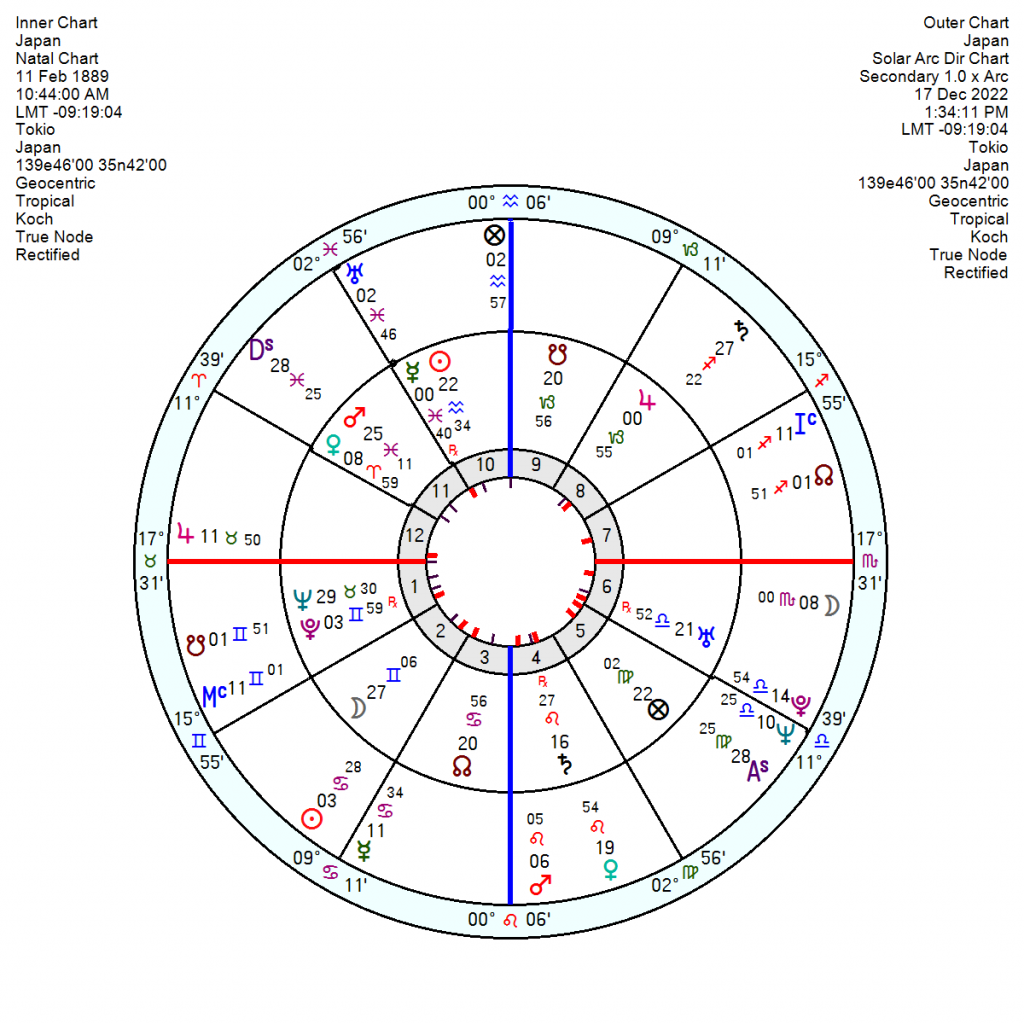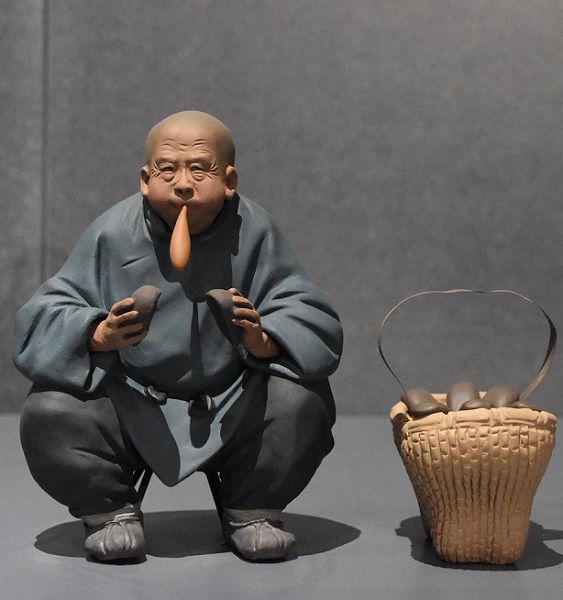 China having flipped its draconian lockdown covid policy into a nothing-to-worry-about dismissal is facing unrest from a population traumatized by three years of stringent restrictions. Many are questioning whether the heavy human price in depression and mental problems had been worth it and are demanding compensation. But health experts have warned the country is unprepared for a sharp rise in infections and deaths in a subsequent wave.
  Another woe is Japan overturning six decades of postwar security policy to arm itself to counter China's rising military aggression. The Japanese government has approved its biggest military buildup since the second world war. The plans reflect growing alarm over a more assertive Chinese military and a North Korean regime that continues to improve its nuclear and ballistic missile capabilities.
The China 1 January 1912 chart is only partially through a nerve-wracking and disruptive/rebellious phase of tr Pluto opposition the Neptune and for another year conjunct the China Uranus – which latter often accompanies domestic unrest. It kicked in when Covid descended and certainly fits the devastation of tr Pluto in Neptune.
This coming year as well tr Neptune in hard aspect to the China Mercury opposition Pluto will bring confusion, mixed messages, suspicion and perhaps an undermining of power and influence. Late April into early May will bring a disaster or two, perhaps with military associations. With some financial setbacks in January and a generally disappointing year. Though the major upsets won't turn up till 2024 when tr Uranus hits the financial Venus opposition Mars – and beyond that 2026 when Solar Arc Pluto squares Neptune which could – in part – be a catastrophic natural disaster.
The China/Japan relationship chart is winding up tension as tr Pluto moves into Aquarius from late March 2023, on and off till late 2025 as tr Pluto is conjunct the Sun and Venus – intense reactions on both sides and an undermining of trust.
The Bank of China chart, 1 December 1948, will be radically changing policy to keep step with changing circumstances early in 2023 and maybe to react to a sudden event from mid March for two weeks. But its major headache starts to kick in through 2024, worsening dramatically in 2025/26 as tr Saturn Neptune into Aries starts to square the Mars Jupiter and Solar Arc Neptune unhelpfully adds its losses when it is conjunct Mars Jupiter.
Xi Jinping's 3rd Term, 23 October 2022, which has a control-freak 10th house Pluto square Sun Venus is under unrelenting pressure and heading for a challenging and stuck 2023. He will react with confidence and be rewarded with some luck when tr Pluto sextiles the Jupiter late March to mid June; but on the whole the year is one of failure.
Japan, 11 February 1889 10.44am Tokyo, is not looking too upbeat this year either with tr Neptune conjunct their Mars, which may or may not be connected to their truculent neighbours. There will certainly be a sense of turbulence and disruption from Solar Arc Uranus square the Pluto, exact in 15 months though active probably before then, which will unsettle the normal Japanese stoicism.
Tr Neptune into Aries in 2025/26 does seem to bring with it a degree of further havoc which is all too exhausting to contemplate.