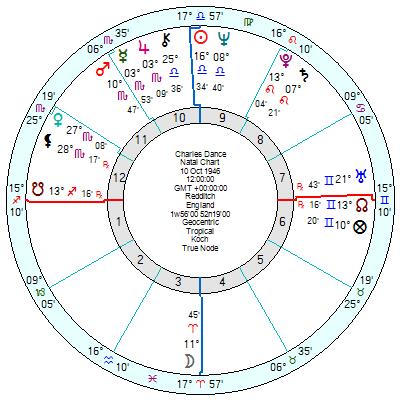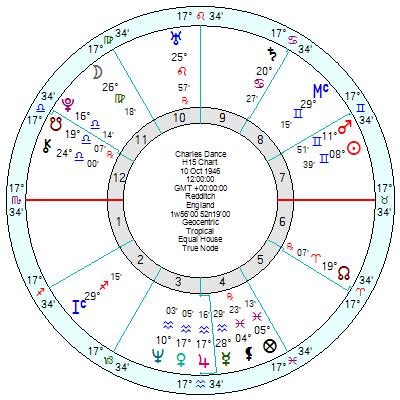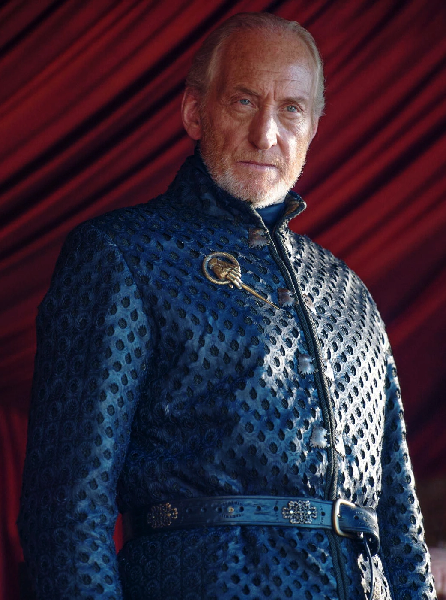 Actor Charles Dance is striding cheerfully through his eighth decade, playing William Hearst, the newspaper tycoon in Mank about the making of Citizen Kane, after a run of memorable cameos in The Crown as Mountbatten and Tywin Lannister in Game of Thrones.
He was born 10 October 1946 in Redditch, England, with his father dying when he was three and he learned his craft from two retired thespians who taught him the classics and bullied him into an RP accent. He attended Art College and eventually joined the Royal Shakespeare Company with his first big break on screen coming from the BBC Jewel in the Crown, which was followed by White Mischief, Gosford Park, a memorable Bleak House and thence onto the more recent blockbusting streamers.
  He's a Sun Neptune in Libra opposition an Aries Moon with his Sun trine Uranus; and a clutch of four planets in Scorpio, including a seductive Venus, as well as a lucky and determined Mars, Mercury, Jupiter square an unyielding Saturn Pluto in Leo. With so much Fixed energy, he's built to last, and his Mars square Pluto Saturn gives him a do-or-die-determined drive despite his amiable Libra Sun Neptune manner.
He's had a chequered personal life, divorcing his first wife with whom he had two children and, having a late third child, now nine years old. A Full Moon will make it tricky for him to know what he wants.
His 15th actor's Harmonic is exceptionally strong and enduring linking a dynamic Sun Mars to Pluto and a creative and ultra-charming Neptune Venus Jupiter.