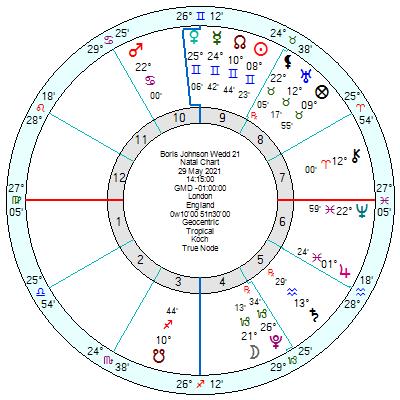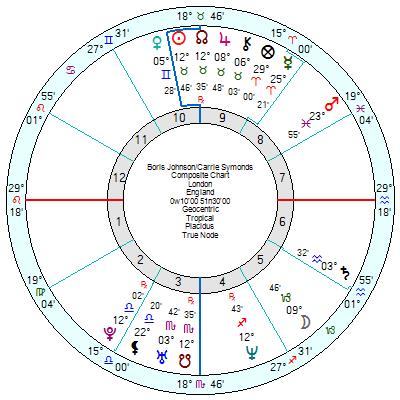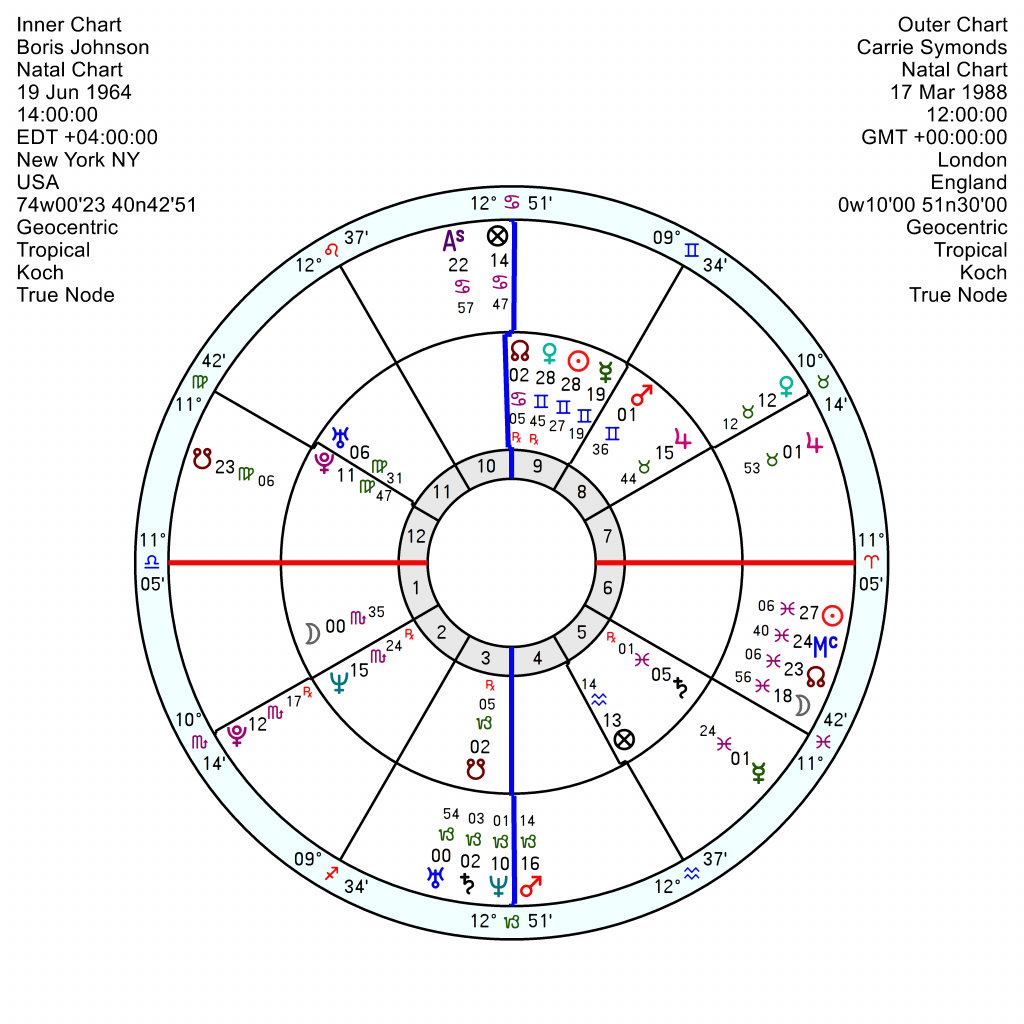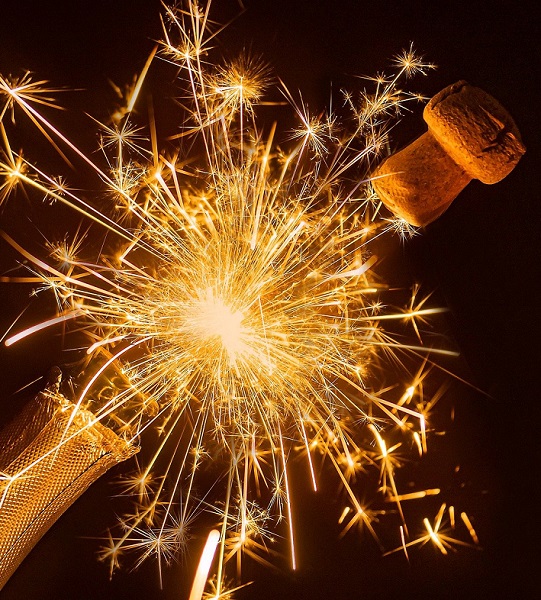 The happy day came sooner rather than later with Boris hitching with Carrie yesterday at a small family event just after 2pm in London with celebrations to come next year. It was conducted at a Roman Catholic Cathedral on the spurious grounds that Boris, baptised originally as RC although non practising, could have his two previous marriages and divorces regarded as non-existent since they were conducted under other religious umbrellas.
  On the wedding chart there's a light-hearted, social butterfly Venus and Mercury in Gemini on the Midheaven, similar to Boris's own chart. But in this case it squares Neptune hovering just below the Descendant which suggests illusions, delusions and disappointments later when reality kicks in. Good for show and public relations, less so for commitment. The Sun in the intellectually stimulating and far-travelled 9th house is in an expansive square to Jupiter.  
  What is most problematic is a crisis-attracting, ruthlessly determined Mars opposition Pluto Moon – which suggests bitter power-struggles or at least a serious power imbalance causing resentment and major arguments. The argumentative Mars opposition Moon would be exact just as the vows were exchanged. The Pluto is also inconjunct the Midheaven and Venus which is strained.
 There's also a restrained Saturn in the sociable 5th squaring onto a high-tension, self-willed 8th house Uranus.
 It's not the most peaceful of charts and indicates a fair amount of aggro around the day itself, never mind the pattern it lays down for the marriage. The Moon will move by Solar Arc to oppose the Mars exactly in eight months which will lead to domestic arguments and the heat is likely to rise over the next four years with the Solar Arc Mars moving to oppose the Pluto exactly. This fits with my somewhat gloomy predictions from the previous post see May 24 2021 below – of 2025 being high noon time.
  Usually wedding charts by some odd quirk reflect many of the themes of the relationship chart.  Their's has a Neptune opposition Venus which is ethereal and romantic to start with but the shine usually wears off. There's also a Saturn square Uranus which suggests different agendas – one more progressive than the other which leads to constant eruptions. There is a helpful and lucky Jupiter in the middle of it all which will smooth rough edges – conjunct the Sun, opposition Uranus and square the Saturn. Though it can also lead to arrogance getting out of hand. The composite Pluto is inconjunct the Sun and possibly square the composite Moon which makes for possessiveness but also a tussle for the upper hand.
  What's odd about the choice of a wedding date is that tr Neptune has just started to conjunct the composite Mars in their relationship chart, running on and off till early 2023, which will bring a panicky sense of failure about the relationship and tr Uranus is exactly conjunct the composite Sun now which is normally a separating aspect. Both tr Saturn and tr Uranus will continue to aspect the Sun all this year.
  Their personal charts are not showing up much of cheer apart from minor Jupiter transits in BJ's case square his Mars and in Carrie's conjunct her Mercury and her Jupiter/Uranus midpoint.
  Carrie's Venus in Taurus opposition Pluto is being buffeted every which way by tr Uranus conjunct her Venus and opposition her Pluto exactly now and both being squared by Solar Arc Neptune this year – none of which looks like blissful contentment. Tr Uranus will continue to shake up her Venus into early 2022 and tr Saturn will also be in discouraging hard aspect through this year.   
Will be interesting to read the biographies at a later date as to what exactly what was going on.