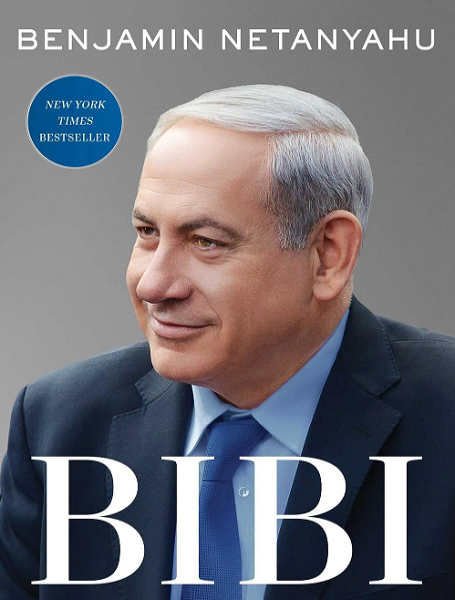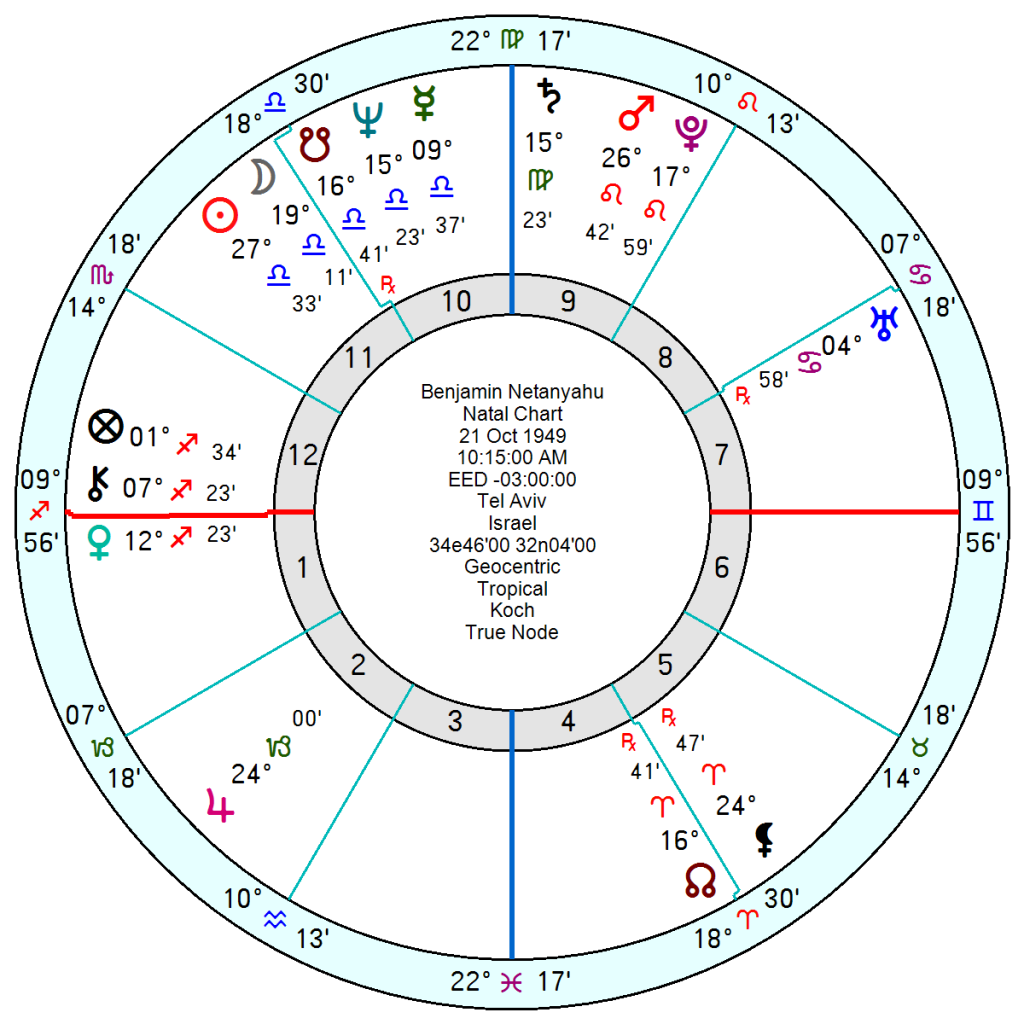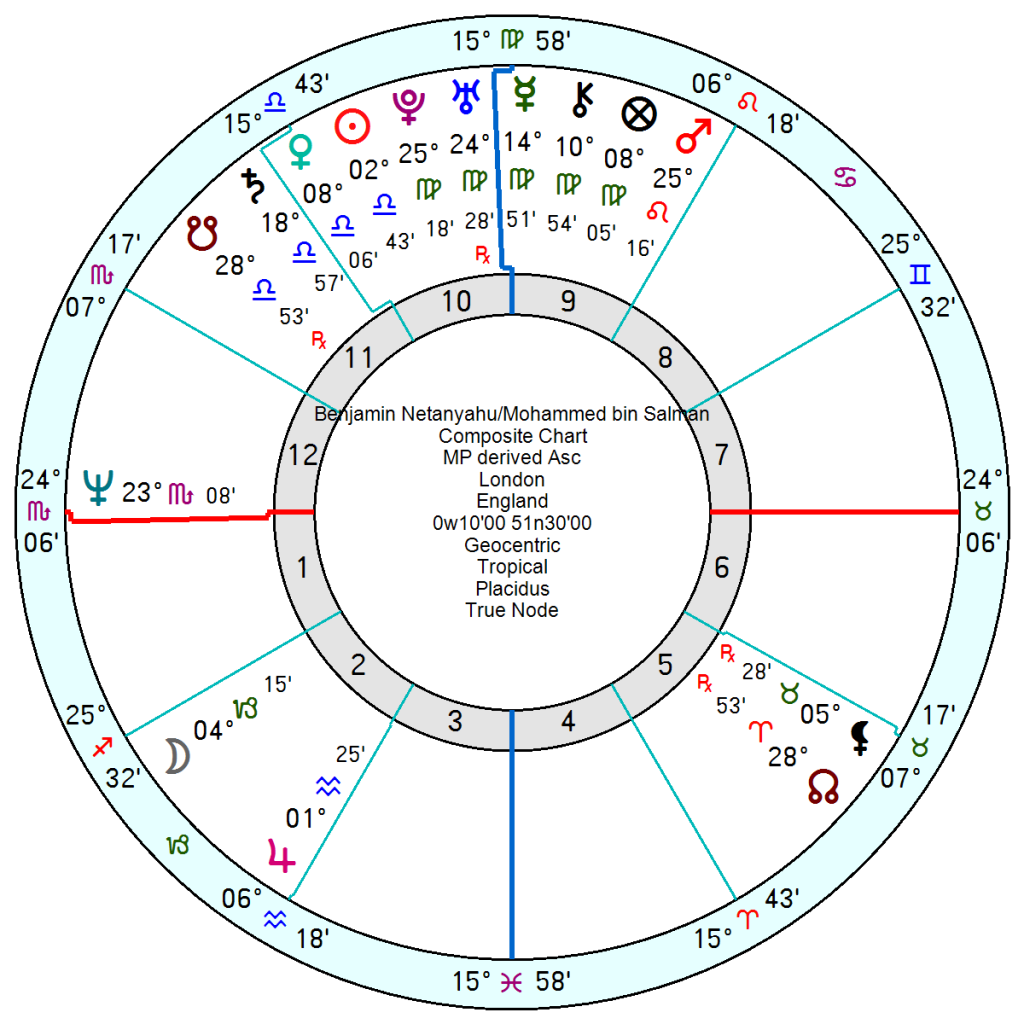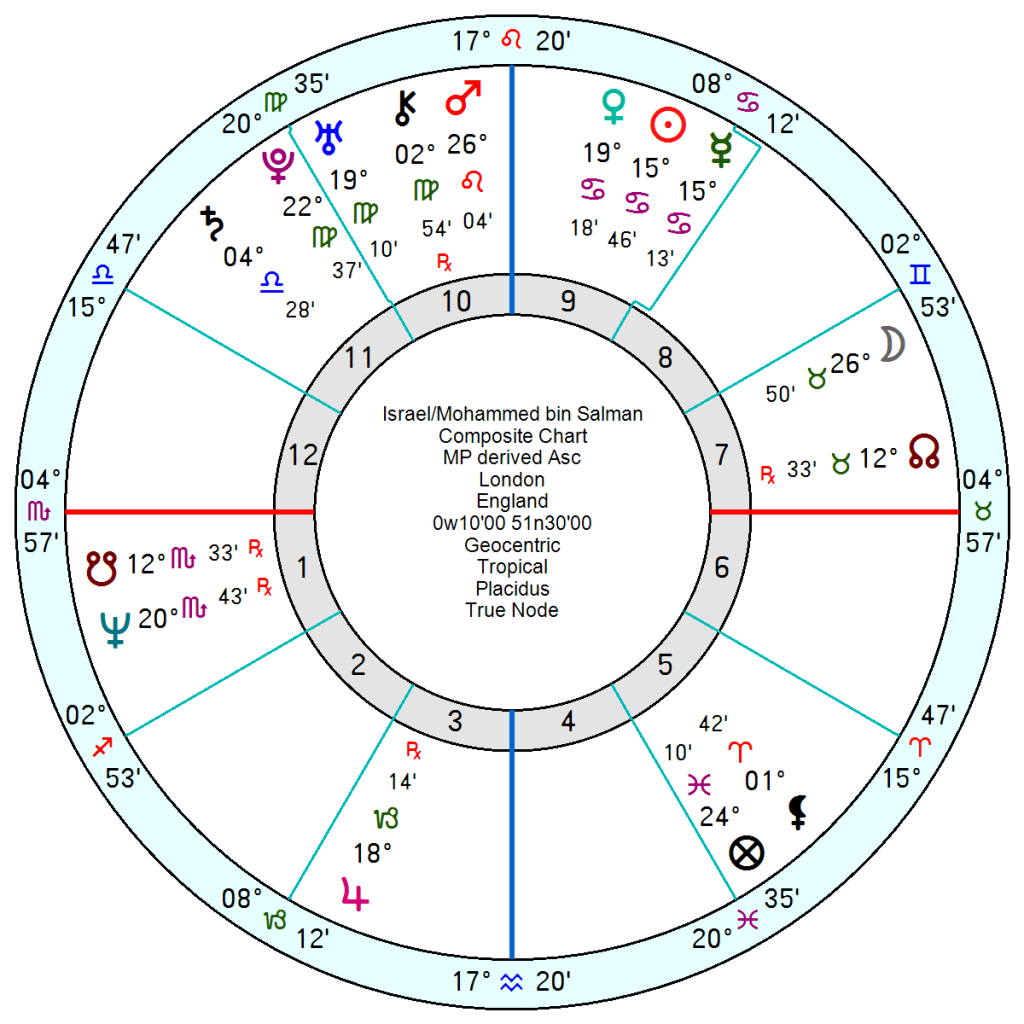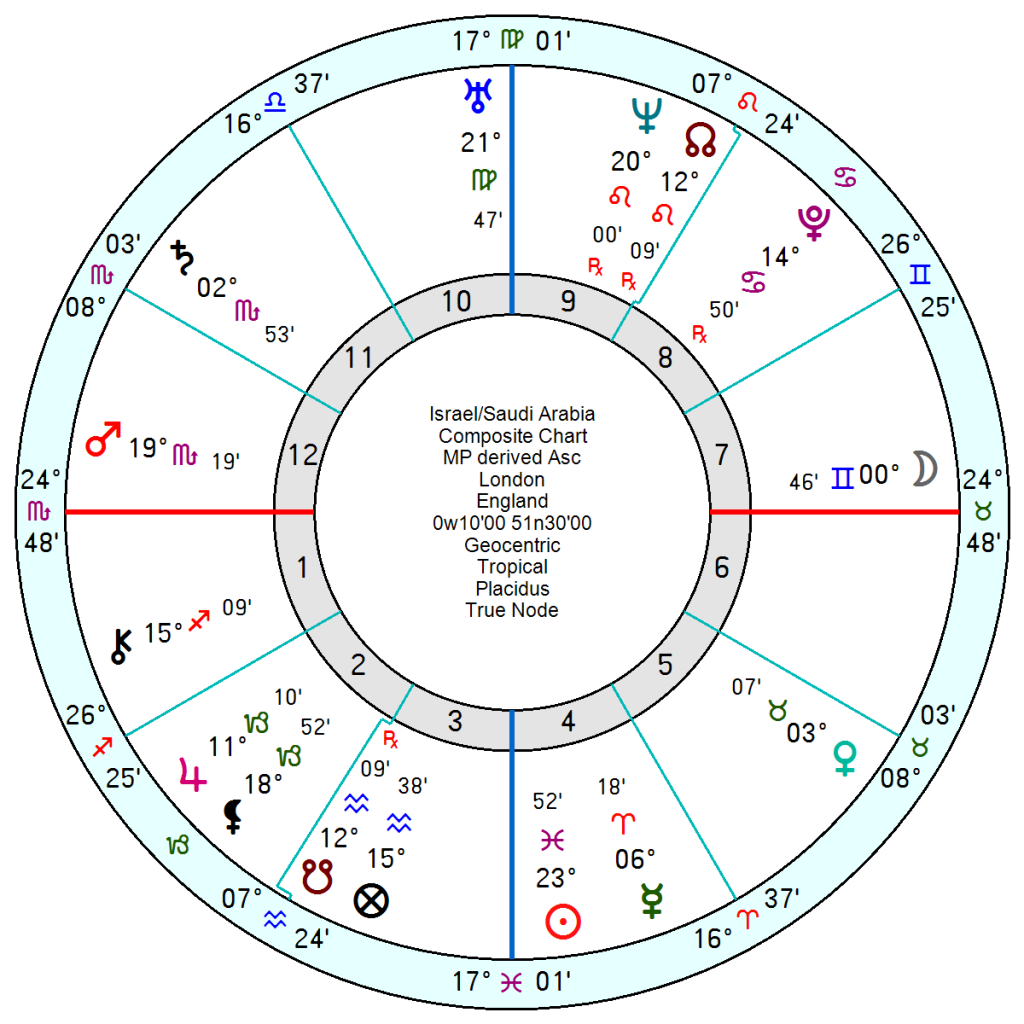 Benjamin Netanyahu, Israel's prime minister, is facing the crisis of his life after a catastrophic intelligence failure. With this week's Solar Eclipse conjunct his Libra Moon he was always due an emotional upset of considerable proportions. Trump had a similar Eclipse to Moon conjunction in late 2020 when he lost the election.
Not that Netanyahu will necessarily go since leaders tend to stay in times of conflict. But he will find the foundations on which he has built his life being severely tested. An Eclipsed Moon puts the individual's public image under scrutiny and if found lacking the surrounding society will not hold back with criticism. Jansky remarks of such an aspect it forces the individual to "defend those things you hold most dear."
He was born 21 October 1949 10.15 am Tel Aviv, and has a New Moon in Libra with an idealistic, can be evasive 10th house Neptune; an acquisitive 2nd house Jupiter in Capricorn and a ruthless, angry Pluto Mars in Leo in his 9th.
He has been prime minister in three stretches since 1996 and was close to Trump during his term, when the USA recognized Jerusalem as the capital of Israel, recognized Israeli sovereignty over the Golan Heights, and brokered the Abraham Accords, a series of normalization agreements between Israel and various Arab states. He has faced international criticism over his decades-long policy as prime minister of expanding Israeli settlements in the occupied West Bank, deemed illegal under international law. In 2019, he was indicted on charges of breach of trust, bribery and fraud, following a three year investigation.
  Apart from the Solar Eclipse colliding with his Moon he also has tr Uranus square his Mars/Pluto midpoint exactly now which is high-risk, explosive, destructive and scary. It returns late April May/June 2024. The April 2024 Solar Eclipse in Aries will be exactly in opposition to his Moon which points to more emotional upsets in relationships and out in society.
Across next summer looks extremely high tension and high risk with tr Uranus aiming to square his Mars from July which usually coincides with a shock bringing insecurity, a dent to self-esteem and an over reactive need to put on a display of bravado in response. And that runs into 2025 as well.
His relationship with Israel which is controlling, tight and possessive will hit high stress by 2025 when tr Uranus squares the composite Mars and tr Uranus is square the composite Saturn. 2025 is when Israel's Mars in late Leo is catching the tr Uranus square for an explosive/disruptive year or more.
That is also the point where his relationship with Saudi Arabia's Mohammed bin Salman (MBS) and Israel's with Bin Salman as well hits peak aggravation with tr Uranus square the composite Mars.
(26 degrees Leo is beginning to look like a significant marker ahead – which uncomfortably tags into Trump's chart as well.)
The late 2024 and 2025 Lunar and Solar Eclipses in late Pisces/Virgo are also rattling up the Israel/Saudi chart – and the Israel/MBS and Netanyahu/MBS charts.
Even before then the Saudi/Israel relationship chart is nervy, disappointed, aggravated and changeable with fault lines being laid bare.
Kim Ghattas remarks in the FT: "If Netanyahu thinks that – he can bomb Gaza and then return to normalisation talks with the Saudis without offering anything substantive to the Palestinians, he would be gravely misreading Riyadh."
Netanyahu's government chart, 29 December 2022 4.30 pm never looked solid with a careless, unrealistic Neptune conjunct the Midheaven and an overly confident Sun square Jupiter. Plus an 8th house Pluto – similar to GW Bush's First Term overseeing 9/11. And a stressed Sun inconjunct Mars.
He may or may not survive politically but there is an uneasy sense of the Middle East moving into a period of greater than usual turbulence over the coming few years.