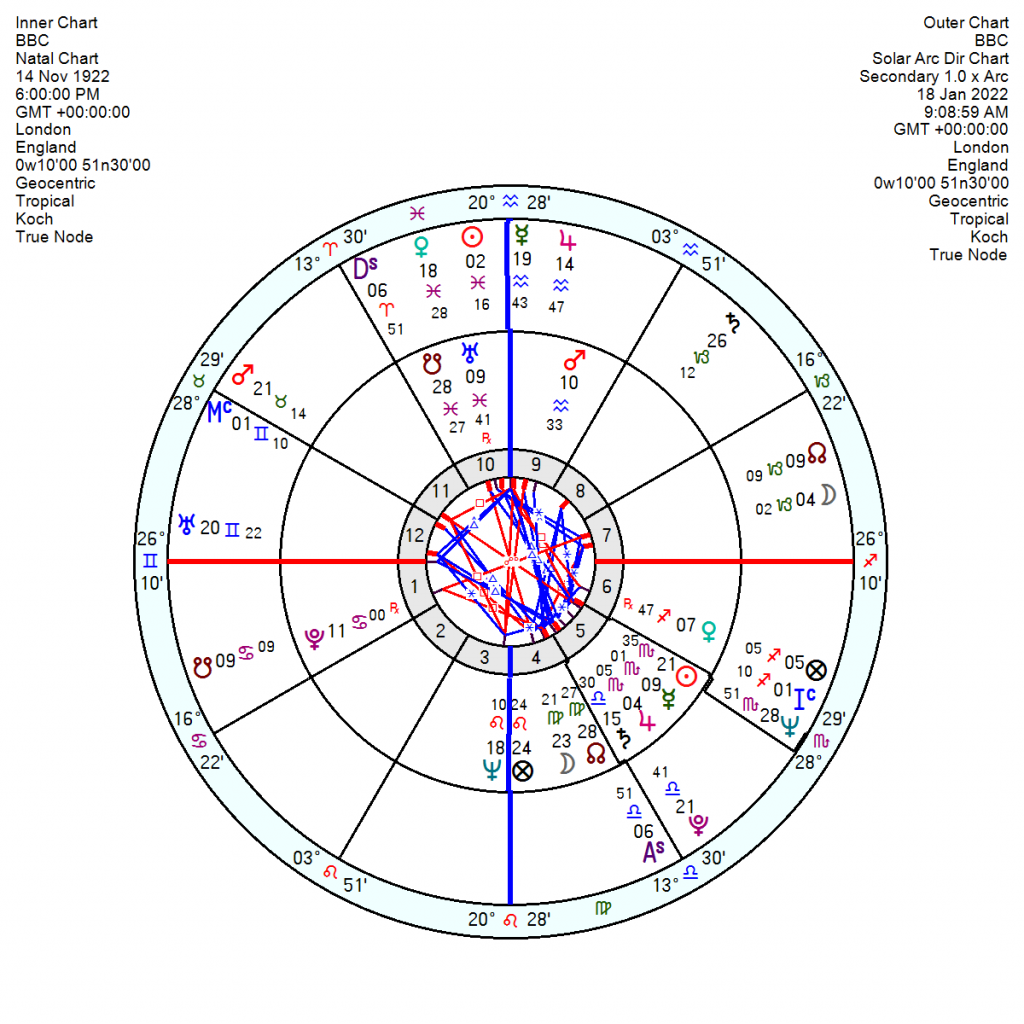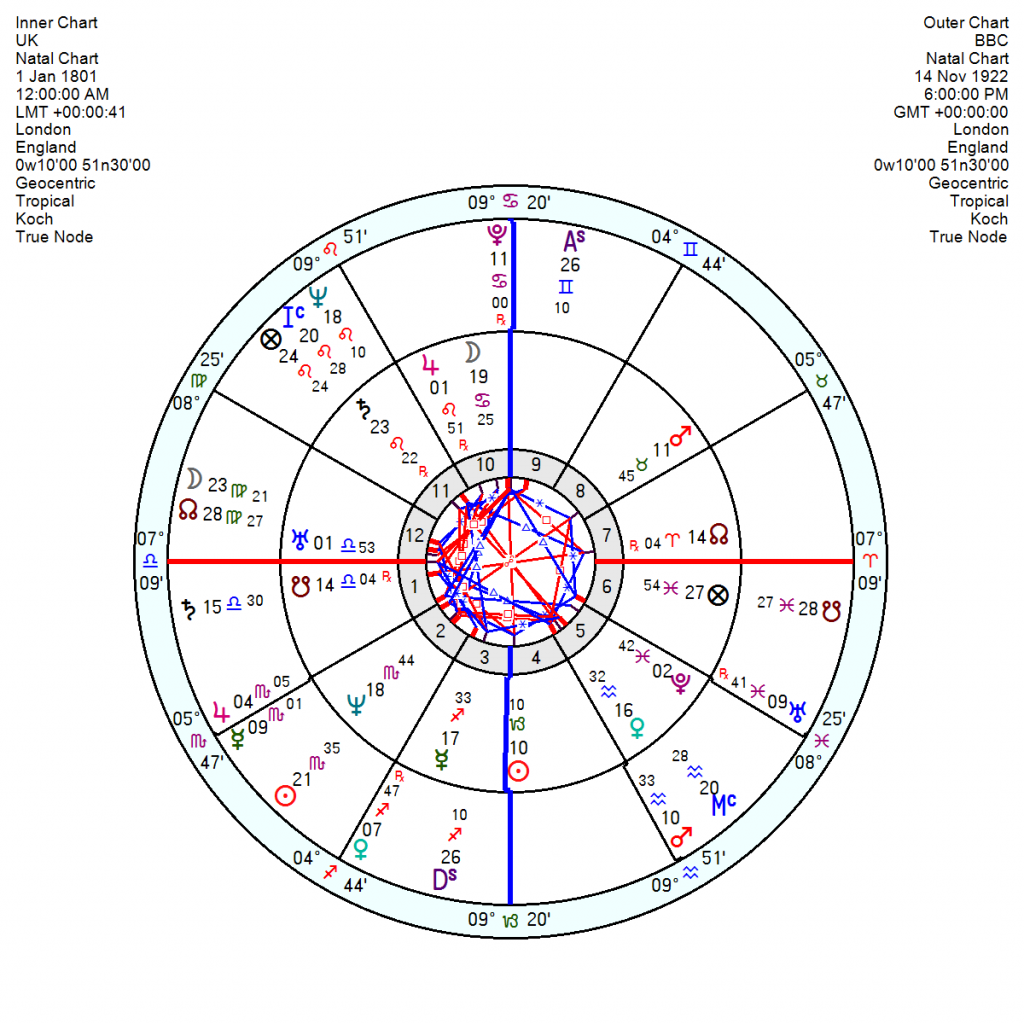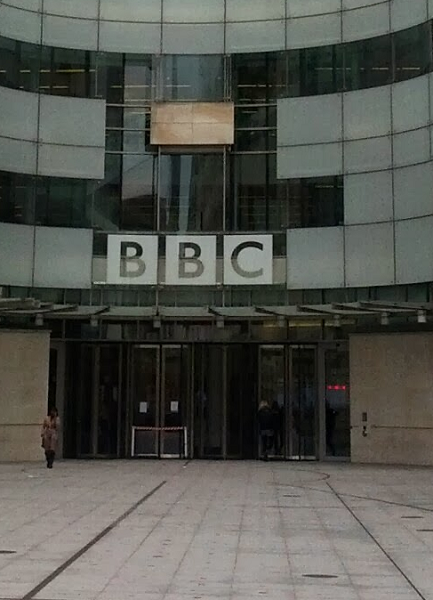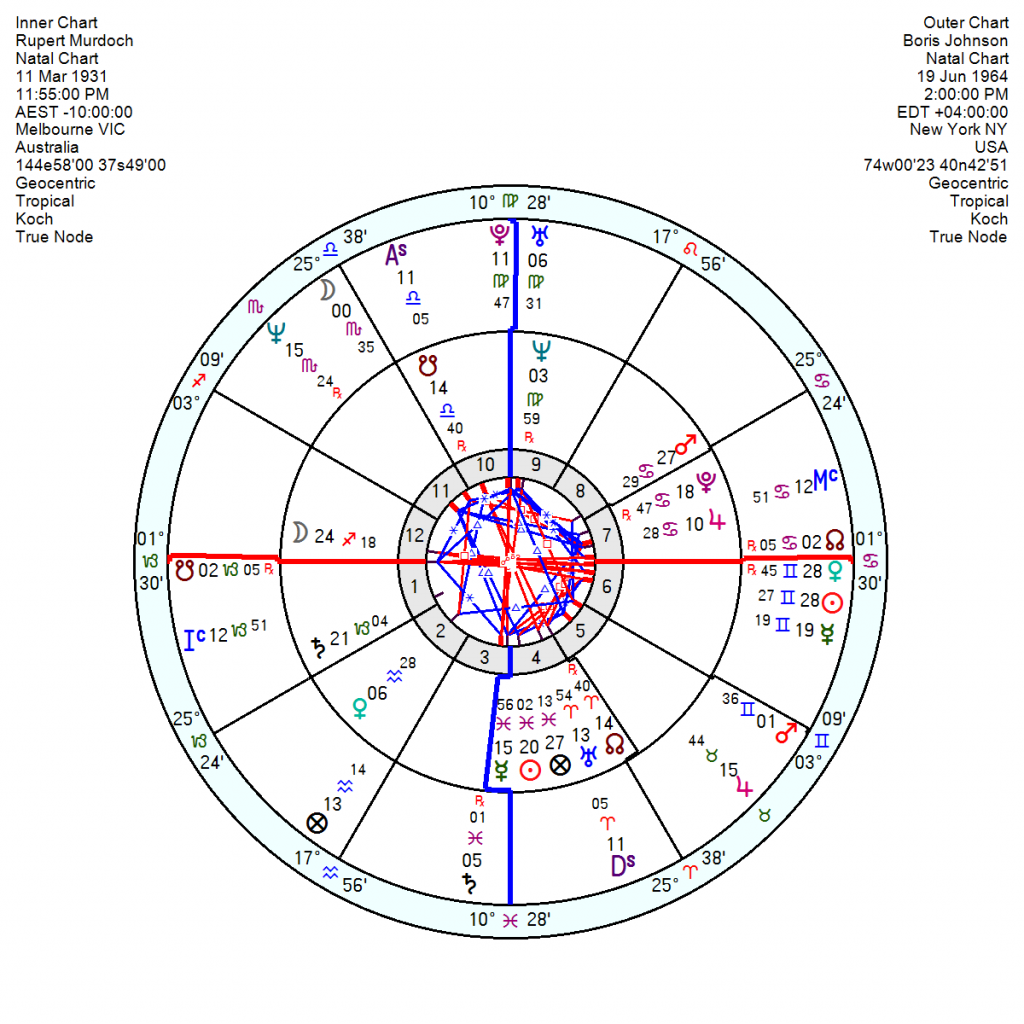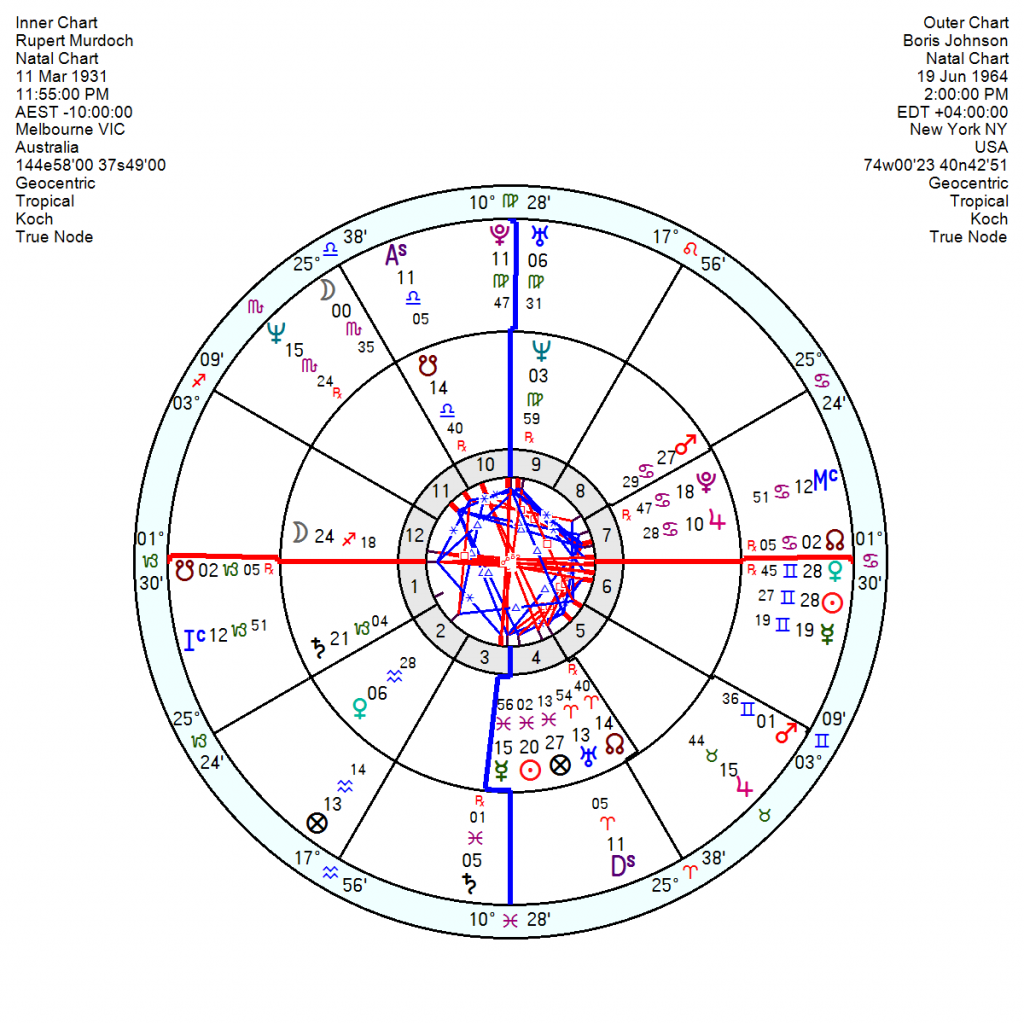 The BBC has become collateral damage in the government's deflect-and-distract desperation to direct attention away from 'partygate' with a two-year licence freeze and a bombshell about removing funding altogether by the charter renewal in 2027. The latter is being rowed back since it would depend on every household having access to high-speed broadband for alternative streaming options which won't happen in time.
The BBC chart, 14 November 2022 6pm London, does look shocked by the 'collision' of Solar Arc Mars opposition the Scorpio Sun this year, exact in four months; and tr Uranus in an equally shocking and self-esteem-denting square to the BBC Mars this month into early February. Tr Neptune is also in an undermining opposition to the BBC Virgo Moon across this year into early 2023 – and the Taurus/Scorpio Eclipses this year will rattle up the BBC's Sun, Mercury and Jupiter in Scorpio. As if that wasn't enough tr Saturn and tr Uranus will both make a high-anxiety hit on the BBC Neptune; and finally tr Saturn will make a discouraging square to the BBC Sun this year with tr Uranus opposition in 2023. All in all, not a fun time.
The BBC are arrogant, their own worst enemy, self-defeatingly stubborn when faced with legitimate criticism and needed a sharp wake up call to scythe through their overweighted and stratospherically expensive management amongst other things. The pro-Brexit and Tory government have had it out for them with accusations of left-wing Remainer bias so political motives are partially suspect. But a day of reckoning was overdue.
The Royal Charter renewal theoretically goes into effect, no doubt after aggravated discussions beforehand, on 1 January 2028. But it is 2029 and 2030 which show up as the face-reality and forced-change period with the Solar Arc Sun conjunct the 10th house Uranus; the Solar Arc Moon opposition Pluto; and Solar Arc Saturn square the BBC Jupiter. New technology will force through a radical rethink about programme delivery.
The BBC chart does have a talented and creative Water Grand Trine of a confident Pluto trine Jupiter in a risk-taking trine to Uranus, which has a good many plus points but its downside is a tendency to live within its own bubble detached from outside realities.
 The corporation is important to the UK with the BBC Pluto sitting on the UK Midheaven with the BBC Grand Trine  in favourable aspect from Uranus and Jupiter; plus the BBC's dynamic Mars falling in the UK's entertainment 5th.  But there will be a few dips in the road ahead.  
Add ON: Boris's sister Rachel related that Rupert Murdoch had asked the prime minister (on a Chequers visit when he dandled baby son on his knee) to get rid of the BBC – and then she had to hastily withdraw the claim saying it was a joke. Murdoch has made multiple visits to top Tory ministers recently and has a long standing connection with Michael Gove.
  Murdoch's Jupiter is conjunct the BBC's Pluto so there will be a tussle for the upper hand. But it is Murdoch's relationship with Boris which is interesting.  Boris's Pluto Uranus are conjunct Murdoch's Midheaven for an influential, if chaotic, career connection. Boris's Venus Sun fall on Murdoch's Descendant which will make for a friendly interface.  Their relationship chart is even more intriguing with a chained-together-by- circumstance and unbreakable composite Pluto Midheaven opposition Saturn square Sun – that is being battered every which way by the tr Saturn square tr Uranus through coming months and on into 2023. With an unnerving tr Neptune square the volatile composite Uranus from May onwards – and it isn't improving thereafter. 
To be remembered Murdoch is very old and Boris is on his last and final warning. But even if both stay the course for a while, it will be a less than amiable chemistry between them.
The Tory Party 1912 chart isn't too specific via a vis Murdoch and what there is of a link is sliding downhill this coming year.