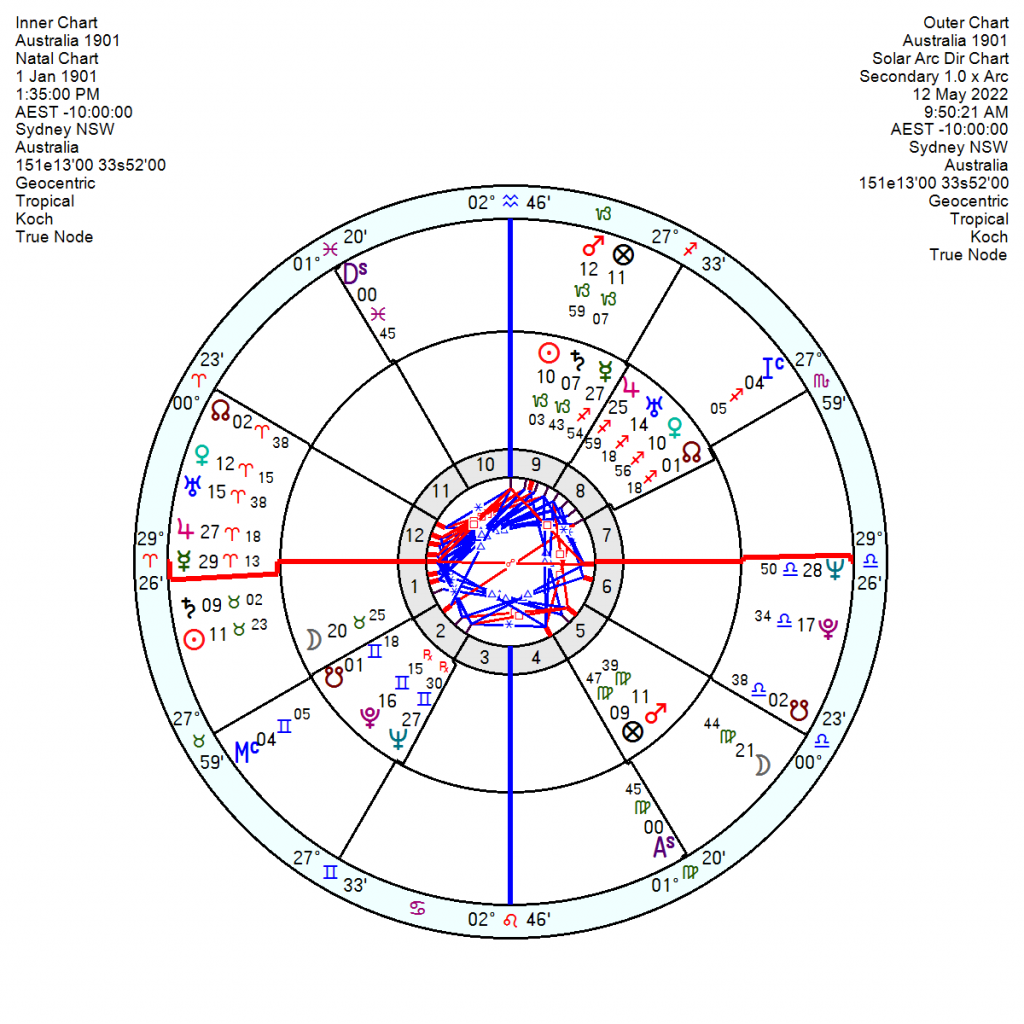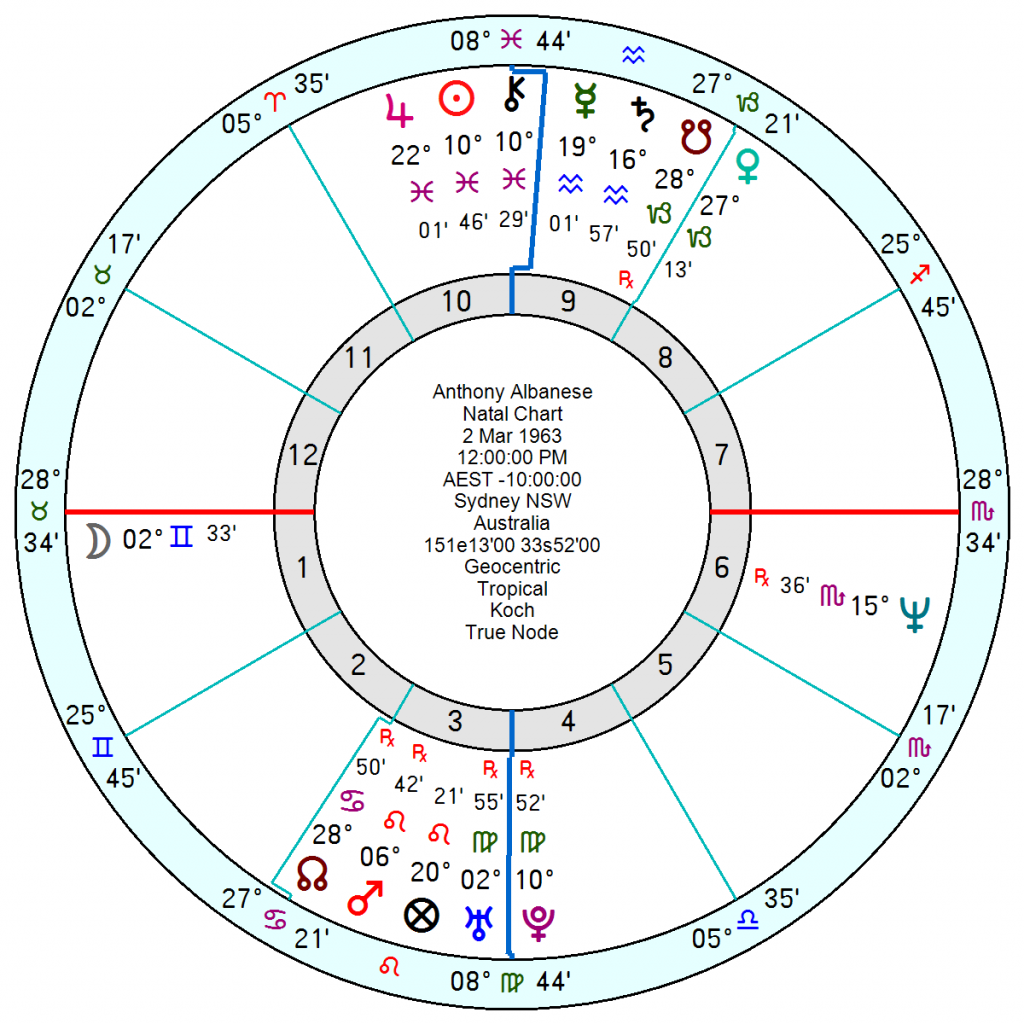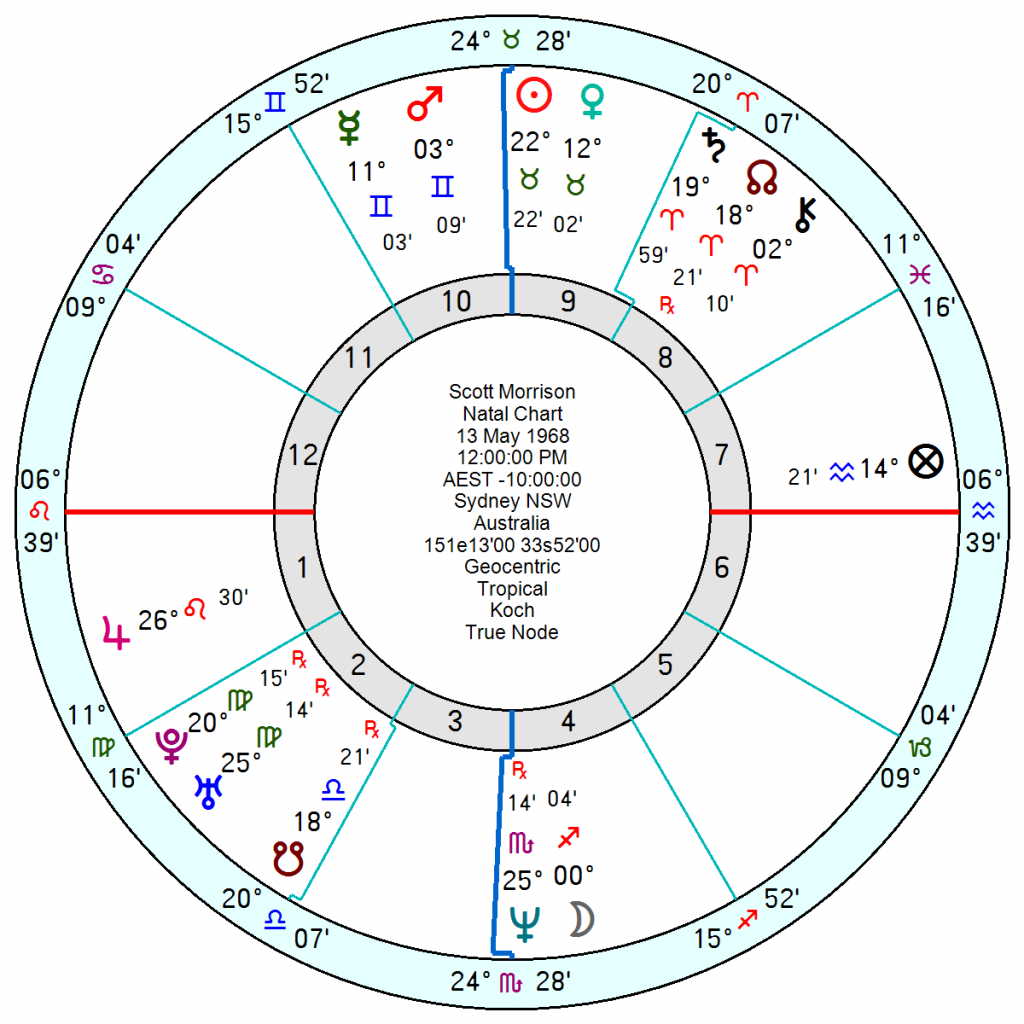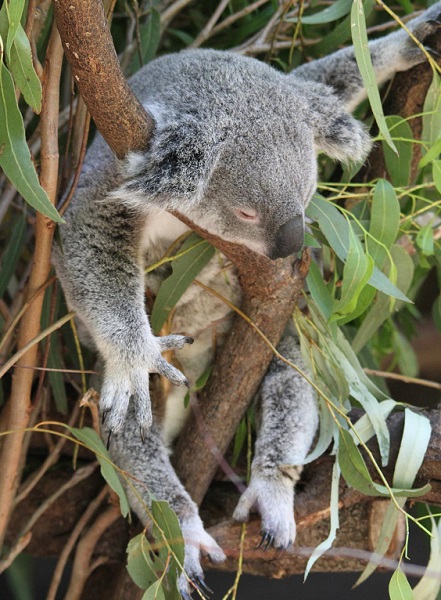 The polls for the Australia election show a solid lead for Labor and Anthony Albanese over Scott Morrison's coalition government. But the Australia country chart reeks of confusion and indecision; and neither of the two leaders looks cheered by the result, nor does the main financial backer of the independent candidates.
  The gap at the moment of 54% to 46% would need a staggering reversal to alter it at this late stage. But there still appears to be unease about it not being in the bag.
The vote comes after a stormy period with the pandemic, a rancorous fight over climate change strategy and deteriorating relations with China. Rising interest rates, inflation and energy prices are a worry for voters; and the Solomon Islands' decision to sign a security pact with China undermined Morrison's assertion that he is stronger on national security.
Albanese, 2 March 1963, no birth time, is a Sun Pisces trine Neptune and opposition Pluto Uranus in Virgo; with a cool Saturn Mercury in Aquarius square Neptune – good as a backroom operator and he has stumbled through the campaign. Over the election he has tr Uranus exactly opposition his Neptune and square his Uranus/Node midpoint and from late May through June tr Uranus squares his Saturn Mercury – which certainly looks like change, though also fractious and high tension. There's not much of cheer on his chart this year (without a birth time) apart from a very mild tr Jupiter trine his Mars in late May. He's much more upbeat and confident in 2023/24 though with hiccups as well.
Scott Morrison, 13 May 1968, a Sun Taurus trine Uranus Pluto in Virgo and opposition Neptune square Jupiter in flashy Leo – not short of ambition or chutzpah but also over confident and not always sensible.
He's in a generally disastrous year with tr Neptune opposition his Uranus over the election as well as tr Uranus conjunct his Mercury/Saturn – so he's in much the same pickle as Albanese.
Jessica Adams sees a hung parliament because of Mercury Retrograde on election day with delayed results and general mayhem.