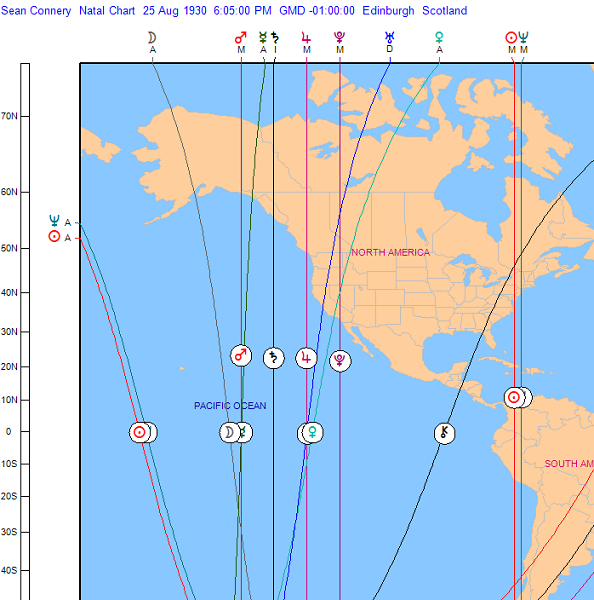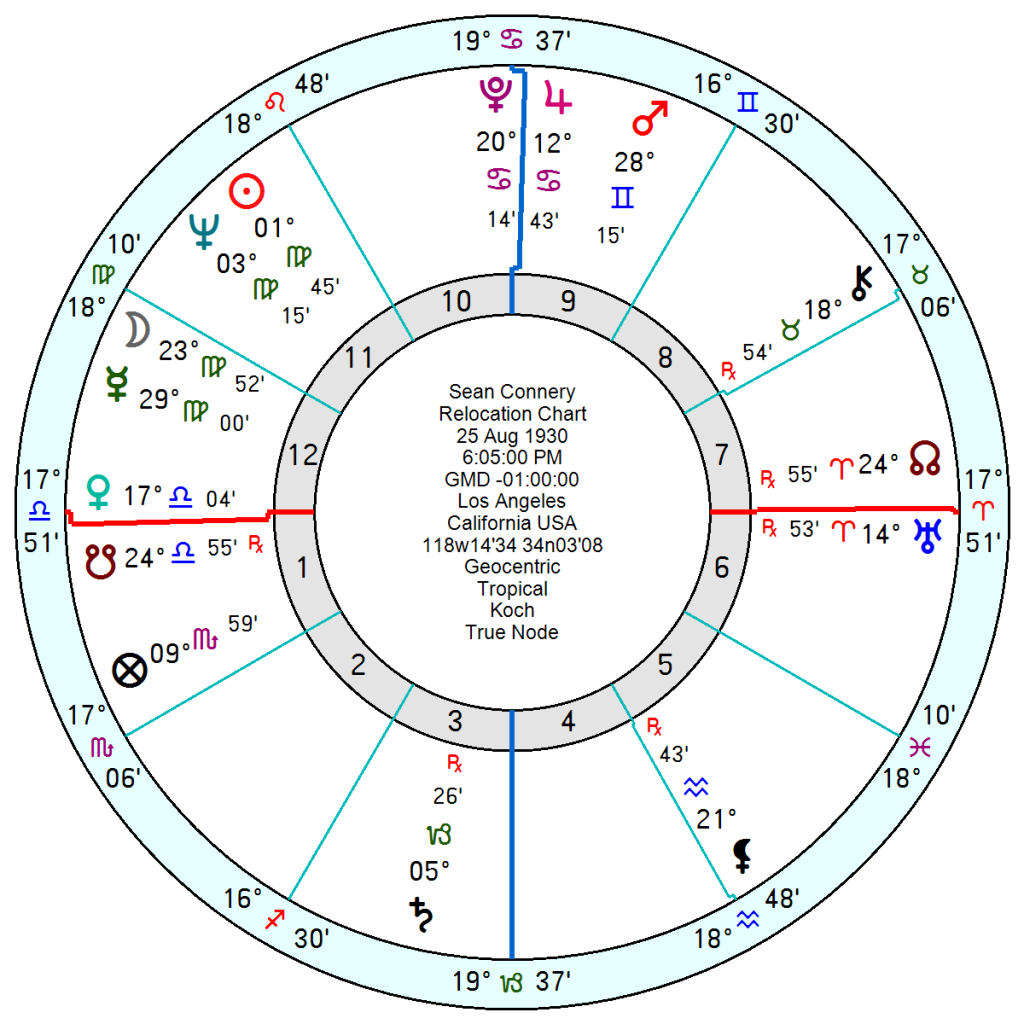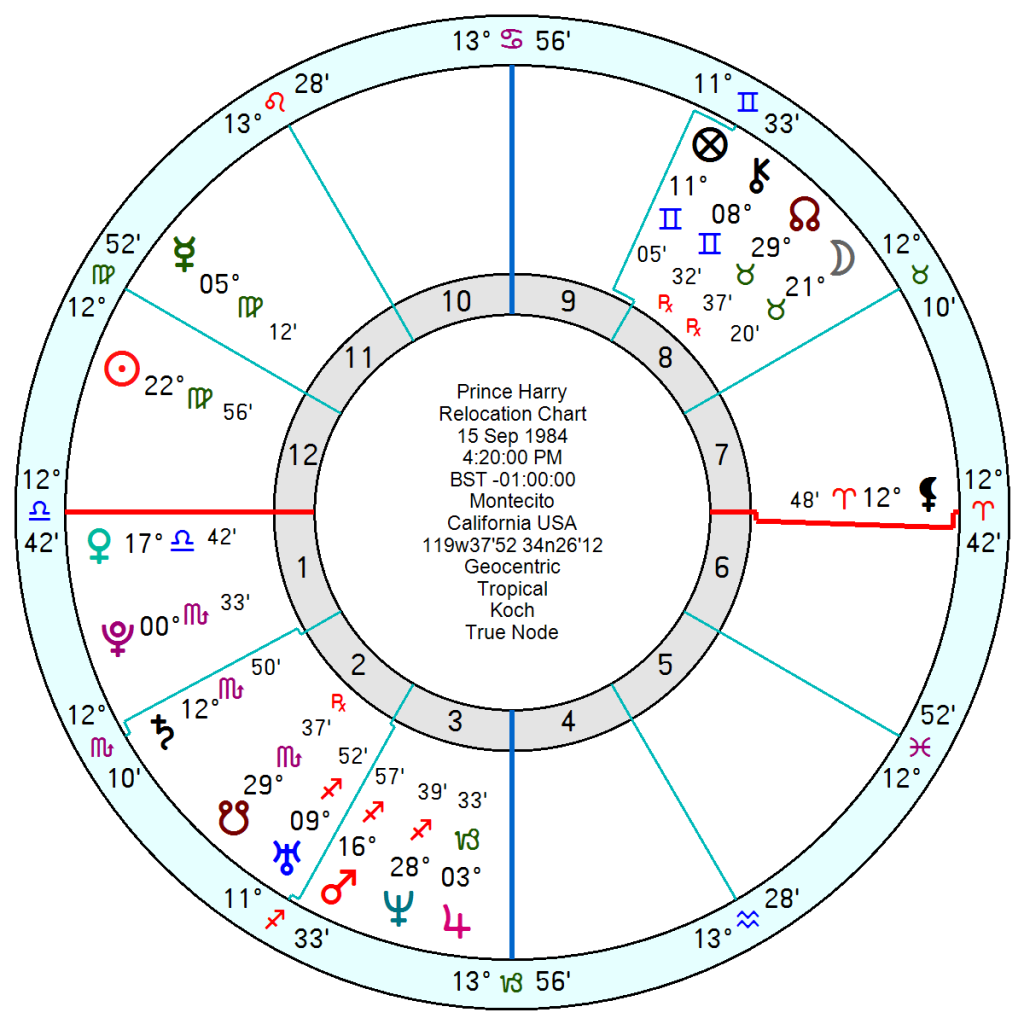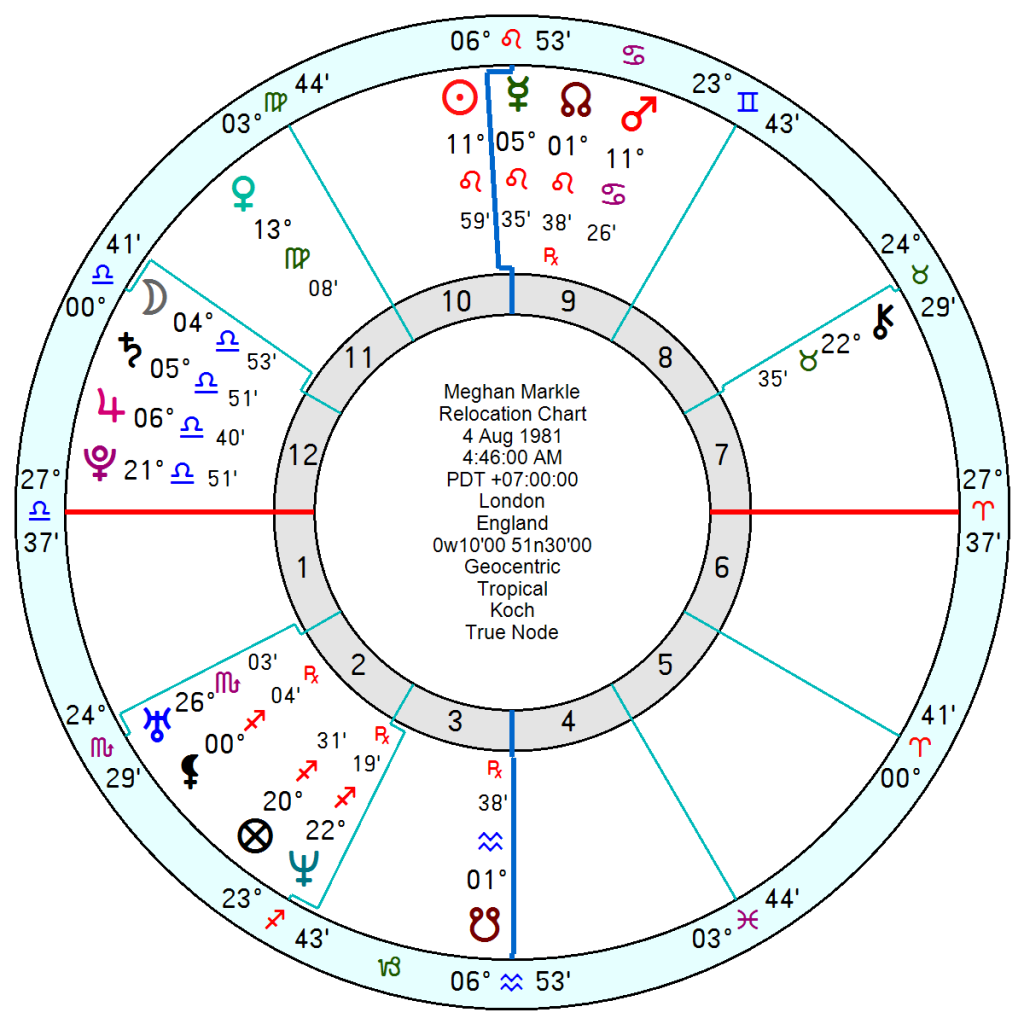 Going to war, going on vacation, finding love, luck, success or being accident prone – where in the world? Pin pointing why certain locations are comforting while others bring bad vibes is the function of astrocartography otherwise known as locational astrology, developed by San Francisco astrologer Jim Lewis. Plotting the birth chart on a world map or relocating the chart to a specific town can change your fortunes.
The classic example is Sean Connery, born into poverty in Edinburgh, who had his mega-successful Jupiter Pluto on his Midheaven line through Hollywood and his Sun Neptune midheaven through eastern USA, New York down to the Bahamas where he retired. The Midheaven lines show career prospects. His first wife, Diane Cilento, was Australian where his Saturn Descendant line ran so it would be an uphill struggle to make it work. His second wife Micheline, who is French-Moroccan, gave him a settled home life, indicated by his Chiron on the IC line (4th house = home and family) through Morocco and Southern Spain where they lived for some years.
It need not even mean going to the location indicated. One happy marriage came about with the UK partner having her Venus Ascendant line through Detroit where her husband had been born. The association alone may be enough. One London stock trader who made a pile on the Tokyo Exchange had his Venus Pluto Midheaven through Japan which he never visited.
Yoko Ono, born in Japan, has her Venus midheaven line through Liverpool, where Beatle John Lennon was born. Queen Elizabeth II had her Venus Ascendant line through Greece, the birthplace of her lifelong husband Prince Philip.
Celebrities who run activist campaigns in Africa like Ben Affleck, George Clooney, Angelina Jolie have strong lines running through that location drawing their attention. As does Princess Anne who has done sterling work for Save the Children for decades. Prince Harry and Meghan Markle should also look to Africa for their future success. Harry's Lesotho charity which supports young people in Africa is headquartered where he has his high-vitality Mars Uranus on the Midheaven with a successful and charitable Jupiter Neptune in the 10th.
Where it can get tricky for couples deciding on a major domestic or work relocation is if a specific place suits one and not the other. Hollywood for Megan emphasises her 1st house attention-seeking Leo Sun. But it puts Prince Harry in the shadows with a 12th house Sun and 8th house Moon.
What is marginally odd is that Meghan has her Sun in the 10th conjunct the Midheaven for London – which indicates great success and prominence though it puts her Moon, Saturn, Jupiter and Pluto in the 12th so she never felt at home. London gave her Prince Harry and a £42 million wedding as a springboard for future success but she would not feel nurtured.
Mars lines indicate a heated location likely to bring arguments or accidents. Uncannily every American president in recent times who volunteered or was pulled into military activity did so on a world zone through which one of their four Mars lines ran. For Roosevelt it was Pearl Harbor; for Harry Truman, Japan and Korea; for Kennedy, Lyndon Johnson and Ford, it was Vietnam; for Jimmy Carter, Iran. Margaret Thatcher's Mars on the midheaven (the key Mars line) runs straight through the tiny Falkland Islands, where Britain declared war after the Argentinian invasion in 1982. George W Bush had his Mars Midheaven line through Afghanistan.
Actress Natasha Richardson, born in London, who was married to Liam Neeson, tragically died after a ski-ing accident near Montreal, Canada. Her chart relocated there put Mars conjunct her Ascendant there opposition Saturn. She had that accident-prone aspect natally but the Canadian location highlighted it.
Pluto lines are recommended to be treated with caution. JFK had his Pluto midheaven through Dallas, Texas, where he was assassinated in 1963. Obviously not everyone dies on their Pluto midheaven lines, since regular world travellers will cross theirs several times a year. Additional factors will have been in play. In JFK's birth chart he had an unaspected and uncontrolled Pluto which Dallas triggered.
Years ago I was reluctantly persuaded to lecture on a cruise ship in the eastern Mediterranean, which given that my Pluto MC runs through Athens and down through Egypt, both of them on the itinerary, I was nervous beforehand. Not too much else showed up in my chart in terms of predictive influences – and my Pluto is well integrated in my chart, so I agreed. But it was not a happy voyage, the scary highlight of which was being in Luxor one day before the first Al Quaeda terrorist massacre of 62 tourists. Plus I had a serious nose-bleed, requiring hospital treatment. A close shave.
  Astrocartography can be uncannily accurate but it may not always be fully lived out and can function in obscure ways. On my own chart – Big Sur in California is my idea of healing heaven with Venus, Mars, Neptune and Chiron lines anchored there. India with which I have strong and friendly career connections flags up. But I have never quite worked out what I am supposed to do with my most successful career lines running through Iran, Kazakhstan, Mongolia and the UAE. Maybe in another lifetime.
On mulling over those lines through the Middle East and further north – those regions did have a resonance for me.  I read voraciously of explorers in Arabia when I was a teenager and since have been fascinated by melting-pot Middle Eastern history ancient and modern.
I even have a tenuous connection extraordinarily enough with Kazakh/Mongolia where my Chiron/MC line runs. It is connected to a friend who sadly suicided just as he was going out there to film. I had introduced him to an intermediary who was able to get permissions and make the impossible happen. But tragically it wasn't enough.
So the lines do spark up interest even if never visited.
Not everyone is mobile or has a choice about uprooting but astrocartography can still indicate places where connections at a distance can be made or explored.