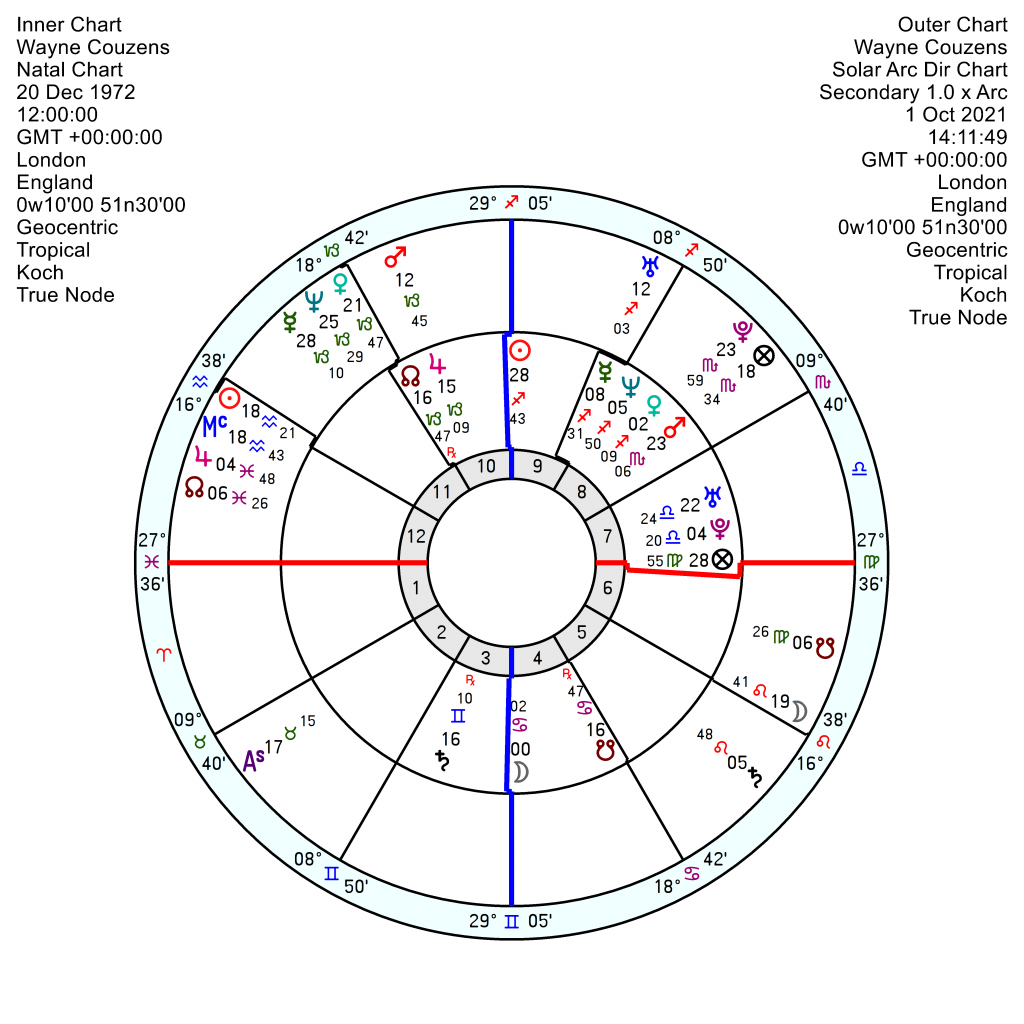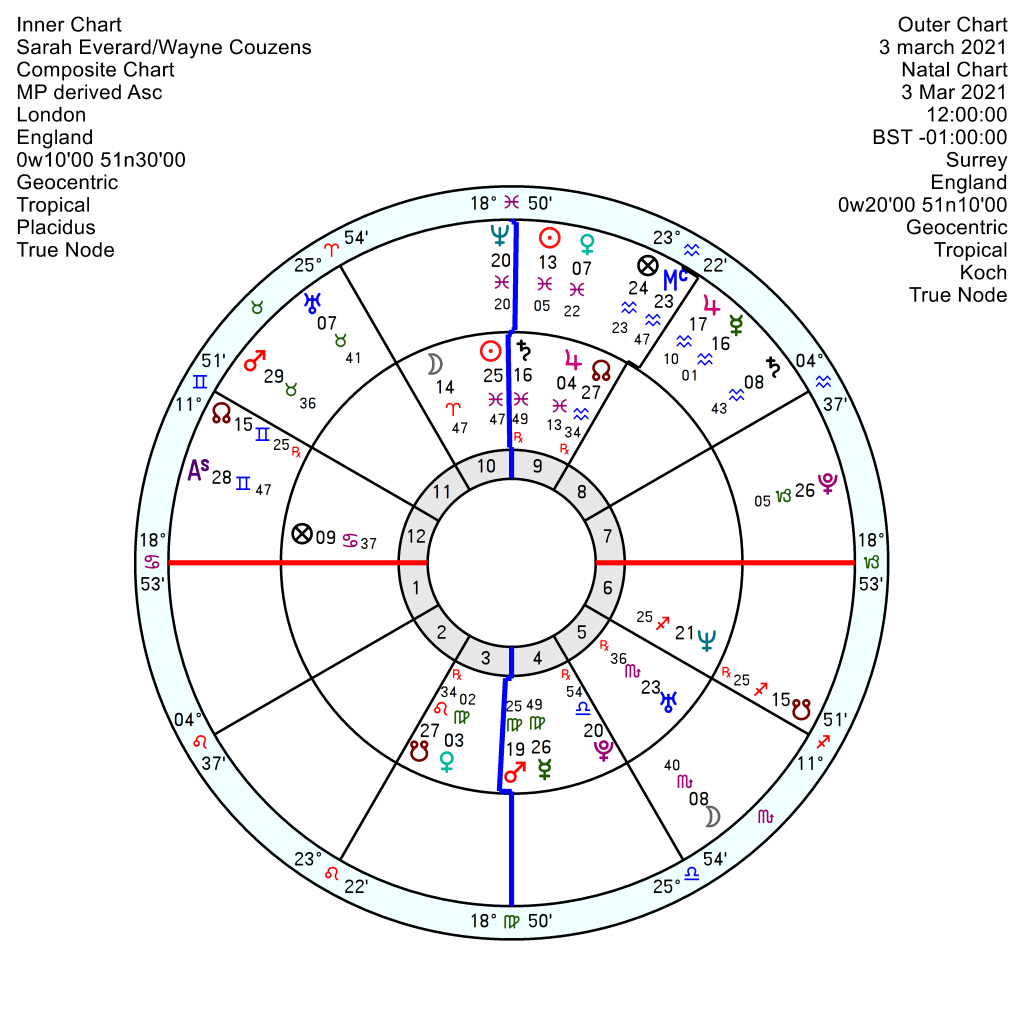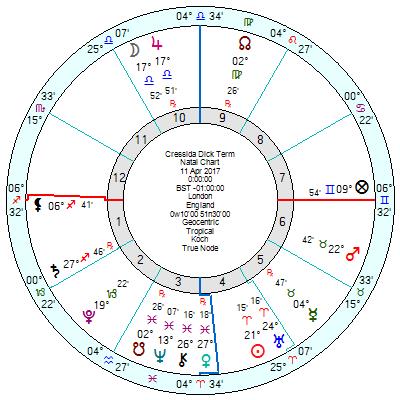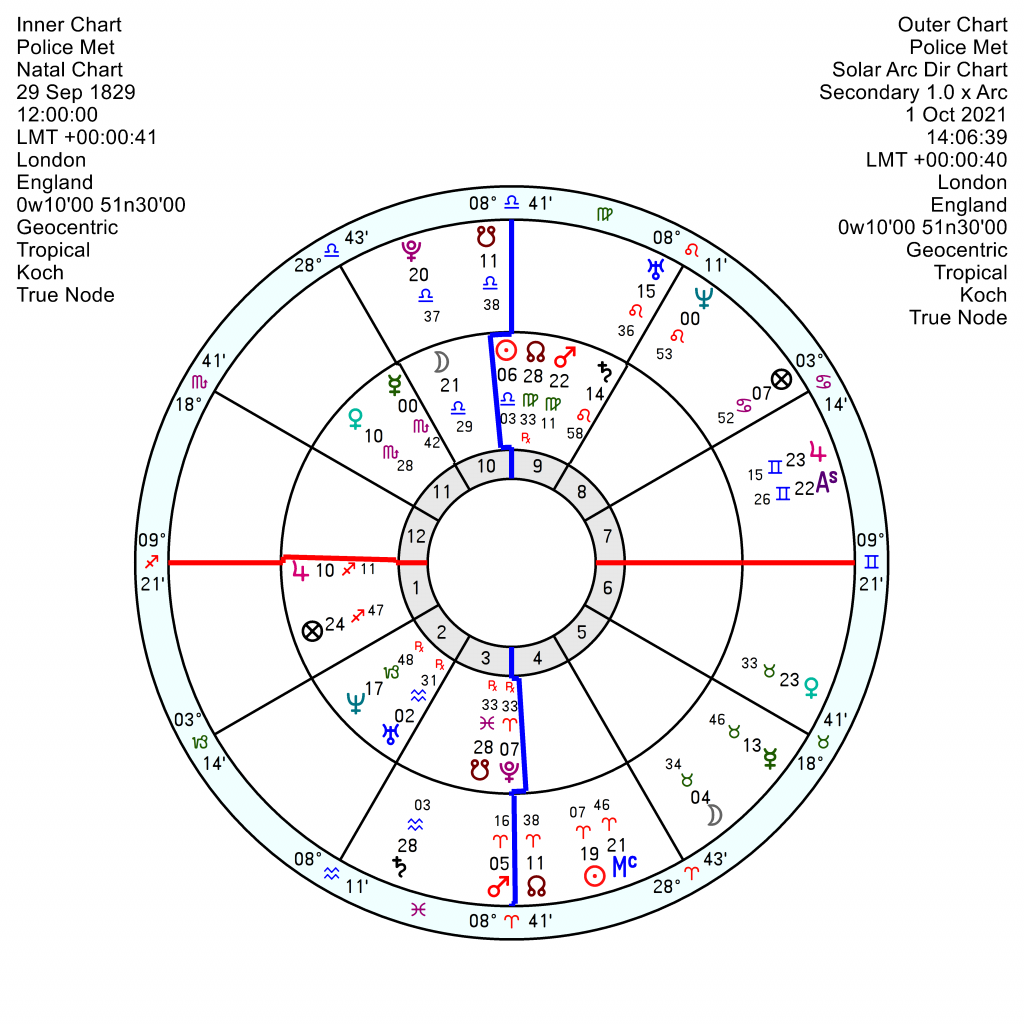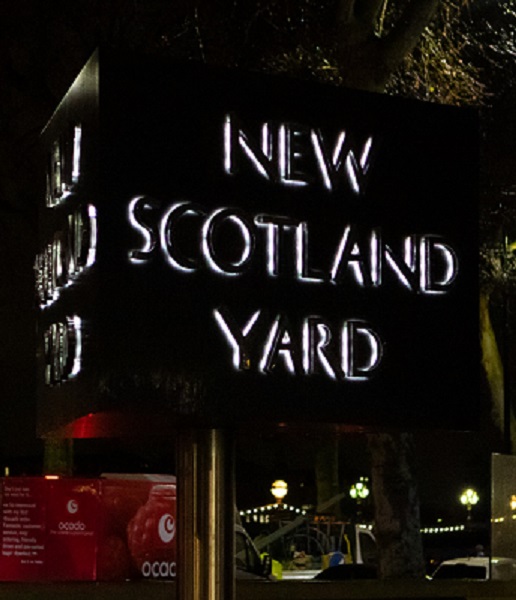 The deeply distressing tale of the gruesome rape and murder of Sarah Everard by policeman Wayne Couzens has been dominating the UK headlines since he was sentenced to life. It's also dragged out of the woodwork a culture of misogynist, homophobic, racist and sexist attitudes amongst a section of the working police force, some of whom may now be investigated. And serious questions are being asked – again – about the Metropolitan Police, who employed (and continued to ) Couzens despite allegations of flashing.
  It hardly bears lingering on except for a few astrologically significant points. Couzens born 20 December 1972 is a Sun Sagittarius almost certainly opposition a Cancer/Gemini Moon square Pluto – a control freak. He also has Mars in vengeful Scorpio which was being triggered by his Solar Arc Pluto moving to conjunct this year. So the full weight of the central, power-hungry T square of his chart was brought to bear on his Mars in Scorpio, which was never going to be a happy state of affairs.
Tr Jupiter was conjunct his Solar Arc Sun raising his confidence which is often seen with perpetrators around the time of an atrocity. And tr Pluto was conjunct his Solar Arc Neptune for confusion, perhaps a hint of megalomania.
   Sarah Everard, 14 June 1987, was a Sun Gemini opposition Saturn Uranus in Sagittarius. When she was killed tr Pluto was opposition her Solar Arc Sun. Her Mars in Cancer was conjunct Couzens' South Node and his Pluto was conjunct her South Node – so a strong pull backwards for both.
  Her 'relationship' chart with Couzens, though they had never met, has a stark Mars opposition Saturn Sun square Neptune which has overtones of cruelty and perversion. A fated connection that ended in a terrible tragedy for her.
The other minor thought is that Cressida Dick, the benighted Met Police commissioner who seems to survive despite a litany of blunders over the years, started her term of office on 11 April 2017 when Mars was in Taurus conjunct Algol and in opposition to Couzens' Mars; Saturn was in late Sagittarius conjunct Couzens' Sun; and the Sun Uranus in Aries was opposition Couzens' Uranus. In an eerie way her term is inextricably linked with the Couzens's story.
  Too much to hope at this late stage that she might fall on her sword and do the decent thing. See previous post on Met Police and Cressida Dick March 15 2021.
The Met Police chart has tr Neptune opposition the Mars till January 2023 so continuing to slide.  And exactly of this moment has its Solar Arc Venus at 23 Taurus conjunct Algol. Coincidences abound.