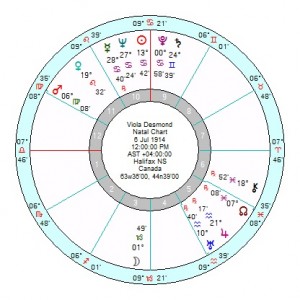 Viola Desmond is to be featured as the first woman on a Canadian ten dollar bill. She was a black business woman who fought against racial segregation.
Born 6 July 1914 in Halifax, Canada, she was one of 15 children whose parents were active in the black community. She trained to be a beautician and hairdresser out of state since Halifax's beauty schools were whites-only, then set up her own businesses and encouraged others she trained to do the same.  In 1946, she became embroiled in a long series of trials after she was arrested on a spurious charge after having refused to sit in a segregated area of a Halifax cinema.
She had four planets in creative, ambitious and caring Cancer – Sun Pluto Neptune and Mercury; with her Sagittarius/Capricorn Moon opposition Pluto and perhaps opposition Saturn, so a bleak emotional childhood and experience of life. She also had a wide-ish Yod of Mars in Virgo sextile Pluto (Sun) inconjunct Uranus – so would always have a sense of never fitting in, which drove her to become a social reformer (Uranus). She died in 1964.
Her get-it-together 5th Harmonic is strong as is her healer/victim 12H; and her leaving-a-legacy for history 17H is also well aspected.