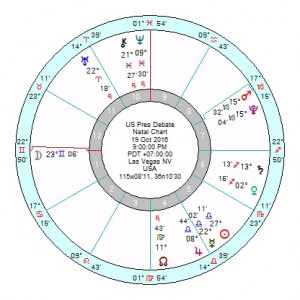 The Mars Pluto conjunction's brutality, hostility and bad-temper is certainly showing its ugliest face and the  conjunction doesn't come exact until October 19th, so there'll be more and possibly worse to come. With a couple of Uranus thunderbolts mid month and on the 29th.
Re-running part of the August 28th post which was headlined 'Gladiatorial contest gets more vicious into October' – and how.
The tr Mars tr Pluto in Capricorn will fall in Trump's grandstanding 5th house so he's likely to be incandescent with rage and hostility.
Hillary is in worse shape for the two October debates than for the September one. For the October 9th debate: she's got tr Saturn square her Mars/Neptune which is weak-willed, low energy, feeling inferior or unstable – so not on top confident form. The October 19th debate sees her with tr Saturn square her Jupiter/Uranus – disadvantages, losses, obstinate, inhibited; and square her Neptune/Pluto – pessimistic, muddled, tormented. These midpoint Saturn transits are relatively minor but she'll be sagging slightly and she's not a good extempore speaker at the best of times.
Donald Trump has tr Uranus opposition his Mars/Uranus midpoint through October which is inclined to over-react and become aggressively argumentative. Like Hillary he is sagging over October 19th with tr Saturn square his Jupiter/Pluto = unable to make progress, for a few days up to October 28th.
If I may be allowed a personal, non-astro-thought. I've walked through the wall of worry on this election. Not that UK politicians are exactly covering themselves in glory. But if the US wants to elect Trump, on their own heads be it. Just remember to pull up the drawbridge after November 8th and protect the rest of the world from the fall out. Hillary may be many shades of awfulness but she has a smidgeon of competence and experience. A dodgy businessman with a hair-trigger temperament and zero political track record really doesn't cut it.