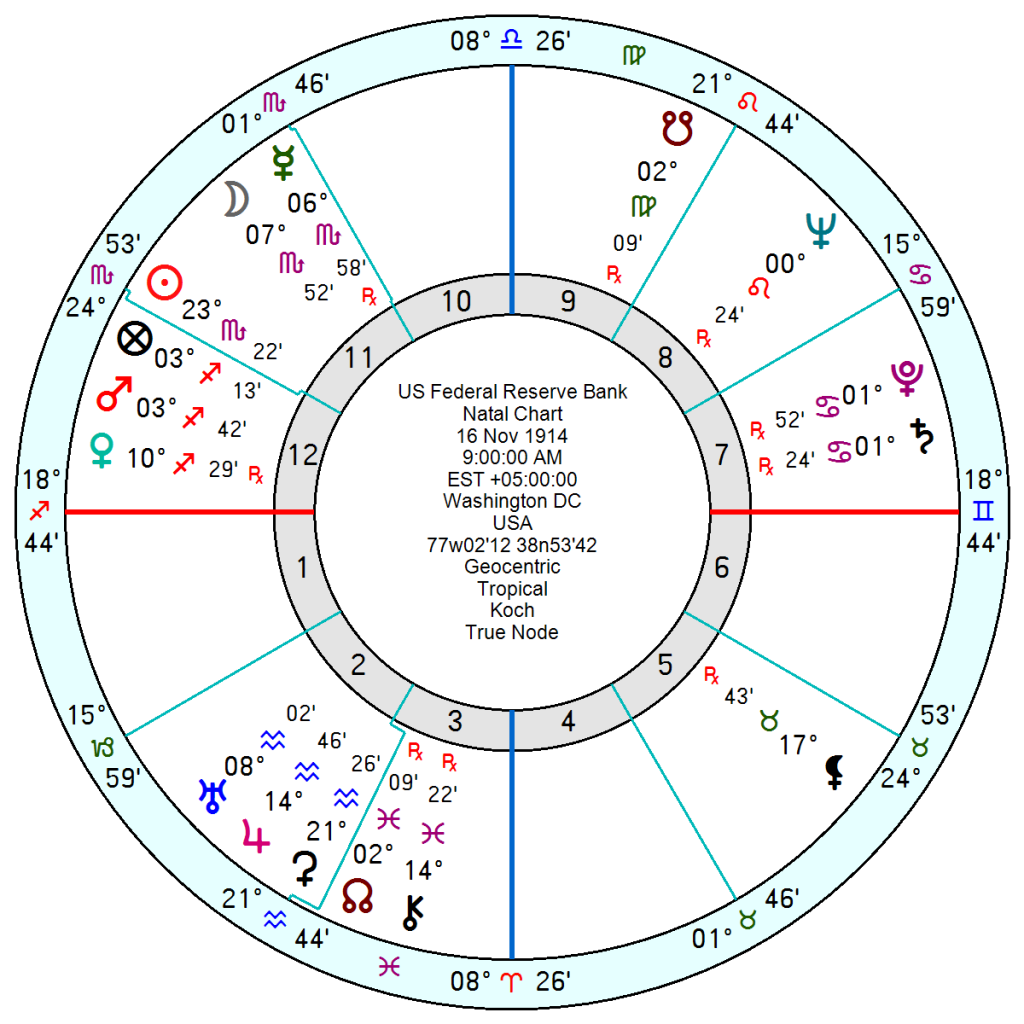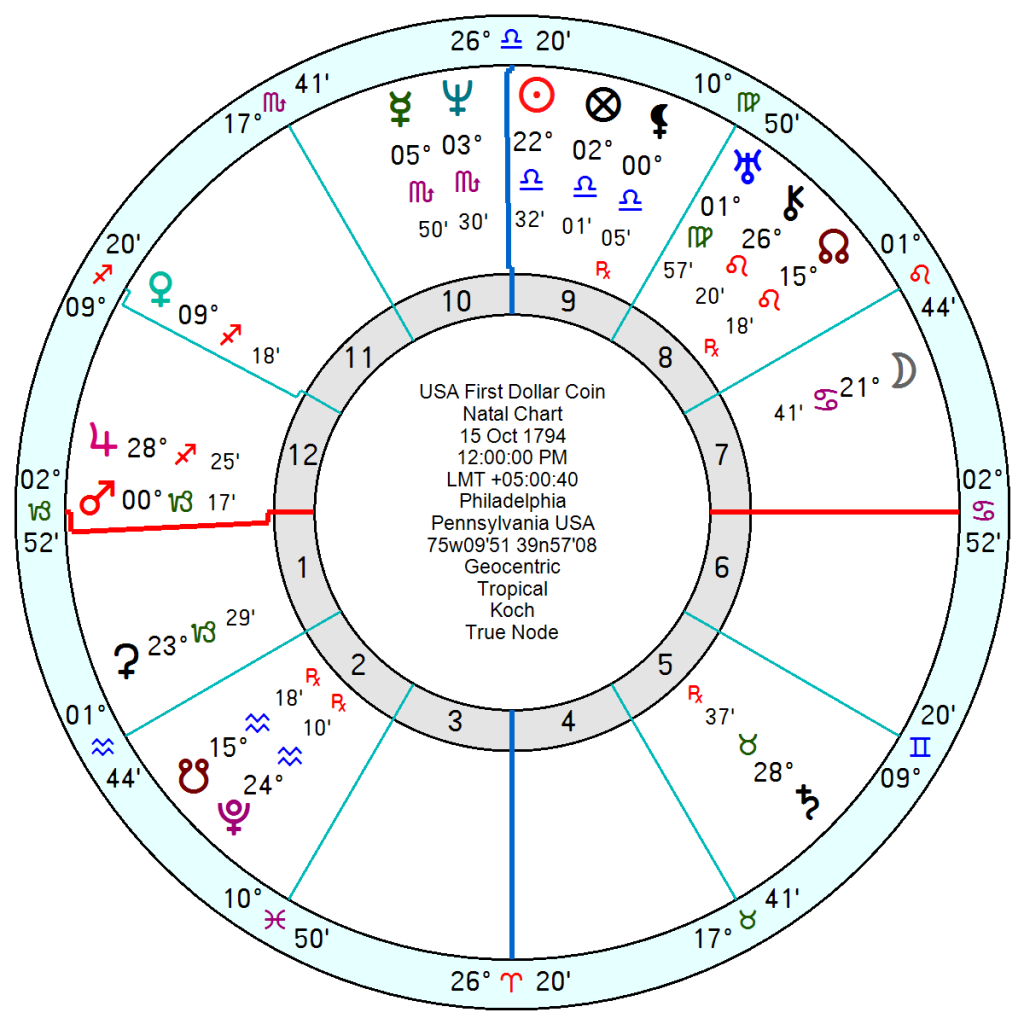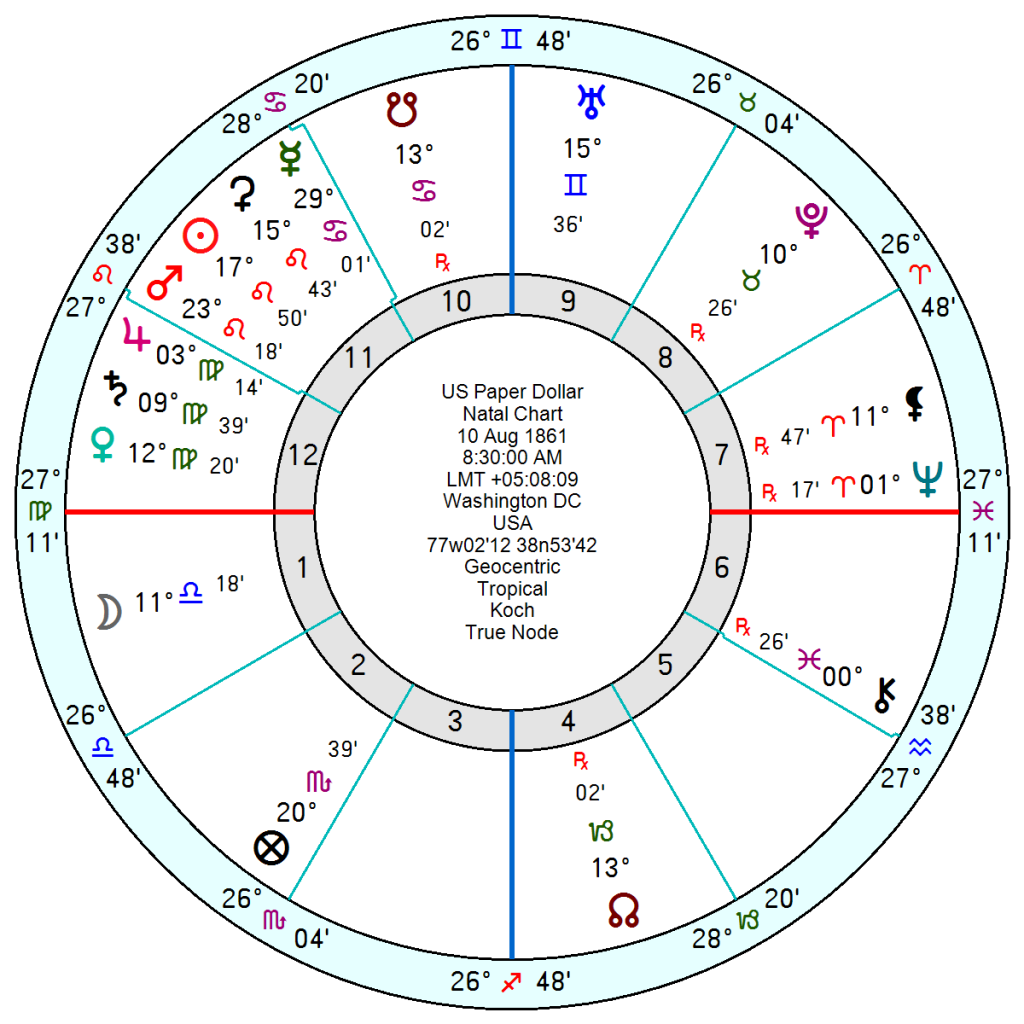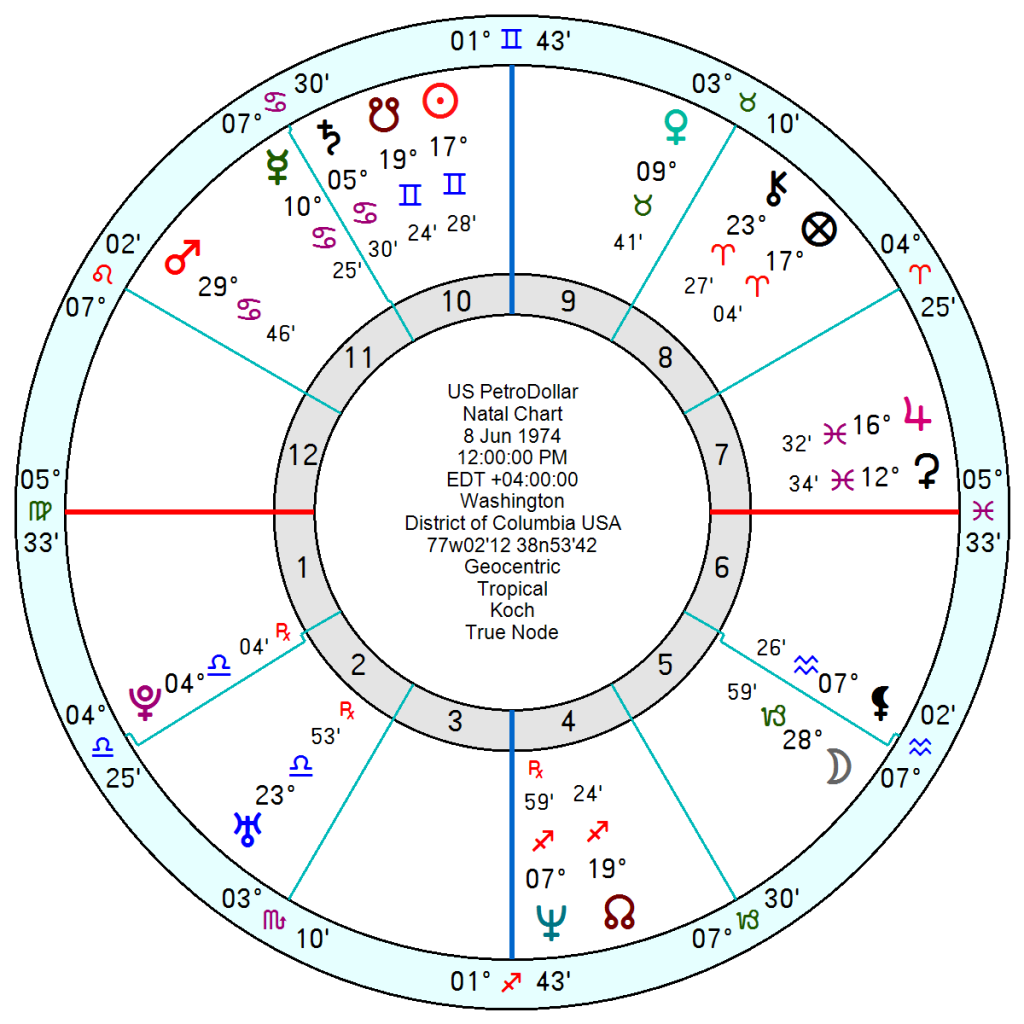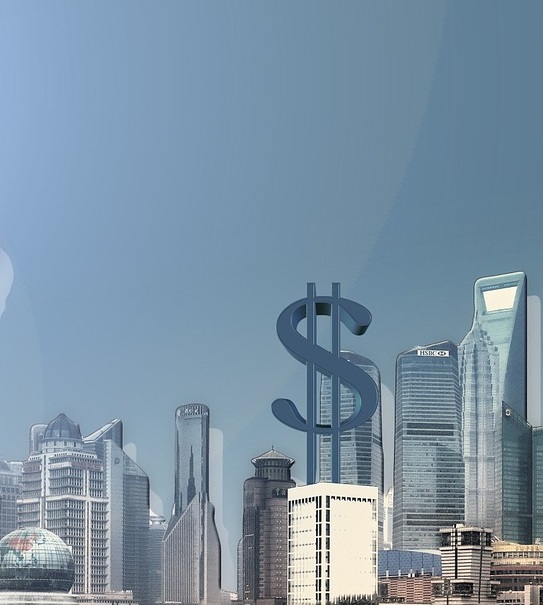 Is the US dollar in trouble?  The Federal Reserve chart and the known dollar charts certainly indicate a devastating three or four years ahead.
  The FedRes 16 November 1914 9am Washington, DC, has tr Pluto in Aquarius opposition the 8th house Neptune now till mid June and returning throughout 2024 as well – that would point to massive confusion of the variety that accompanies earthquakes, not necessarily literal in this instance but financial. Tr Neptune is also heading (plus tr Saturn) to square the FedRes Saturn Pluto at 1 degree Cancer in 2025/26 into early 2027 which will ratchet up the levels of uncertainty to extreme levels.
  What is significant about Neptune in late Mutable in the next two years is that it mirrors the Wall Street crash of 1929 when tr Saturn was in late Sagittarius, and the Lehman collapse of 2008 when tr Pluto was also in late Sagittarius – both of them moving in to oppose the FedRes Saturn Pluto.
There are various dates for the start of the dollar.
The First Dollar coin – 15 October 1794 (see URL below). That has Jupiter in late Sagittarius conjunct Mars at zero Capricorn. Its buoyancy, courtesy of that sensitive Mars Jupiter marker, was rattled by the astrological pressures of 1929 and 2008. Tr Neptune is aiming to square the Jupiter (= bubble bursting) by 2024 and then undermine the Mars in 2025 along with tr Saturn also in Aries. 2025/6 also sees tr Pluto square the Neptune – no solid ground ahead for several years.
USA Paper Dollar, 10 August 1861 8.30am Washington. Over the Wall Street crash, tr Neptune in early Virgo was conjunct the Jupiter which is a classic confidence-deflating influence. Tr Saturn in late Sagittarius was heading to square the Neptune. By 2008 tr Pluto in late Sagittarius was heading to square the Neptune. Tr Neptune was square the Mars. It will be seriously rattled by tr Neptune Saturn heading into Aries – 2024 to 2027.
The USA Petrodollar, 8 June 1974, was less obviously affected by the 2008 Lehman collapse though by 2010 tr Pluto was putting heavy pressure on the Saturn square Pluto which would cause pain. Tr Pluto is opposing the Mars on this chart this year and next, which is trapped and powerless.
  On these charts, the years between now and circa 2028 look exceptionally discouraging but whether this extends on into the 2030s??
https://astrologicalinvesting.blogspot.com/2009/09/birth-chart-for-usa-dollar.html