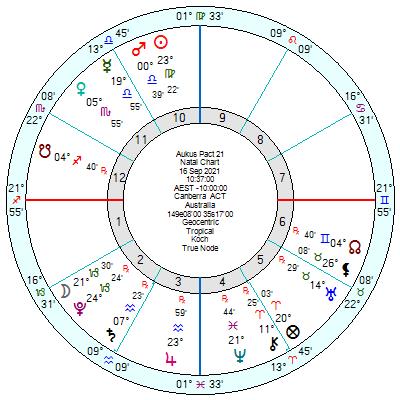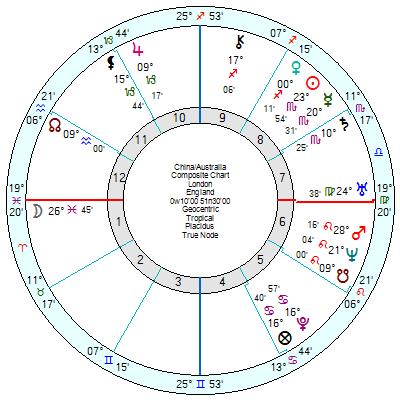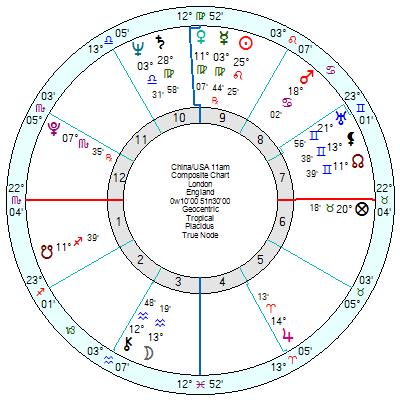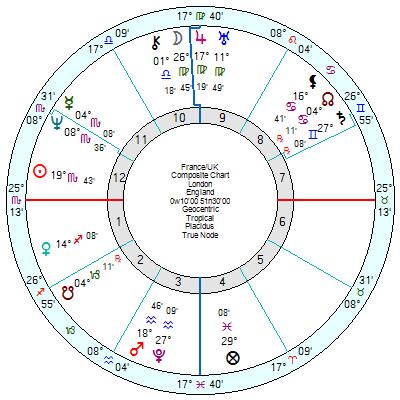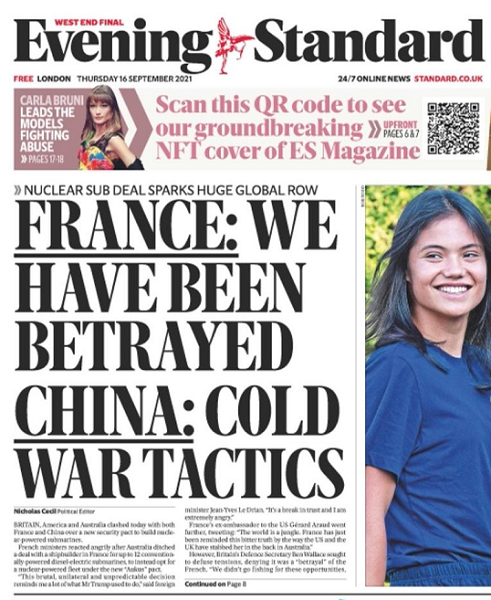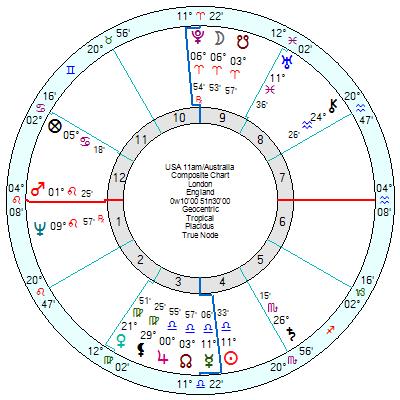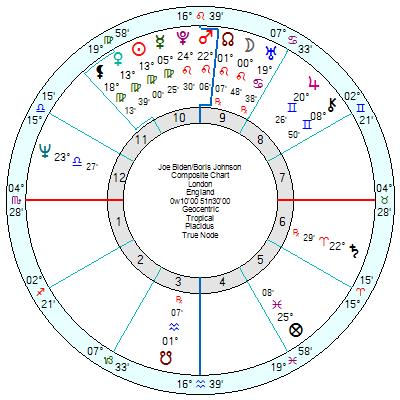 Fur and feathers are flying with the surprise announcement of a secretly-negotiated USA, Australia, UK deal to sell nuclear powered submarines to Australia. The French are upset since it scuppers a $66 billion contract to sell diesel-submarines to Australia. The Chinese have their nose out of joint since it is widely seen as an effort to counter their influence in the contested South China Sea.
The AUKUS pact was announced in Canberra at 10.37am on 16 September 2021 (I'm not sure whether this was the original tri-partite Biden/Morrison/Johnson announcement) – but whichever came first there is a lacklustre, indecisive Sun opposition Neptune which isn't too inspiring though it is balanced by a controlling Sun trine Moon Pluto. The next two years will be the testing time as the Solar Arc Neptune moves to close the opposition to exact.
What is clear from all the charts – China 1912 and China 1949, USA, UK, Australia and France – is that the real problems will emerge in 2023/2024. And that occurs right across all the relationships between each of them. There will be rumblings of discontent and disillusionment before then but that is when it peaks. With the exception of France/UK who will squabble throughout, as is their way, which may be over other bones of contention.
Add On: It may be coincidental but picking up from an older post about the charts of US and UK warships – USS Abraham Lincoln, Gerald Ford, Milwaukee and HMS Queen Elizabeth and Prince of Wales – all look rattled in 2023/24. So there may be more obvious tensions than usual which doesn't mean outright conflict but it could be sabre-rattling and responses. The two key Australian warships HMAS Canberra and Adelaide also look to be moving through a similar, highly disruptive patch.
Add On/2: The Australia USA relationship chart in essence is Plutonic, which suggests closeness though also perhaps one-sided control and dominance with a tendency for provoking oneupmanship battles with a composite Pluto opposition Sun and Jupiter as well as trine Mars. Where relations will be rattled most severely will be in 2024/25 when tr Pluto in Aquarius opposes the Mars and tr Uranus opposes the composite Saturn – which could be facing a fraught situation together, or ructions caused by a change-over Presidency.
  The USA/UK relationship may hit problems next year though that could be for different reasons. Biden and Johnson do not get on to put it mildly with hostility and suspicion writ large on their relationship chart.
As a further throwaway addendum – China is not a success region on Biden's astrocartography, assuming an accurate birth time.