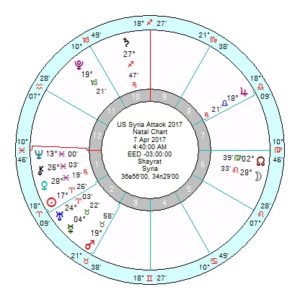 Mars trine Pluto, this week's signature influence, has certainly made its mark with the Russia underground bombing on Tuesday, a nerve agent gas assault against Syrian civilians and now the Trump strike against the Assad military airport believed to have made the attack. Heavy Pluto influences tend to hang around over several days in the run up as well as the exact aspect. And there's a challenging Sun Pluto square this Sunday as well. Add on: And the Stockholm, Sweden four  deaths (to date)  from a vehicle assault with an Uzbek driver.
Trump has swung dramatically away from the anti-interventionist foreign policy stance he campaigned on. A tweet from two years back: "Obama must now start focusing on OUR COUNTRY, jobs, healthcare and all of our many problems. Forget Syria and make America great again!"
He seemed genuinely touched by the graphic images of dead children but justified outrage isn't always a productive tactic – viz. David Cameron and the decapitation of Gaddafi which has left Libya a failed state. Never mind the faux outrage over Iraq.
However Trump is a great diversionary tactician and with a load of problems on his plate, failed policies, ominous questionmarks over his Russia connection and on the exact day of the Chinese premier's visit, maybe he thought a shock and awe extravaganza might gain him the spotlight and some plaudits.
The strike was aimed at the Shayrat airfield in Syria at 4.40am local time. That gives a very complex chart with an emphasised/afflicted Mars – in a destructive and ruthless trine to Pluto and on the focal point of a Yod to Jupiter sextile Midheaven. Bil Tierney says of a Yod focal point Mars – :'prone to plunge into activities without any sense of purposeful direction.' 'Aggressive, strong passions, self-defeating.' 'A mismanaged (Mars) Yod could result in fateful consequences due to rash or disruptive actions.'
There's also an emphasised Jupiter opposition Sun Uranus square Pluto. Jupiter was opposition Mars square Sun when GWB launched the Afghanistan War in 2001; and at the Iraq War in 2003 Jupiter was inconjunct Mars and opposition Neptune. So Jupiter gives confidence, good intentions or self-righteousness but not always practicality. Admittedly in 2001 and 2003 there was the heavy war-like Saturn opposition Pluto, which is missing here thankfully.
Today for the US Tomahawk attack on there was also a Fire Grand Trine of Moon in Leo trine Saturn in Sagittarius trine Uranus. Fire Grand Trines are spontaneous, impulsive, most often don't think through consequences, give a strong unshakeable sense of self-belief, demanding of attention.
There's a positive Saturn trine Uranus, so there is some potential for a constructive shift. Plus a foggy, wreathed in mystery Neptune on the Pisces Ascendant.
Putin's spokesman condemned the attack, disputing that Assad's forces were responsible for the sarin atrocity – not surprising since the Russian's were theoretically in charge of destroying Assad's CW supplies.