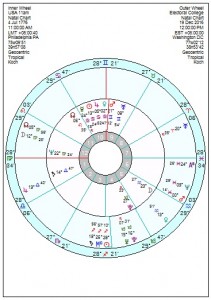 The Electors meet in their own states on December 19th to cast their votes for President and Vice President. These have to be delivered by Dec 28th to the Senate; there's a meeting on Jan 3rd; and another on January 6th when votes are counted in Congress.
While it seems unthinkable that any rebellion amongst the Electors could overturn what was a considerable win for Trump of 306 to Clinton's 232, these are bizarre times. And both Trump's chart and the USA 1776 do indicate serious setbacks over this period. See previous post on Trump facing Saturn, Dec 1 below.
The 19th sees Mercury going retrograde/stationary at 10.54 am UT till January 8th.  Tr Saturn will oppose the USA Mars at 21 Gemini from Dec 29 to Jan 5th; and then squares the US Neptune from January 5th to 15th. So anger, confusion, panic, a collision.
Trump, of course, has tr Saturn conjunct his Moon and then opposition his Sun from Dec 29 to Jan 15. Both of which will be deflating.
Not only is the Clinton vote 2.5 million more than Trump; there's now a major rumpus about the Russians interfering in the election to favour Trump, releasing Democrat hacked info while holding back Republican material. And the Republican FBI chief is being accused of damaging Clinton with allegations which he later retracted as unfounded two days before the election.
All an unholy mess as Trump continues to favour as nominees precisely the fat cats he accused Clinton of cosying up to.