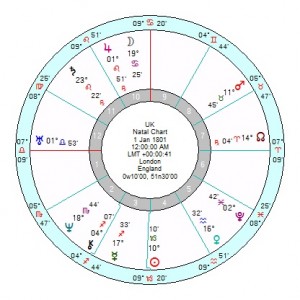 In response to a query about the UK near/far future and whether it might return to happier, kinder times and away from globalisation.
The good news in the short term is tr Jupiter moving across the UK Libra Ascendant from mid October this year which should produce a morale boost and more confidence thereafter.
Tr Neptune is now just into the 6th house of health and work staying till 2030 which will be undermining for health workers, socialist/workers' political parties, armed forces and the civil service.
Tr Saturn is going through the 3rd till late 2018 which could throw up communication and transport problems – telephones, postal services, newspapers, freedom of speech issues. It's not likely to lead to more neighbourliness.  Nor indeed is tr Pluto through the 4th from 2013 to 2029 which tends to bring up internal resentment and conflict about enforced changes on the population – and that would certainly include immigration issues. That will worsen if anything when tr Saturn goes into the 4th from Dec 2018 to 2021. Domestically fairly bleak.
There are two major configurations in the UK chart. One is a Cardinal T square of MC Moon in Cancer opposition Sun square North Node in Aries. That has been jolted and hammered in recent times with the tr Pluto square tr Uranus hitting on the Capricorn Sun in 2013 especially. Since it focuses onto the 7th house North Node it has brought up partnership commitment issues (EU etc), especially with tr Uranus moving through the 7th as well.
Tr Uranus is now finished; but tr Pluto will square the North Node for the final time later this year and then moves on to oppose the Moon in 2017/18. This latter suggests an emotionally intense population pulling against the government and ruling classes. I've always associated that 10th house Moon with the Queen, so it may also involve her winding down as she advances into her 90s. It's certainly part of a several-year phase of reviewing and realigning the UK's identity – not so much how the country appears in terms of image, more an internal process of grappling with who the country is in the context of the recent changes.
The other configuration is the Fixed Grand Cross – or if you're fussy about orbs – the two Fixed T Squares of Neptune opposition Mars square Venus, and Saturn opposition Venus square Neptune. Since these have planets in the three Mundane financial house, 2nd, 5th and 8th it's partly why the UK has always had a strong commercial/banking/business focus.
Those Fixed T Squares will get a serious shake-up from tr Uranus in Taurus hard aspects to all four planets between 2021 to 2025. With tr Uranus into the business financial 8th from 2019 onwards – so a time of highs and lows economically, nothing too stable.  Indeed there will be a forewarning when the Solar Arc Sun is square the UK Mars, exact in 4 months' time; and Solar Arc MC squares Mars late 2017/early 2018 both of which will involve a considerable shock, emotional as well as financial, with high levels of anger.
The 8th house Mars is also associated with major accidents, natural and man-made, involving loss of life. When tr Pluto was opposition that Mars in the late 1980s there were a run of horrific accidents – Kings Cross, Zebrugge etc.  It also tends to upend silt from the bottom of the barrel, so when that Mars is triggered, for example more child abuse scandals emerge.
So first the Solar Arc Sun and MC hit it, then three years later tr Uranus is conjunct Mars which looks fairly explosive and disruptive, financially and in other ways.
Around 2024/25 tr Uranus will square the UK 11th house Saturn which suggests radical changes to government institutions, the legislature – and to the UK's hopes and plans for the future.
The late 2020s will see a major gear shift, probably for the better with tr Uranus out of the 8th, into the more open-minded 9th; and tr Pluto into the 5th, promoting a more confident push for recognition.
Whether any of this results in a nicer, fluffier UK is debatable.