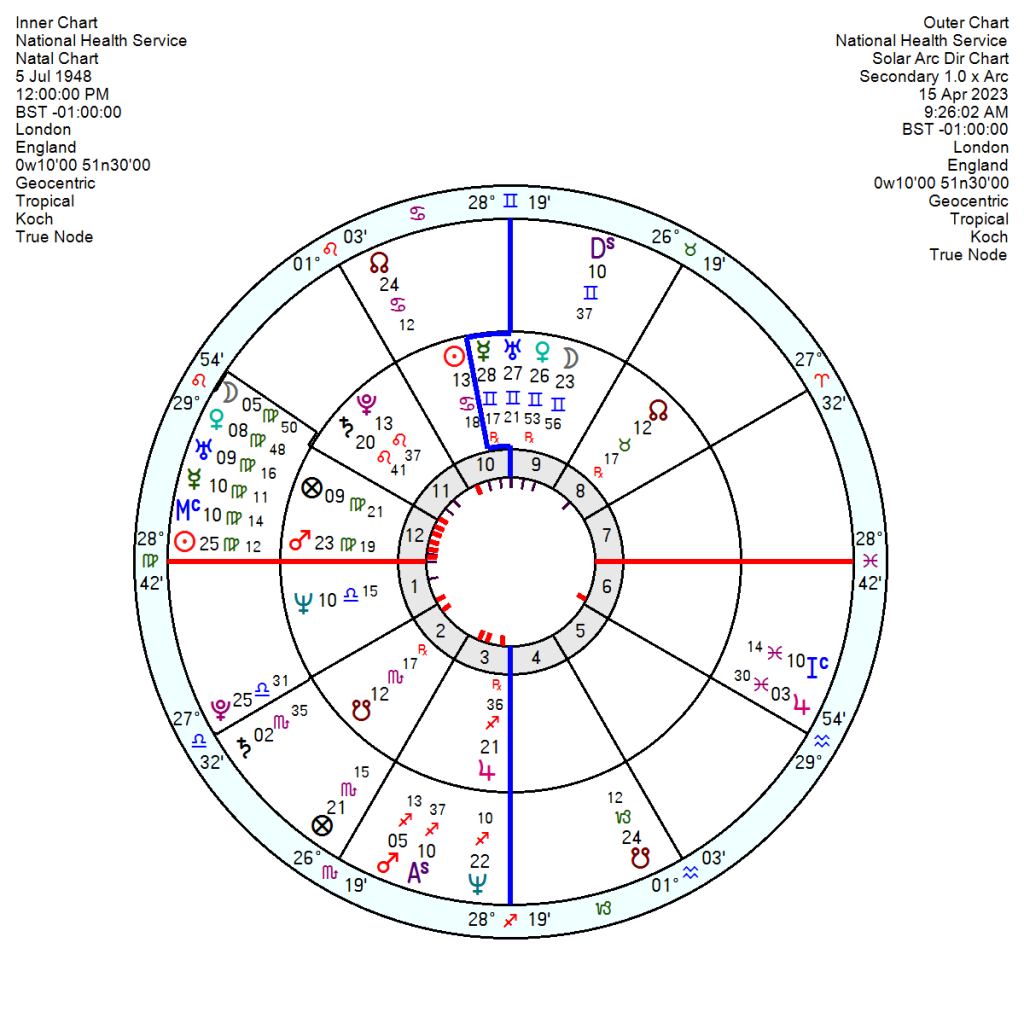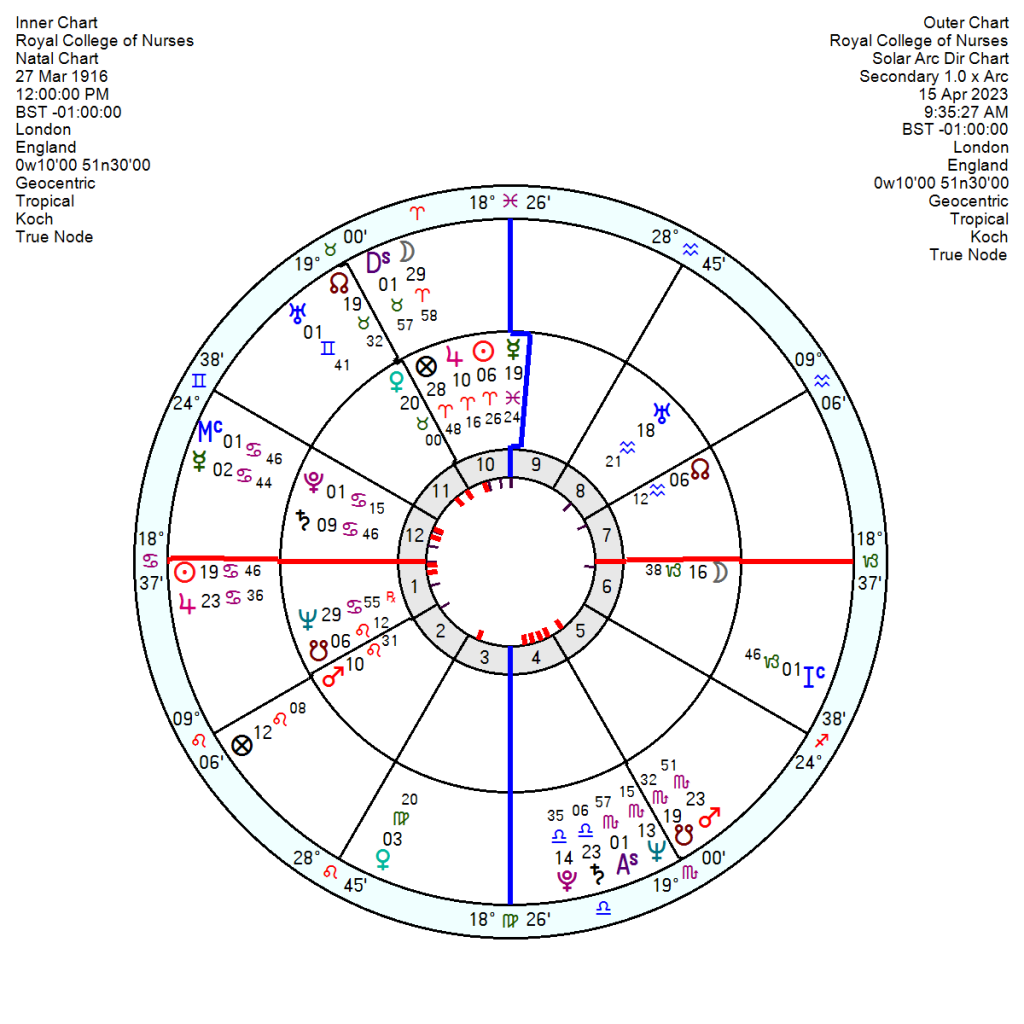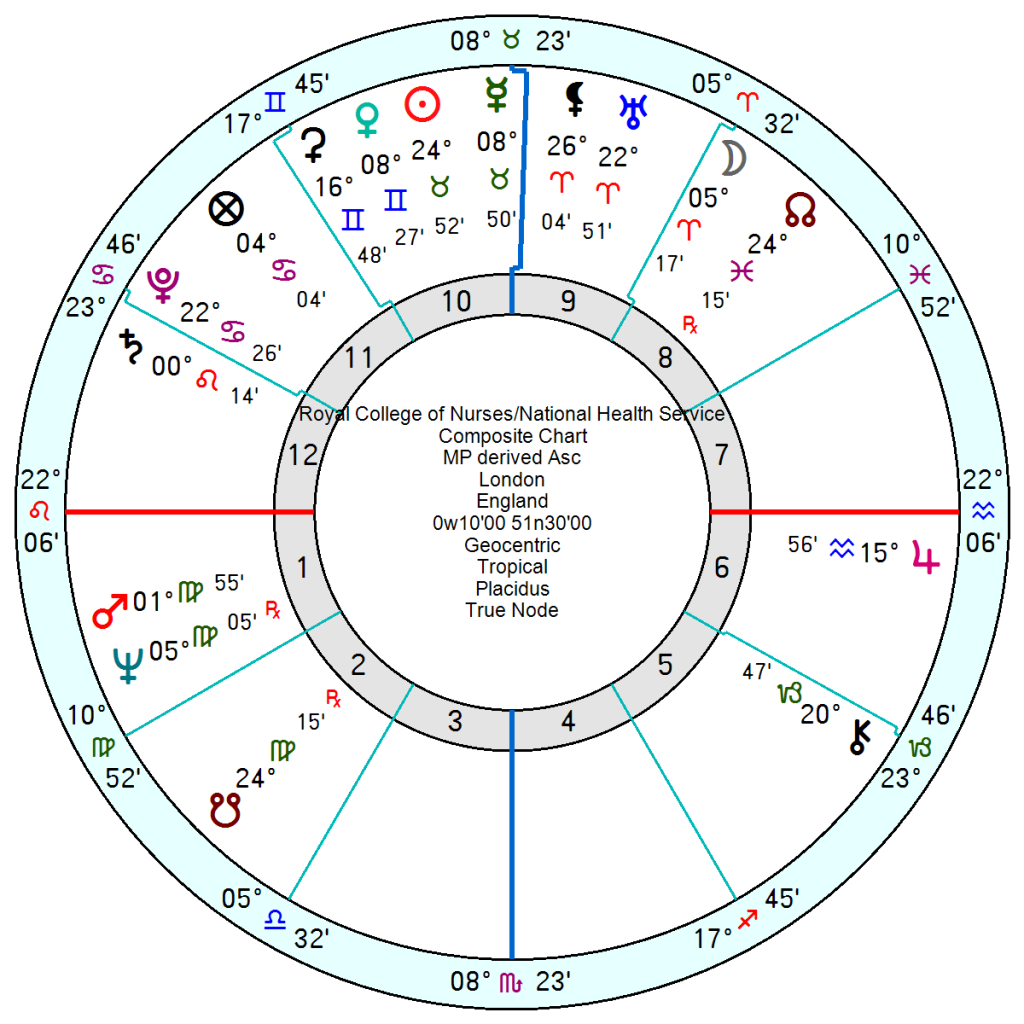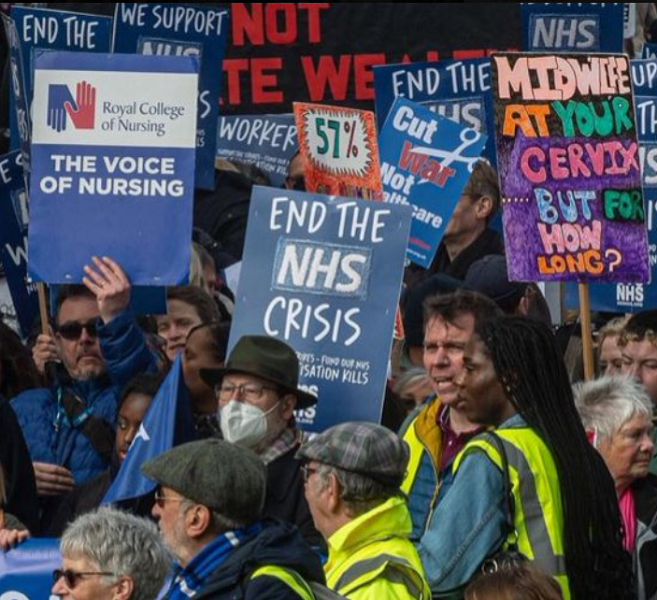 The UK's flagship and beloved National Health Service (NHS) is in chaos with junior doctors on strike and now nurses voting to down tools on April 30th, leaving A&E and intensive care departments under-staffed. Rounds of applause during the pandemic have been replaced by a disgruntled stamping of feet out the door.
Finding a solution to the entirely free NHS is not easy. France pays for its (probably) superior health service with eye-wateringly high levels of general taxation plus a dual system with mandatory private insurance paying for a portion of patient costs. Any suggestions in the UK of moving from a free health service to a more continental system evokes yowls of outrage and doom-laden hints about ending up down the impossibly expensive, over-commercialised USA road.
The NHS was set up on 5 July 1948 with a caring Cancer Sun square Neptune, plus an enduring and resistant to change Saturn Pluto in Leo; and a liberally minded Moon, Venus, Uranus, Mercury in Gemini opposition Jupiter square Mars in Virgo. That latter Mutable T Square onto Mars hints at an overly scattered outfit, going in all directions at once. But lacking focus and needing a firm hand on organization.
The Solar Arc Sun was conjunct the Mars during the crisis of the pandemic – and an undermining transiting Neptune has been trailing round Jupiter, Mars recently and continues on to square Venus, Uranus, Mercury between now and 2025. Solar Arc Neptune is also heading for a panicky-failure square to the NHS Mars in 2024 and the other Venus, Uranus, Mercury 2026 to 2028. Neptune can be healing, or undermining or indecisive so it may be that the old British muddle-along-somehow approach stays in place. There will be a few jolts from tr Uranus square the Saturn come this June onwards for a few months with the status quo being challenged but whether that leads to a breakthrough is questionable. Tr Saturn in Pisces won't help into 2025 throwing up more setbacks. and a dose of hard reality.
  The Royal College of Nurses (RCN) 27 March 2016, has a devastated and confused tr Pluto opposition Neptune this year and next which might suggest they have reached the end of their tether. With tr Uranus square the Uranus exactly over the proposed strike dates – as they stage a rebellion.  2025 looks bleak for them with tr Neptune Saturn in Aries square the Pluto and then moving to conjunct the Son and square Saturn.
Their relationship chart with the NHS suggests a long-drawn out and miserable struggle with tr Pluto opposition the composite Saturn now and throughout 2024. With more disruptions through 2024 as tr Uranus is conjunct the composite Sun.
The NHS does boost the UK's reputation with its Cancer Sun conjunct the UK Midheaven. But the NHS North Node is also conjunct the UK's 8th house Mars in Taurus – so money is the stumbling block.