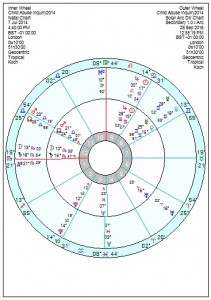 The beleaguered UK Child Abuse Inquiry set up by Theresa May on 7 July 2014, announced at 4.40pm London, now on its fourth chairman, is in trouble again. The lead lawyer, Ben Emmerson, is 'considering his position' after an alleged dispute with Professor Alexis Jay, the new head, over the remit for the Inquiry.
It was set up on a Cardinal Grand Cross of a Cancer Sun opposition Pluto square Uranus opposition Mars – so no surprises it's progress has been beset by rolling crises. Disruptions, upheavals and aggravations are likely to be the theme ahead as these four planets shift by transit and Solar Arc to stoke up problems for years ahead.
Alexis Jay, much praised for her Rotherham Inquiry, 25 April 1949, is a charming and stubborn Sun Venus in Taurus; with her Mercury in Taurus square Pluto; and a tough-minded Mars in Aries trine Saturn in Leo.
Ben Emmerson, 10 Aug 1963, is a Sun Venus in Leo opposition Saturn in Aquarius, so both flamboyant and meticulous. They are not a great mix with her Pluto conjunct his Sun and opposition his Saturn, and her Mercury square his Saturn, so they were always likely to take different standpoints.
Their relationship chart, if Amber Rudd, the present Home Secretary, manages to patch it together, looks fraught and aggravated through the next two years with tr Pluto opposition the composite Mars.
Australia and North Ireland seem to manage to run child abuse inquiries without all this rolling brouha.