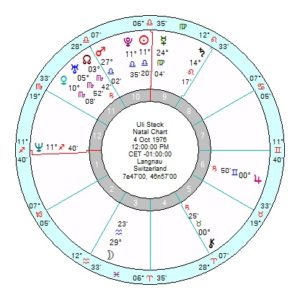 Ueli Steck, the greatest mountain climber of his generation, known as "the Swiss machine", has died during the acclimatising phase of an attempt to climb a new route on Mount Everest. His extraordinary feats included solo speed ascents of the north face of the Eiger and climbing six of the 14 mountains over 8,000m (26,246ft), including Everest, without bottled oxygen. In 2015, he climbed all 82 of the Alps' 4,000m peaks in 62 days, travelling between them by bicycle.
Born 4 October 1976 in Langnau, Switzerland, he was a Sun Pluto in Libra on the focal point of a mini-Grand Trine of Neptune trine Saturn in Leo, so tough, overly-controlled, visionary and ambitious beyond the norm. His Mars was also in Libra in a high-adrenaline conjunction to Uranus in Scorpio. Only Mercury in Virgo in his chart was in an Earth sign. Although counter-intuitive for a very physical sport, it can suggest an ability to detach from the body and push it past its limits.
When he died he had tr Pluto square his Sun/Mars and Mars/Pluto midpoint, both of which are risky.