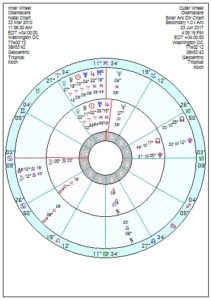 Pushing Obamacare through the shredder is aimed at a Senate vote as early as next Thursday, just as the bitter and enraging Mars opposition Pluto is at its most toxic. Though it isn't clear if there are enough votes to get it passed. A few Senators are resisting since they think it does not go far enough.
Background for non-Americans: There are two driving forces: 1. Republican majorities in both chambers want to erase the central concept that health care is a fundamental right, not a privilege depending on one's income. Medicaid at the moment serves almost 70 million people, providing health care for the indigent, disabled and working poor. Additionally, about 20 percent of spending goes to provide nursing home care, including for middle-class seniors whose savings have been exhausted. 2. Slashing Medicaid spending by nearly $1 trillion over the next decade 'creates fiscal headroom for what is euphemistically being called "tax reform" — a soon-to-come package of huge tax cuts favouring the wealthy.'
It is what the Guardian describes as 'a blood-sucking endeavour' to bleed Medicaid and transfuse the cash into the pockets of the rich.
The Obamacare chart, 23 March 2010 11.56 am Washington, DC, always indicated a troubled future with a crisis-ridden Cardinal Grand Cross of Sun opposition Saturn square Pluto opposition Moon and Ascendant in Cancer. At the moment tr Saturn is square the reforming Uranus, pitting the cold reactionary energy of Saturn against innovative, humanitarian Uranus. There's an undermining tr Neptune conjunct MC sending Obamacare into a swamp; and the emotional shock of tr Uranus conjunct the Solar Arc Venus. Tr Saturn will prune back forcefully in 2018 as it hard aspects the Cardinal Grand Cross; with a fairly cataclysmic upheaval in late 2018 from Solar Arc Uranus square the Moon and Pluto. What might be the only glimmer of hope lies four years ahead when the Solar Arc Jupiter is conjunct the 10th house Uranus, which could – maybe – produce a turnaround.