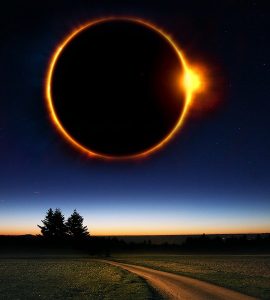 The Solar Eclipses this year are in spine-straightening Saros Series. The late December 2019 Solar Eclipse at four degrees Capricorn heralded a sense of traumatic transformation and significant endings running in effect for several months across the beginning of this year.
The 21st June 2020 Solar Eclipse at zero degrees Cancer is associated with difficulties, restrictions, inhibitions, separations and illusions. Bernadette Brady remarks in The Eagle and the Lark that this eclipse brings blocks and 'the individual is prone to misjudging his or her strength and is best advised to wait before taking any real action.' It was around previously in 2002, 1984, 1966, 1948, 1930 and 1912.
The 14th December 2020 23 degree Sagittarius Total Solar Eclipse casting its shadow over the following months is strongly emotional about relationships or money, can involve lust and anger. There is a sense of fatedness and individuals feel they are caught up in situations or relationships beyond their control. This will bring acute frustrations and the advice is to avoid rash actions. It was around before in 2002, 1984, 1966, 1948, 1930, 1912.
Mercifully the following two eclipses from mid 2021 onwards look much more cheerful.
In the context of the USA elections: – the December 2020 Sagittarius Eclipse will be critical for Trump since it is conjunct his Moon and opposition his Sun. Eclipses conjunct the Moon tend to bring up the past, with public image under scrutiny and habit patterns come under review as well. The Sun opposition the Eclipse is a crisis time for the ego when mistakes have to be faced and changes made.
This Eclipse is also opposition the USA Mars in Gemini, which echoes the explosive Inauguration chart since it suggests high levels of anger and argument, almost open warfare, with no compromise being the motto of the moment. It will also be exactly conjunct the Trump First Term Saturn and square Mars. There's always a price to pay when Saturn hits Eclipses, mistakes owned and responsibility taken for sorting out self-created muddles – and part of that may be the mega-trillion dollar debts run up during this administration.
The Lunar Eclipses throughout the year will also elbow Trump and the USA chart. The June 5th Lunar Eclipse at 16 degrees Sagittarius will oppose Trump's Uranus which will bring a considerable jolt; with the July 5th Lunar Eclipse at 14 degree Capricorn conjunct his Term's focal point Pluto which again like Uranus offers a stark choice between change or decay. This Lunar Eclipse will also collide with the USA Cancer Sun so it does suggest a critical moment in destiny where decisions have to be made and junk tipped overboard.
The November 30th Lunar Eclipse at 9 degrees Gemini will hit on the USA Uranus.
Roll on 2021.
An add-on which may be special pleading since I truly dislike Trump. Last month's Lunar Eclipse hit the Trump Term Pluto which sits on the focal point of a pushily-confident Jupiter opposition Uranus. That Jupiter was always going to save him a load of trouble and squeak him undeservedly out of tight corners – with Jupiter Pluto exemplifying his rules-don't-apply-to-me approach. When Eclipses tug at Pluto it suggests that something radical needs to change otherwise what follows is disintegration and deterioration. On the Term chart also Pluto has moved by Solar Arc to square the Uranus exactly now which by rights should indicate instability. Admittedly Jupiter is standing by with a safety net but it may be there's more than meets the eye about his 'victory' and (cross fingers) there could be more that crawls out from under stones to back up the astrology. Part of which may be his failing health.