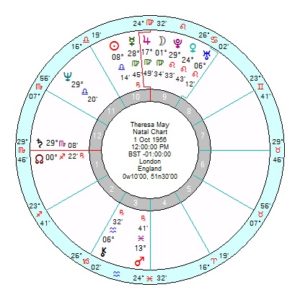 Well, there's a turn up for the books. The polls weren't wrong. And Theresa May's 'lucky' tr Pluto sextile her Solar Arc Jupiter was drowned under a tsunami of delusional Neptune. Tr Pluto is square her Sun/Neptune midpoint at the moment [see post June 2] and on and off till late 2018. Across 2017/18/19 as well tr Neptune is conjunct her Mars, then square her Mars/Jupiter, then opposition her Jupiter.
Mars Jupiter describes an opportunist, or as Sakoian & Acker have it 'a soldier of fortune'; prone to being opinionated and aggressive when promoting their beliefs. 'Their self-assertiveness often pushes them to attempt great things without the necessary resources to succeed.' 'Prone to exaggerate their own importance. Unreliable.'
She pushed her 'strong and stable' (and bone-headedly stubborn) Venus Pluto in Leo square Saturn in Scorpio to the foreground, but that Mars Jupiter was always going to be her undoing.
I don't see how she can hang on. The Tory Party is always brutal with leaders who fail. Her relationship chart with the Conservative Party picks up a tr Uranus opposition the composite Sun from later this month, on and off for a year thereafter. (Or maybe 2018 depending on birth times). But tr Uranus also retrogrades to square the composite Uranus again later in the year which shakes up that whole composite T Square of Mars Neptune opposition Uranus square Sun. So she's in a very precarious situation vis a vis her own party.
When David Cameron went after Brexit, tr Pluto was square his composite Mars and conjunct Pluto with the Tory Party. And when Maggie Thatcher was toppled tr Pluto was conjunct the composite Mercury Saturn and opposition the composite Uranus in her Tory relationship chart.
Add on: Theresa May is evidently going to Buck House at 12.30pm to seek permission to form a UK government, despite losing her Commons majority. She is trying to stay in office on the understanding that the Democratic Unionist Party will support her minority administration, giving her 329, just three over the 326 needed to give her a majority.
That gives a very unstable, unhappy-voters chart with a 10th house Sun opposition Moon Saturn, and square Neptune – so exactly on the Full Moon. A belligerent Mars also in the 10th sits across from Pluto, coming exact as an opposition by transit by July 2nd. Can't see that holding together for long.