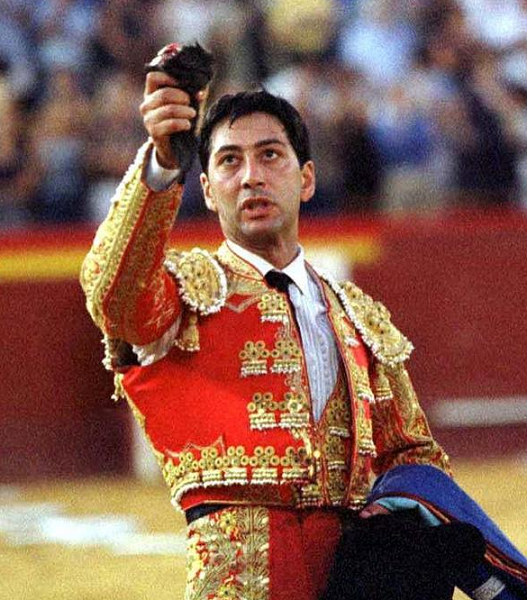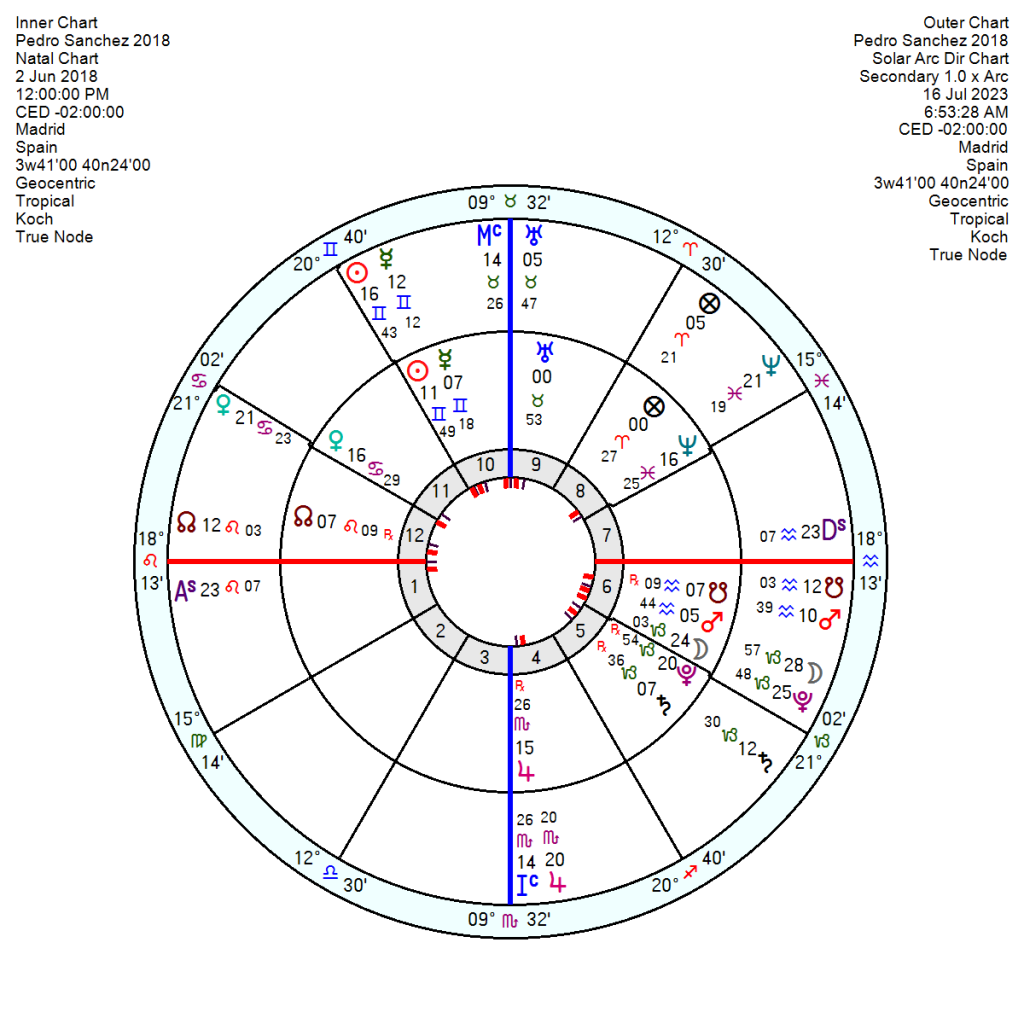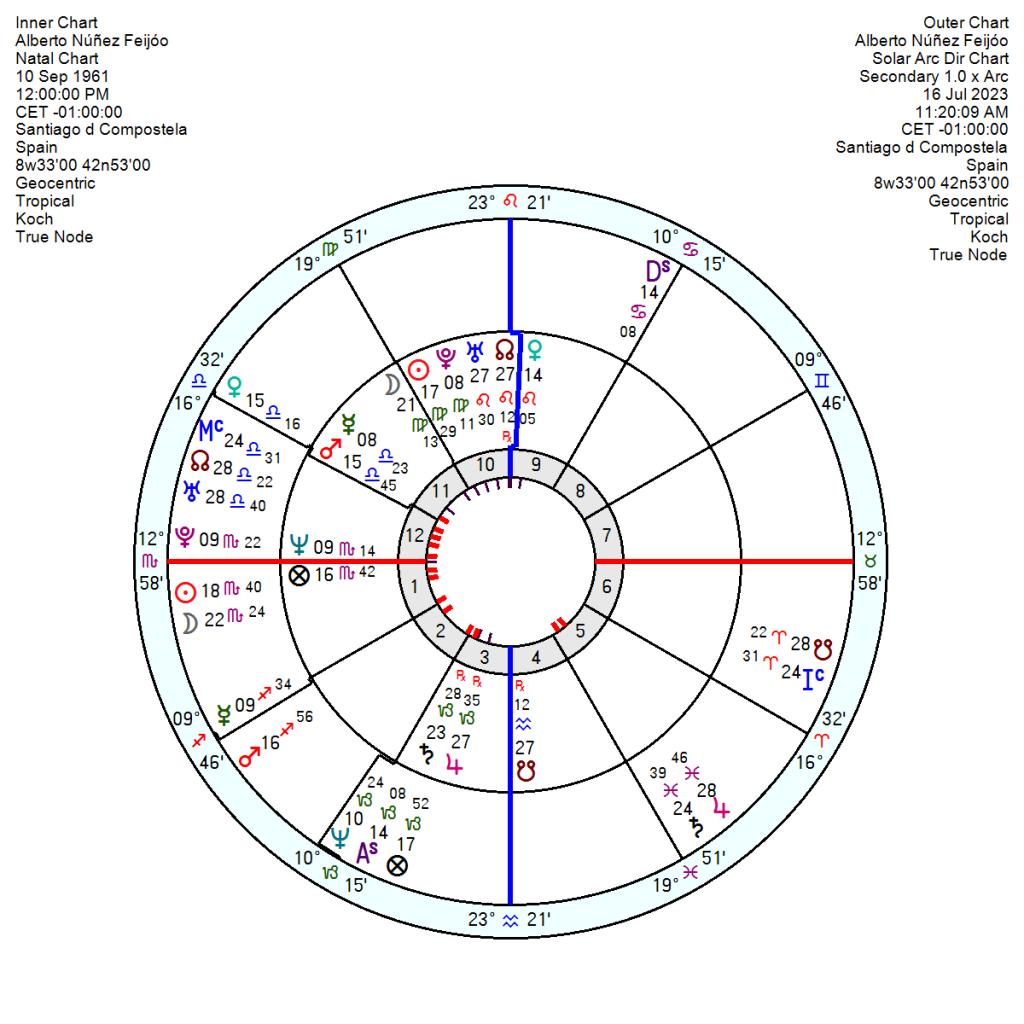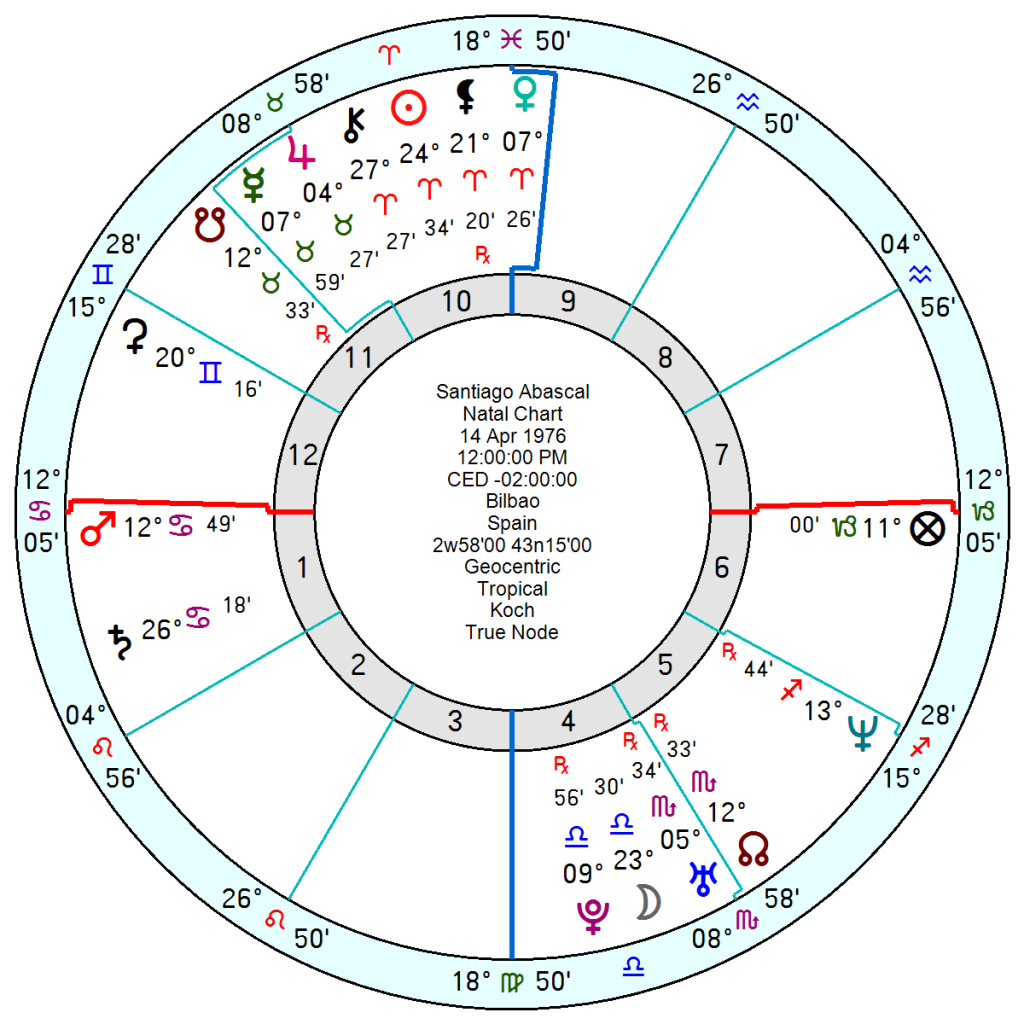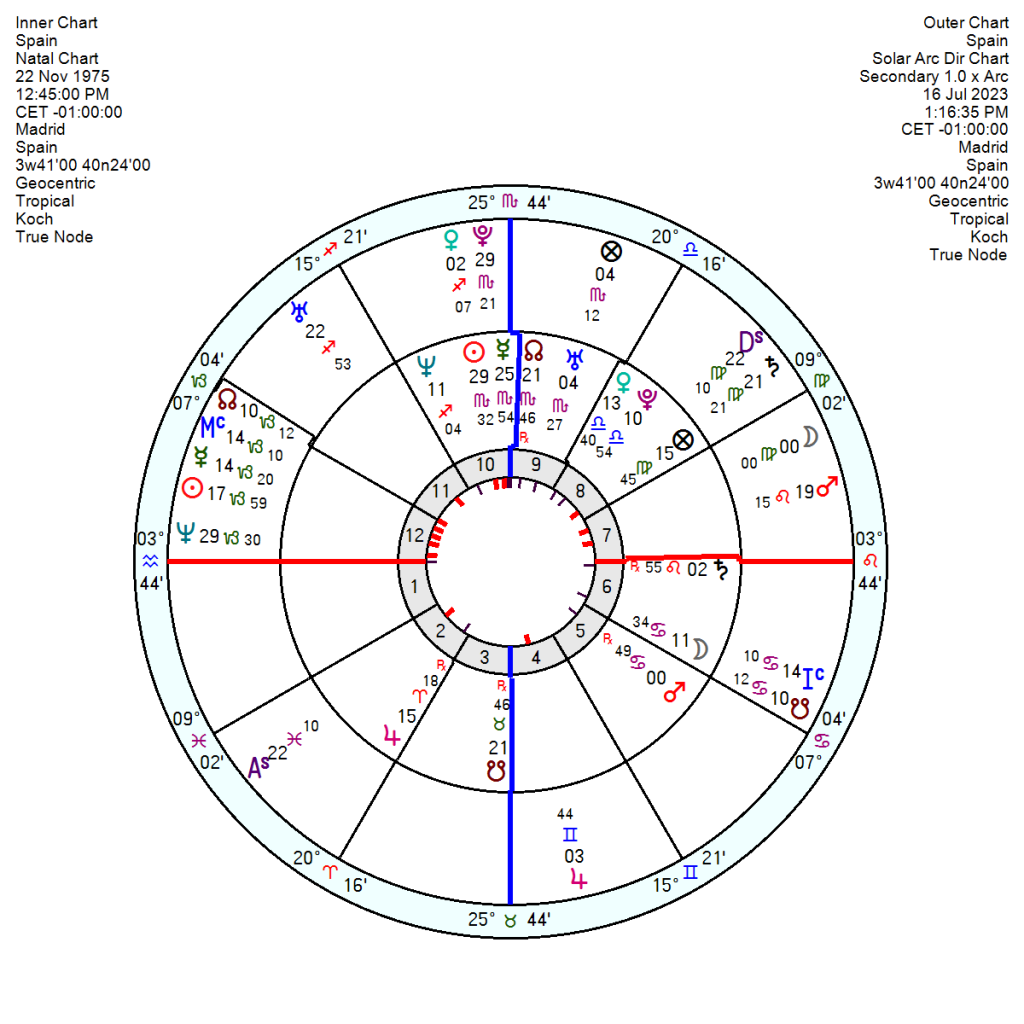 Spain is heading for a surprise early election as the PM Pedro Sanchez, despite low showing in the polls, hopes the electorate will react against the far-right (anti-feminist/anti-immigration/anti-LBGTQ+ and tough on Gibraltar) party VOX. Santiago Abascal, the eccentric and excitable Vox leader, is unlikely to win but he could be kingmaker in a new right-wing coalition. Sanchez in since 2018 has done much to calm the issue of Catalan independence, has coped with Covid/Ukraine and has an inflation rate of 1.9% to his credit.
The winner is expected to be Alberto Núñez Feijóo, leader of the mainstream conservative Popular Party (PP) but without an absolute majority.
Sanchez, 29 February 1972, a Sun Pisces square Neptune and square Saturn has been through a disastrous few weeks recently but he does have tr Jupiter trine his Mars over the election which will lift his spirits though that could also be as a result of being relieved of the burden of office.
His 2 June 2018 Term chart, is not in good shape and looks undermined and seriously rattled at the moment.
Feijoo, 10 September 1961 Galicia, a Sun Pluto in Virgo with Saturn Jupiter conjunct in Capricorn. He does have tr Pluto conjunct his Jupiter now which normally would bode well (except look at Huw Edwards with the same) – but he also has an upbeat tr Uranus opposition his Sun/Jupiter midpoint now which will bring a stroke of luck. So despite a confused Solar Arc Pluto conjunct his Neptune he might make it and then live to regret it since late August onwards for a couple of years ahead looks like a minefield of sink holes.
Santiago Abascal, 14 April 1976 Bilbao, the VOX leader, a Sun Aries square Saturn, with Venus in Aries in a seductive/manipulative opposition to Pluto square a fiery, volatile Mars, will be buoyed up with tr Pluto square his Sun/Jupiter midpoint till late July and again on and off through 2024. So something is going his way.
Though the VOX 17 December 2013 chart is not as clear cut with too much Neptune around this year.
Former bullfighter Vicente Barrera, 29 July 1968, VOX's poster boy, a Sun Leo with a Saturnine yod, is not quite as sanguine about victory now as he was a few weeks back and is facing a disastrous mid August inwards.
Elections are always a pot pourri of influences, good and bad, and polls are rarely to be trusted. But Feijoo and Abascal might just cobble a coalition together.
What is certain is that Spain is moving through an exceptionally pressured year with its Solar Arc Pluto conjunct the Scorpio Sun this year, which will feel stuck. Then tr Uranus moves into the 4th house opposition the Midheaven in 2024 which could see the start of internal unrest for several years thereafter. 2025 to 2027 in particular look exceptionally tough going with tr Saturn Neptune in an undermining square to the Spain Mars in 2025/26 and tr Pluto opposition the Spain Saturn and square Uranus in 2024 to 2026.