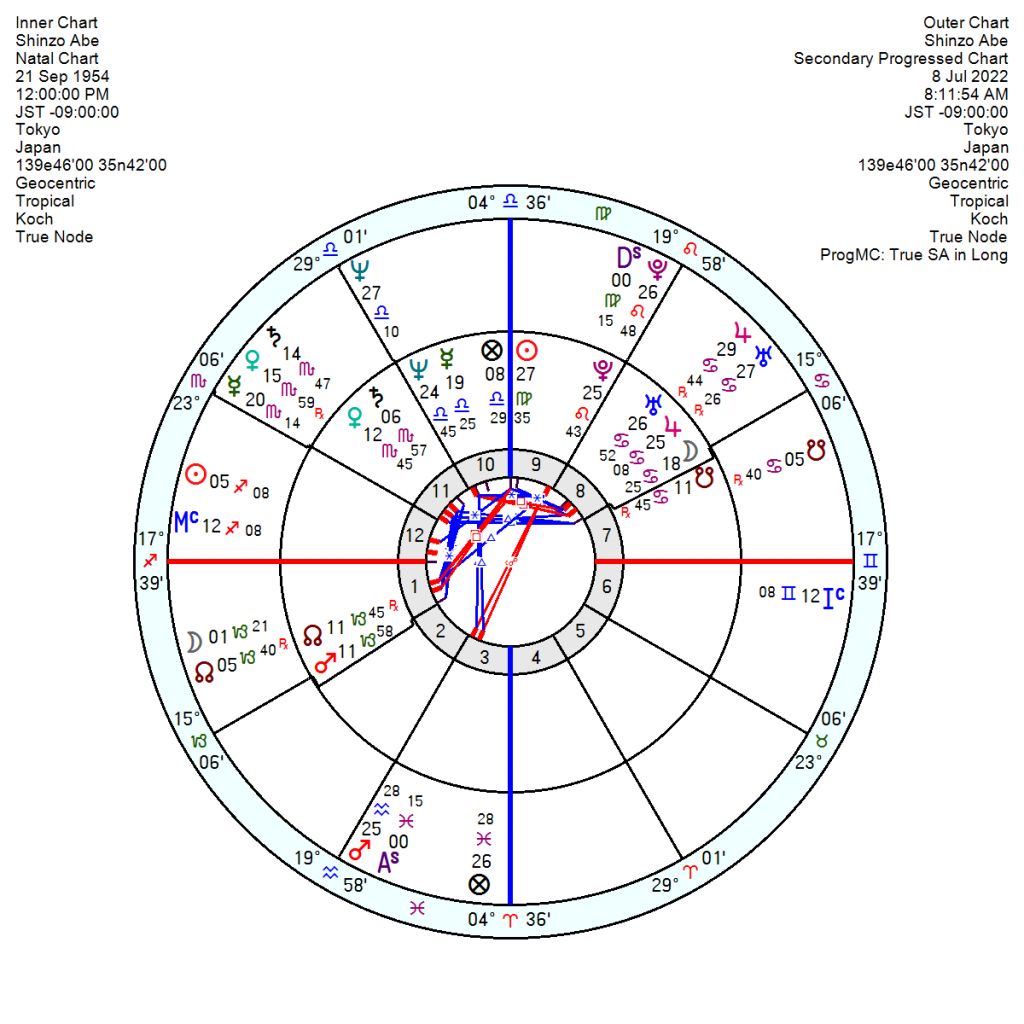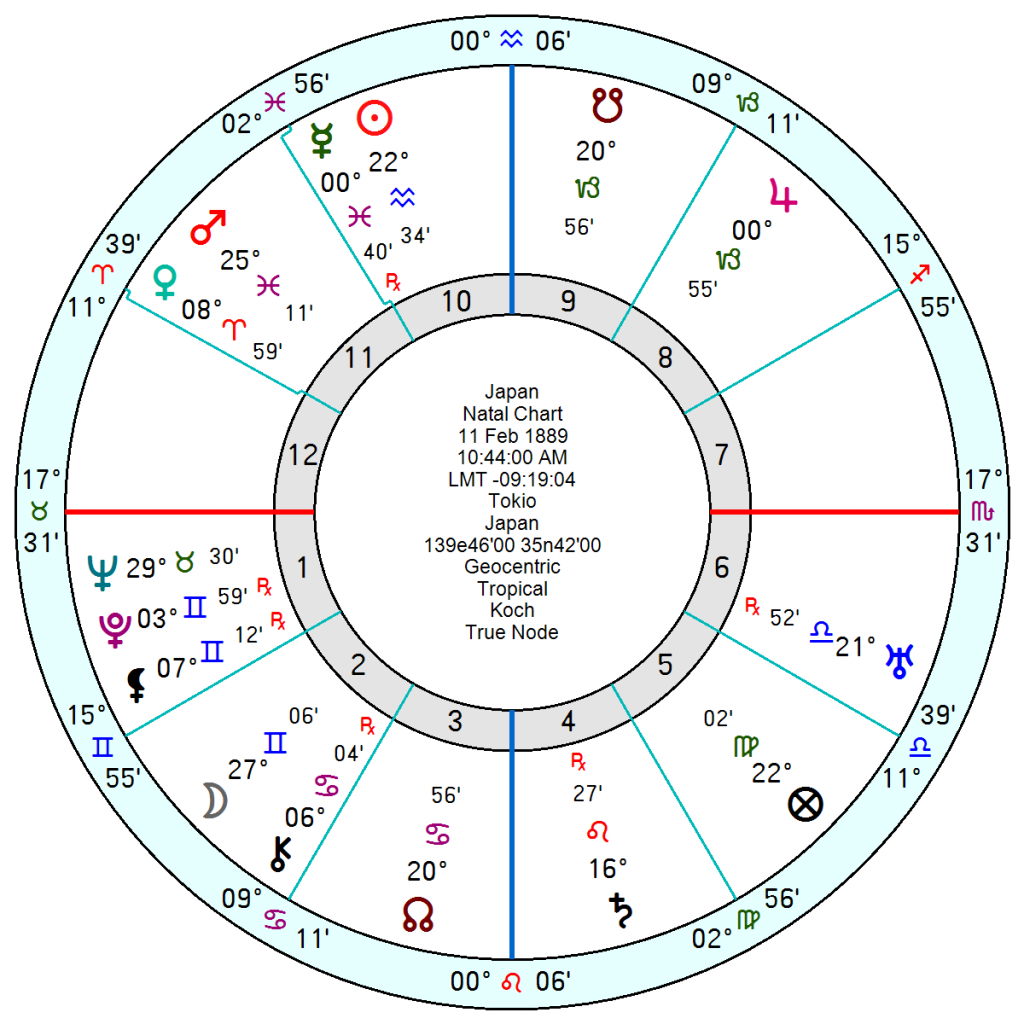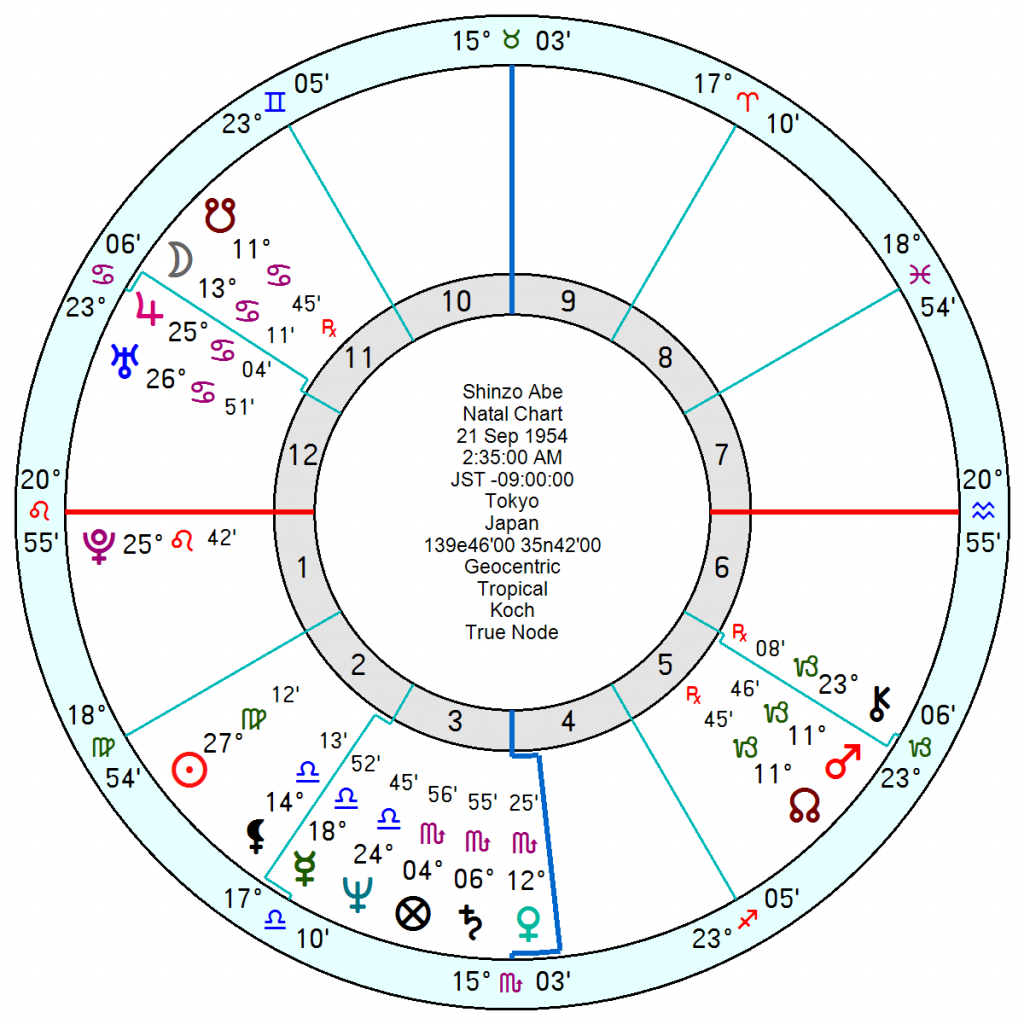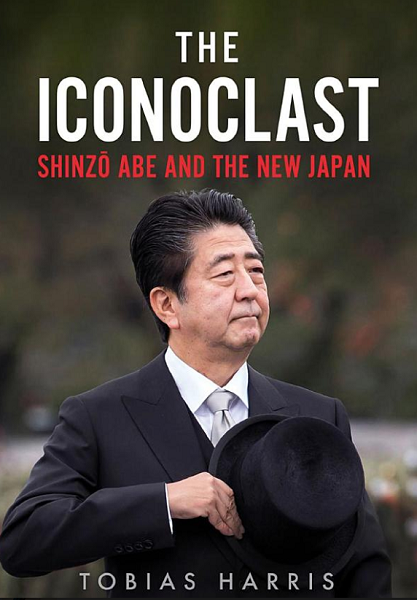 Shinzo Abe, former prime minister of Japan has died after being shot while giving a campaign speech, which has shocked a country where gun and political violence are rare. He stepped down in 2020 after eight years at the helm for health reasons – ulcerative colitis – an intestinal disorder fittingly for a Virgo Sun. He was known for his hawkish policies on defence and foreign policy, wanted to amend Japan's pacifist post-war constitution; and pushed for an economic policy built on fiscal stimulus and structural reforms.
He was born 21 September 1954 Tokyo, Japan and was a late Sun Virgo with the lucky Jupiter Uranus in Cancer of that year which produced many notable successes. His Jupiter squared Neptune which often occurs in the charts of economists. He also had a quietly determined Venus Saturn in Scorpio sextile Mars North Node in Capricorn.
Tr Pluto was in the final stages of the opposition to his Uranus this year bringing significant change to his life. But more pointedly his Secondary Progressed Mars was exactly opposition his Pluto at the moment. And tr Saturn had just finished a few days back the exact conjunction to his Progressed Mars and opposition his Pluto – which does suggest a high-risk incident.
Progressed Mars is often prominent for grave accidents when it meets natal Saturn or Pluto in particular; and even natal Sun aspects can feel like a car-crash (metaphorically speaking).
The Japan chart, 11 February 1889 10.44am Tokyo, indicates panic and shock with tr Neptune conjunct the Mars in Pisces exactly now. In general it is not in a great year with a downbeat tr Saturn conjunct the Aquarius Sun and a high-tension tr Uranus square the Saturn – both jolting on and off into 2023. If the start time of 10.44am is sound then Japan will undergo even greater challenges than most when tr Pluto enters Aquarius next March and it is conjunct the Midheaven, on and off till late 2023. That can accompany a slow, grinding change of direction, loss of reputation and a degree of meltdown where old ambitions and old status are concerned.
Add On: Mits kindly emailed to say Japanese astrologers use 2.35 am as a birth time for Shinzo Abe. Though no verification of source. Have added the chart.