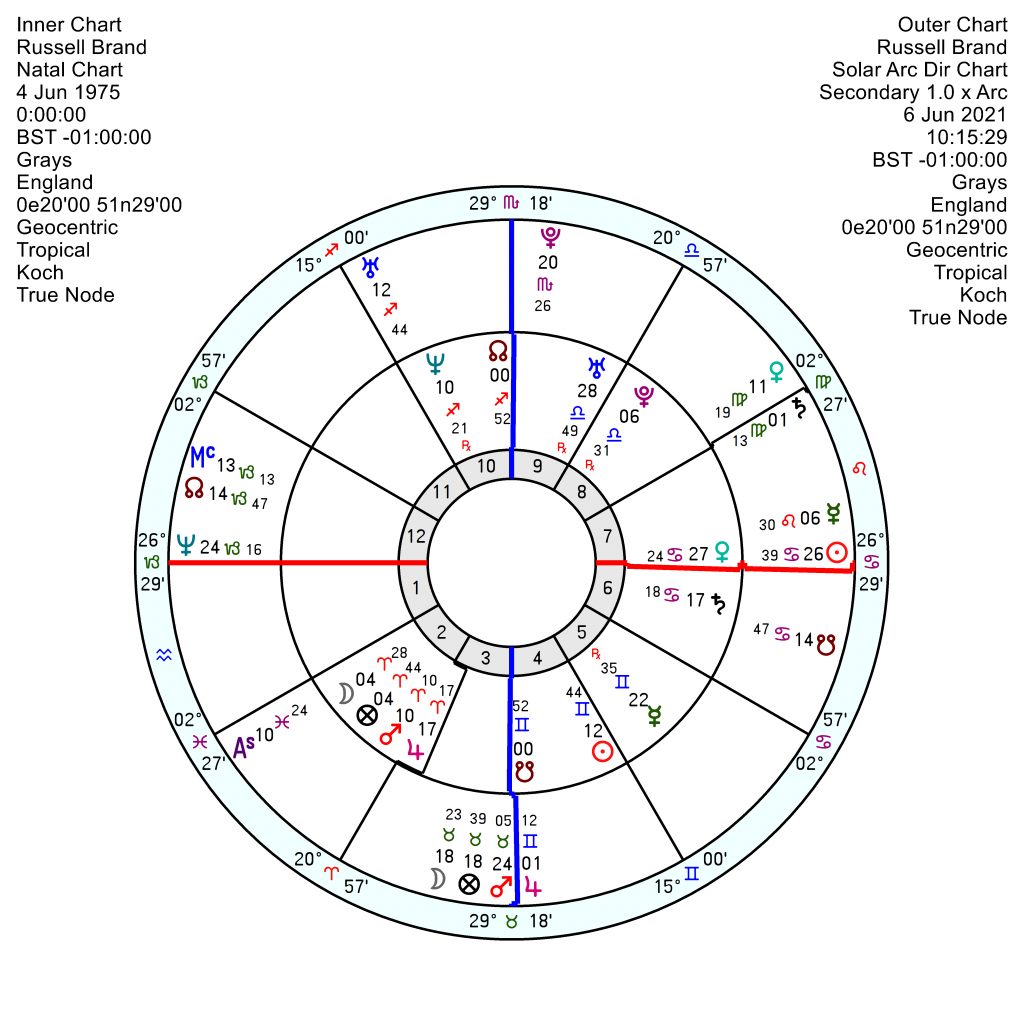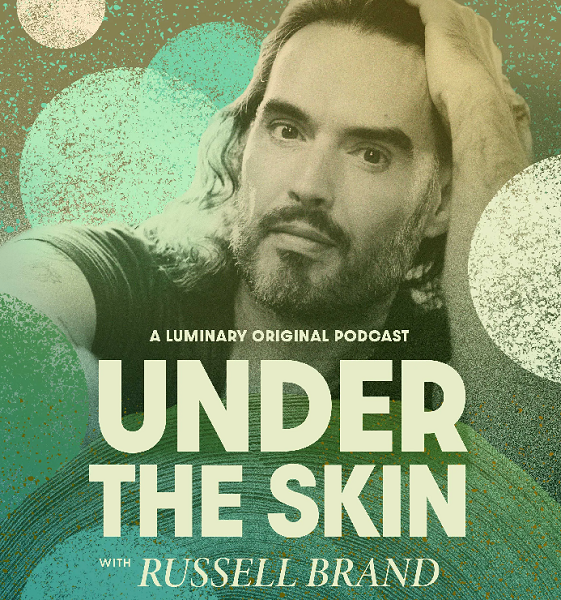 Russell Brand, the controversialist and comedian, morphed into political activist, has been mouthing off about lack of transparency in government about coronavirus. After a chequered career on radio, stage and TV marked by scandals over promiscuity, drugs and his bad behaviour, he has taken up arms in recent years about wealth inequality, addiction, corporate capitalism, climate change, and media bias.
  He was born on 4th June 1975 at midnight according to his biography though it isn't clear whether start or finish of the 4th. Either time leaves the chart axis and planetary positions much the same and both with an Aries Moon.  It gives a Gemini Sun on the cusp of the performing 5th house opposition a creative 10th house Neptune and trine an 8th house Pluto.
 He was born the same day as Angelina Jolie so has her ferociously difficult and angry Pluto opposition Mars Moon Jupiter widely square Saturn in Cancer. Like Jolie he had a messy childhood with his parents splitting when he was a baby and his mother was ill for a period when he was young. He was abused at school – diagnosed ADHD and bi-polar, had drug problems and self-harmed. Which is similar to Jolie's experience and reactions.  
However difficult the astrology was, there are quite a cluster of go-getters born around then – Marissa Mayer (Yahoo etc) May 30; Mel Brown May 29; Jamie Oliver May 27; Shilpa Shetty June 8. What probably makes a difference apart from the obsessive, make-or-break determination of the Mars opposition Pluto, is the Sun opposition Neptune trine Pluto. Neptune and Pluto carry associations of megalomania or at a mundane level soaring ambition and that plus a pro-active Jupiter in Aries would make a difference.
In Brand's case his 8th house Pluto would make him feel held back by circumstances beyond his control but it also, if handled well, gives him an ability to influence the masses. The two central oppositions in his chart of Sun Neptune and Pluto Mars form a (misnamed) Mystic Rectangle which is difficult to balance. A hard Mars Pluto aspect, he shares with David Icke and others who are driven to tilt against the establishment as a way of expressing their deep-seated anger, stemming from father and authority issues. Uranus in the 9th will give him a leaning towards alternative ideas or rebel movements. Money will be an issue for him with strong 2nd and 8th house emphasis.
  The Eclipses last year and this will be prompting him to re-evaluate his direction and with tr Pluto aiming to square his Uranus from early 2022 to late 2023, he'll be heading into another major life's transition which may involve a significant emotional event. His Solar Arc Sun will conjunct his Venus next year which coincides with tr Pluto opposition his Venus so his relationships could get steamy. If his birth time is accurate tr Saturn is also disappearing into his lower profile First Quadrant for several years so whether by choice or not he will be less visible if not instantly then over time.