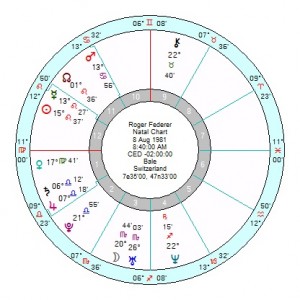 Roger Federer, currently ranked as No 3 in tennis, and regarded as one of the greatest players ever, is beginning to feel the strain of his age after two decades of punishing his body. He's withdrawn from the French Open, having pulled out of the Madrid Open earlier this month as well, due to injury.
Born 8 August 1981 8.40am Bale, Switzerland,  he's got a run of disappointing and unsettling transits to midpoints through this year and in some ways worse in 2017. In 2016 he's got the enthusiasm-dampening tr Saturn square tr Neptune hitting his Sun/Jupiter and Sun/Saturn; with an insecure/operation and accident-prone tr Uranus square his Mars/Node.  In 2017 tr Pluto moves on to square Sun/Neptune and trine Sun/Pluto – so much confusion and pressure.
Plus his progressed Moon is now moving through his 6th house of health for another 18 months, which is often when health issues emerge.
His Progressed Pluto will conjunct his Uranus, exact in 6 months which does suggest a major change in his life. That added on to tr Uranus opposition his Pluto this year – would all point to difficult decisions being faced.