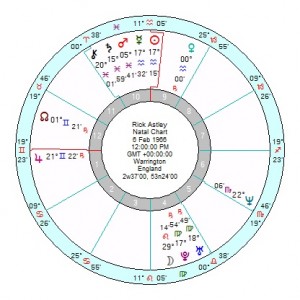 Pop star Rick Astley has returned to the top of the UK album chart after a gap of 29 years. His last success in 1987 was a hit in 25 countries and overall he sold 40 million records. He retired from his public music career aged 27, fed up with the business side. But has been a You Tube phenomenon in recent years and has migrated from pop to a more mature, soulful sound.
Born 6 Feb 1966 in Warrington, England, he has a Sun Mercury in Aquarius trine Jupiter in Gemini; and his Sun is quincunx Uranus Pluto in Virgo and square Neptune in Scorpio – so quite a mix of light, lucky, musical and feeling he never quite fitted in.  His Saturn in Pisces opposes Uranus Pluto squaring onto an expansive Jupiter in Gemini – so even through his low-profile years he would always maintain his optimism. Tr Uranus is sextile his Jupiter this year, into early 2017.
There's no birth time so no way of knowing what comes next but a couple of his Jupiter midpoints get a real boost in 2017/18, so maybe there'll be more to come.