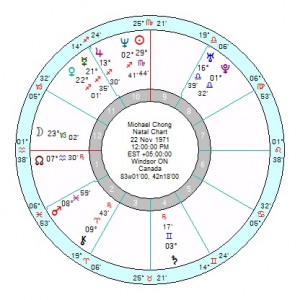 Michael Chong, 22 Nov 1971 Windsor, Canada, has thrown his hat into the ring for the leadership of the Canadian Conservative Party, to replace the much disliked Stephen Harper who has resigned. The son of immigrants, Chinese and Dutch, he is for an inclusive country and known as a politician who will stand up for his principles.
He's a last degree Sun Scorpio conjunct Neptune in Sagittarius; with Jupiter Mercury Venus also in Sagittarius.  His Neptune opposes Saturn squaring on to Mars in Pisces, so he will be idealistic, go-ahead, vibrant though also overly restless and highly strung.
He's got pluses and minuses in the run up to the election next year with some setbacks and some boosts.  I'd worry about his Jupiter in Sagittarius especially picking up the tr Neptune square next year which can cause high hopes to collapse. Though he does have tr Uranus square his Mars/Jupiter over the election which certainly looks lucky.