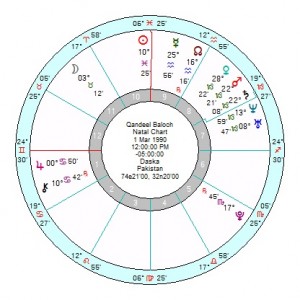 The 'honour' killing of Pakistani Qandeel Baloch, by her brother for shaming the family and community with her provocative social media pictures – she had over 1 million followers on Facebook and was known as the Pak Kim Kardashian – has focussed attention again, on the yawning gap between western and eastern attitudes towards women.
Born 1 March 1990, she was married off, as is traditional, in her late teens, ran away from her abusive husband and became her family's main breadwinner. Despite the amateur and fairly crass postings, she became a beacon of hope for Pakistani women still trapped in suffocating repression.
Pakistani authorities have barred her family from legally "forgiving" their son, which is often the way honour killings are allowed to go unpunished. More than 500 women a year die in this way in Pakistan.
Qandeel was a Sun Pisces trine Pluto in Scorpio, sextile Uranus Neptune in Capricorn – a highly-strung dreamer who fought against control. Her Jupiter in Cancer was widely trine her Sun and opposition Uranus – definitely adventurous. More pointedly she had a cruelly-treated Saturn Mars Venus in Capricorn with Mars Saturn sextile Pluto – huge anger issues; and a vehement Mercury in Aquarius square Pluto.
Given the milieu in which she lived, it was never going to end well. But perhaps her death may (?!?) lead to change for the future.
In India five men who gang raped a woman four years ago, captured and raped her again over the weekend leaving her for dead beside the road, in an attempt to stop her bringing a court case against them for the original offence. This is one place where the pressure of global mass media might do some good, as these countries are shamed into adopting a more civilized approach to rape and domestic abuse and women in general.