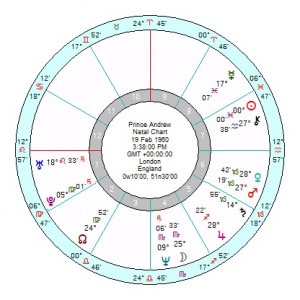 Prince Andrew is in the headlines again for his Kazakh connections including his sale-of-the-century of the marital home to an oligarch and a business deal he allegedly attempted to broker while acting as UK trade envoy.
Born 19 Feb 1960 3.38pm London, he was removed from his trade envoy role after some previous rumpus which saw his relationship with his ever-protective mother the Queen stretched to breaking point.
He has a 7th house Pisces Sun at zero degrees opposition Pluto square a 4th house Scorpio Moon – so definitely attached to family and also to a public lifestyle and attention. He has a children and party-loving 5th house Jupiter in Sagittarius in an entrepreneurial, over-confident and demanding Fire Grand Trine to Uranus in Leo trine an Aries Midheaven. Plus a socially-ambitious Mars Venus in Capricorn in the 6th; with Saturn also in Capricorn.
His chart relocated to Kazakhstan puts Jupiter on the IC which would certainly make him feel at home there; and it also puts slippery Neptune in the financial 2nd.
The Virgo/Pisces Eclipses over the past eighteen months have been rattling his Virgo North Node perhaps sending a message about re-visioning his life and changing course. This September's Lunar Eclipse will be sitting right on top of his Node; and the earlier very tricky September 1st Solar Eclipse will be conjunct his Pluto which will also be a sharp wake up call.
Tr Neptune is just into his 8th house of business finances which is often when secrets emerge into the open.
Tr Uranus will conjunct his Midheaven from late this June, off and on for a year which will force a sudden change of direction, all the more robustly since it will affect all of his Grand Trine.  I would wonder about health issues emerging in a couple of years since he has tr Pluto and his Secondary Progressed Moon both into his 6th then; plus Solar Arc Sun squaring his 6th house Mars; and tr Uranus also square his Mars Venus.
He'll find it draughty when Prince Charles takes over since there's little love lost there with a composite Sun Mercury Mars sextile Saturn and a chilly Moon square Saturn.  Even his sister Princess Anne looks exasperated and disappointed with their relationship chart getting tr Saturn conjunct the composite Mars this year; and tr Neptune square following on in later years.