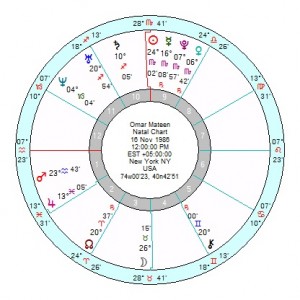 The Orlando shooter has been named as Omar Mateen, born 16 Nov 1986 in New York, to Afghan immigrant parents.
He had a very intense, angry chart with a Scorpio Sun Mercury possibly opposition a Taurus Moon and square Mars in Aquarius. Such a Fixed focal point Mars is headstrong, single-minded, a bulldozer – which certainly can have a good outcome if handled properly but here clearly not. He also had an intense Venus Pluto conjunction in Scorpio; a volatile Uranus sextile Mars; and a scared-of-failure Saturn in self-righteous Sagittarius square Jupiter in Pisces. Many of the violent Muslim fundamentalists have a Pisces connection in their charts.
His midpoints are stark with his Sun conjunct his Saturn/Pluto and Venus/Saturn midpoints which would give him a hard, unsentimental streak. His Mars is also square Saturn/Pluto which would make him unafraid of danger and prone to sudden acts of violence. Both his Sun and Mars also aspect his powerfully confident Jupiter/Pluto midpoint.
Tr Uranus was exactly sextile his Mars now which is excitable. More pointedly tr Pluto was conjunct his Mars/Saturn midpoint which Ebertin describes as – 'brutality, the rage or fury of destruction, the death of a great many people.'
There is utterly nothing to be said to sum this one up. The world really is sinking into a cauldron of fire.