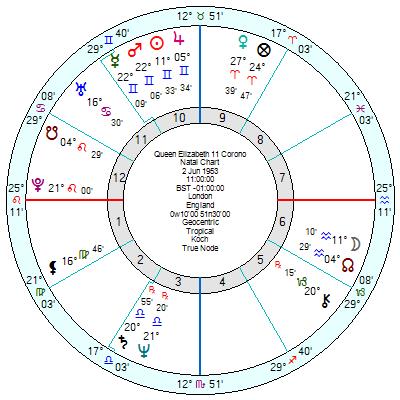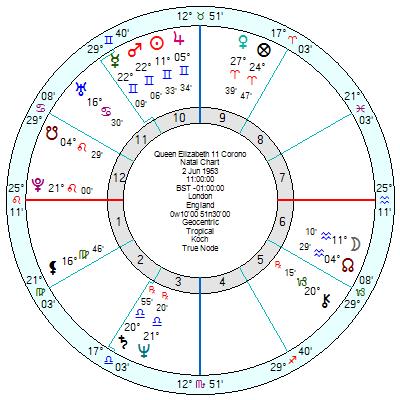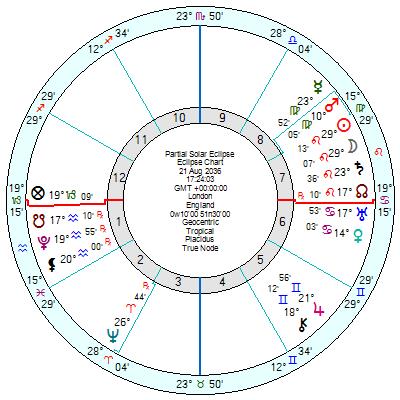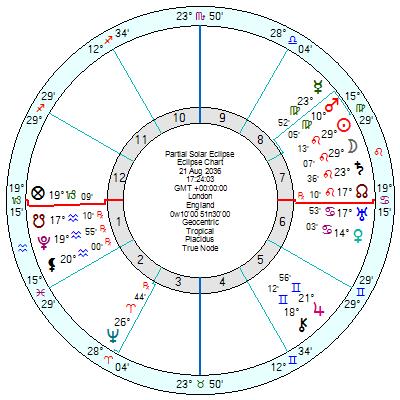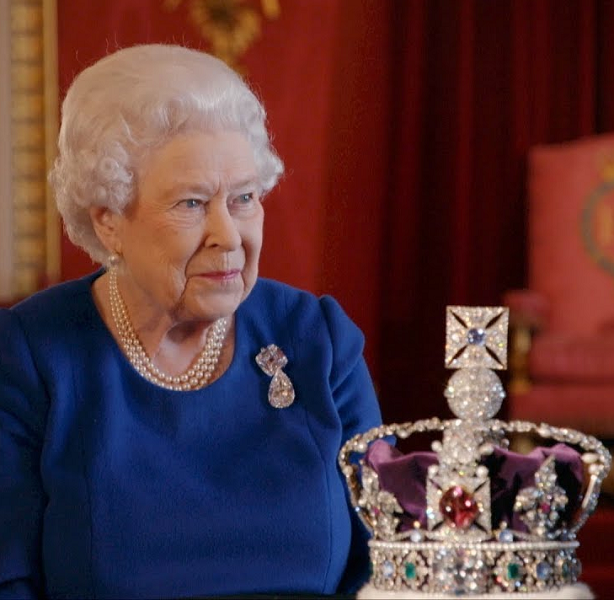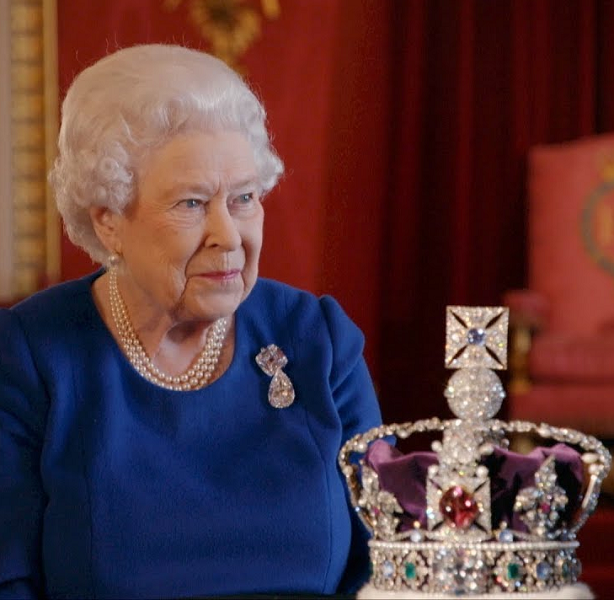 The damage inflicted by the Oprah Sussex interview on the Monarchy felt devastating in the immediate aftermath. But as the Meg-Haz litany of mistreatment by the Family is put under scrutiny and increasingly questioned, the pressure is slowly dropping. On top of which the Monarchy has been through spasms of acutely negative publicity in the past and recovered its balance. The brief response put out by the Palace was a masterpiece of barbed under-statement – 'recollections may vary' being the one likely to stick in mind.
Given the Queen's age and Prince Philip's state of health it's difficult to say what the planetary influences on her chart will refer to. Her own chart has her 7th house partnership Leo Sun under strain this year from tr Saturn on opposition and tr Uranus in square from this April onwards, on and off into early 2022. Tr Saturn and tr Pluto both moving through the early stages of her First House will have a sombre effect on her image, pulling down her energy levels and work motivation. Without all this confected nonsense she might have been opting to retreat further into the shadows but will almost certainly feel she has to soldier on. Tr Pluto will start to square her Taurus Sun from 2023 for two years which will be challenging.
Her Coronation chart, 2 June 1953 11am London does have a lacklustre, panicky-failure feel from late this April onwards for two years with tr Neptune square the Mars Mercury in Gemini. It has a 12 degree Taurus Midheaven (which will be a later degree if the oath-taking which I can't find is used). That certainly suggests a sudden change of direction, bumpy ride etc. As does the Moon around 11 degrees Aquarius which is catching the same jolting influences.
Neither Meghan nor Harry are looking upbeat in the aftermath. Meghan has her Leo Sun catching the discouraging tr Saturn opposition from late this month and tr Uranus pitching in with jolts and jangles in square from early May – and those repeat through the year. Harry has a lacklustre and undermining tr Neptune opposing his Virgo Sun through 2021/22 – so ditto and ditto.
An astrologer pointed out that Prince William was born on the day of a Solar Eclipse in a Saros cycle that started in 792AD and ends in 2036, leading to speculation that he would be the last king. How much that theory holds water is questionable. The Eclipse in question on 21 August 2036 has a final degree Leo New Moon conjunct Saturn widely opposition Pluto. Uranus at that point is in Cancer moving through the UK 10th house, conjunct the Cancer Moon, which is associated with the Ruler, but that is the only hint of any shift and that influence comes round every 84 years so is hardly a gamechanger.
Prince George, 22 July 2013 4.24pm does not have his grandmother's rigorous sense of duty, having his Saturn in the 12th in a Water Grand Trine to an 8th house Mars Mercury Jupiter trine Neptune. His 9th house Cancer Sun might prefer to travel or bury himself in learning and he'll certainly live in his own self-contained bubble.
  Both the Queen and Princess Margaret have/had the same dutiful Saturn in the 10th, a legacy from their disciplinarian and none-too-warm Queen Mother. Unfortunately there's no confirmed birth date for the QM since it wasn't registered until six weeks after. Though she was almost certainly a Sun Leo with a ferociously tricky collection of Pluto, Mars, Neptune in Gemini opposition Saturn in Sagittarius. Underneath the saccharine sweetness there was a deeply unpleasant streak.
On the whole the Royal females tend to be a stalwart bunch. The Queen's Saturn in Scorpio on the MC square Mars Jupiter opposition Neptune Moon is unbudgeable. And much of her early Royal tutoring came from her grandmother, Mary of Teck, an equally rock-solid Gemini with Saturn in Scorpio opposition Pluto square Mars in Leo. Before that, Queen Victoria another Gemini, had Saturn Pluto in Pisces square Uranus Neptune so had that equally unyielding quality. Victoria had a successful Jupiter in the 10th which William does also.
See previous post February 10 2021 and below 5 March 2021.