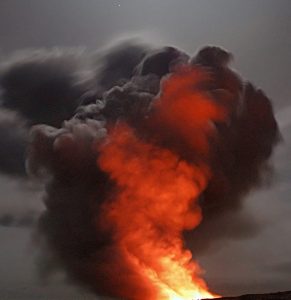 Mike Pompeo appears to have taken ownership of the Soleimani killing alongside Trump and all matters of defence, as he dominates the airwaves, talking about troop deployments, deterrence and the likelihood of American bombs raining down on Iranian soil. He's definitely pumped up by the upcoming January 10th Lunar Eclipse at 20 degrees Cancer/Capricorn as it collides with his Mars in Capricorn opposition Cancer Moon, which will make him more combative and aggressive than usual. His Capricorn Sun would also get an over- confidence surge from the late December Capricorn Solar Eclipse conjunct Jupiter.
Moving ahead, March looks like an accident or disaster-prone month for him from 9th to 28 with tr Uranus square his Mars/Saturn midpoint. Which is when there's high alert on the Israel and Hezbollah charts as well as up in the celestial sphere (see post below – ME sandstorms January 5th.)
On his Secretary of State chart, 26 April 2018 2pm, the ruthless Mars Pluto in Capricorn is catching this upcoming Lunar Eclipse almost exactly. He will be set back on his heels in April and then on a downhill slide of morale, confidence and popularity from late April to late August with tr Neptune hitting on two Jupiter midpoints, one Mars and one Uranus midpoint.
His relationship chart with Trump is far from being as cosy as it looks with a composite Saturn Venus opposition Mars – suited maybe to joint military activity, but with an underlying strand of resentment and aggravation which will erupt into the open in May and June as tr Uranus throws in a firecracker or two into the mix, with rumblings before then.
If the Iranian escapade backfires badly, Trump will toss him overboard without a second thought. And Trump is looking hemmed in every which way from late January onwards with risk attached. Pompeo's chart relocated to Teheran has Mars on the IC which is not a propitious sign.
Mike Pence has also been scuttling around doing his bit to cheerlead the Trump wagon train along. He has an undermining tr Neptune square his Gemini Sun until late this month and is more confused than he sounds with tr Pluto square his Neptune/Node till later this month as well. Then he's got jolts, jangles and risk of violence mid February to early March from tr Uranus opposition his Saturn/Pluto midpoint and square his Mars; and more disruption with threat of violence or at least excessive stress late February till early July with tr Pluto square his Saturn/Uranus midpoint. His relationship with Trump will be chilly early March and starting a major slide into disappointment from late March to late April with tr Neptune square the composite Sun and that repeats on and off till early 2021. Tr Saturn is square his Mars across the Inauguration which usually brings a considerable setback.
For Eclipse watchers: Jared Kushner with a 20 degree Capricorn Sun, Eric Trump with a 15 degree Capricorn Sun; and Don Jnr with his Sun Venus in Capricorn square Pluto – are all in for a challenging year.
It's not that the world isn't a better place without Soleimani, to which many Iranians would agree, but doing it in such a flagrant, provocative way was narcissistic lunacy. Typical. Better to have used proxies with deniability which would have solved the S problem without giving rise to the inevitable explosive response.