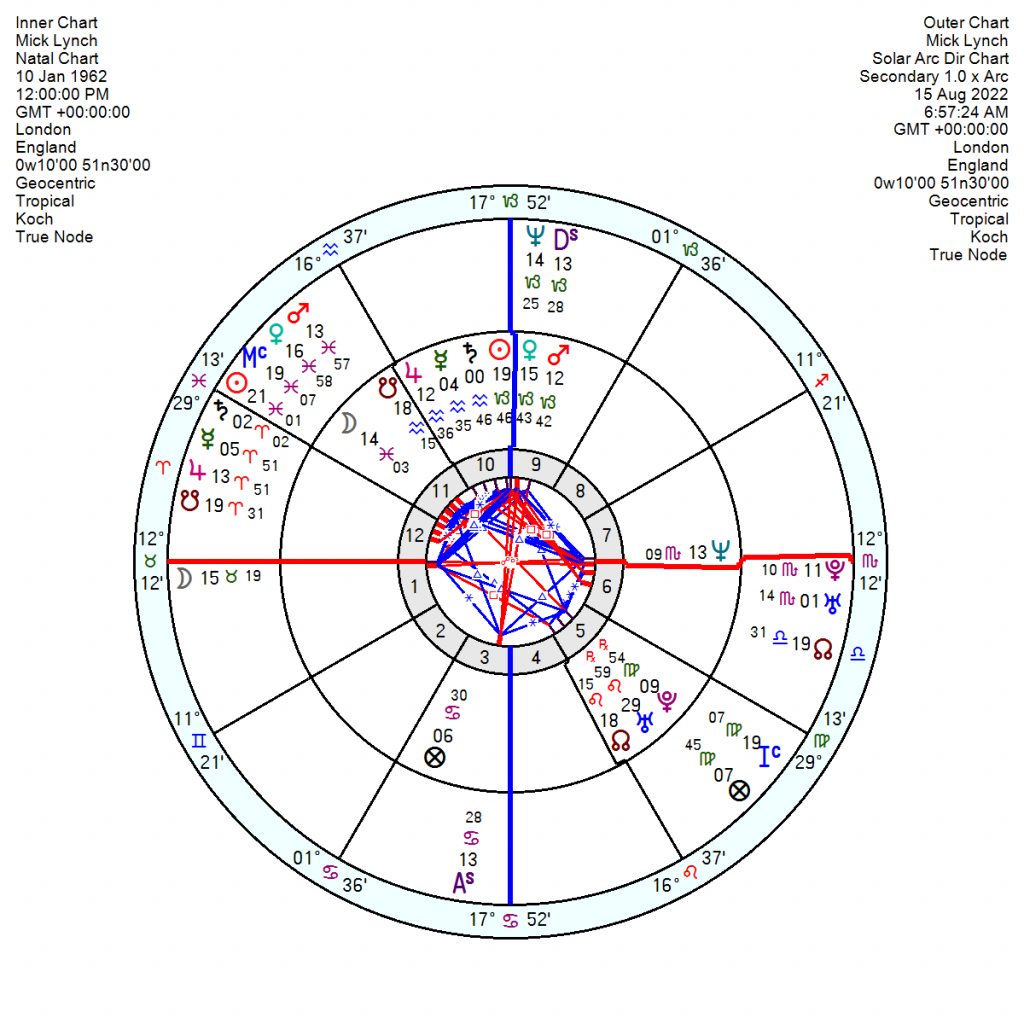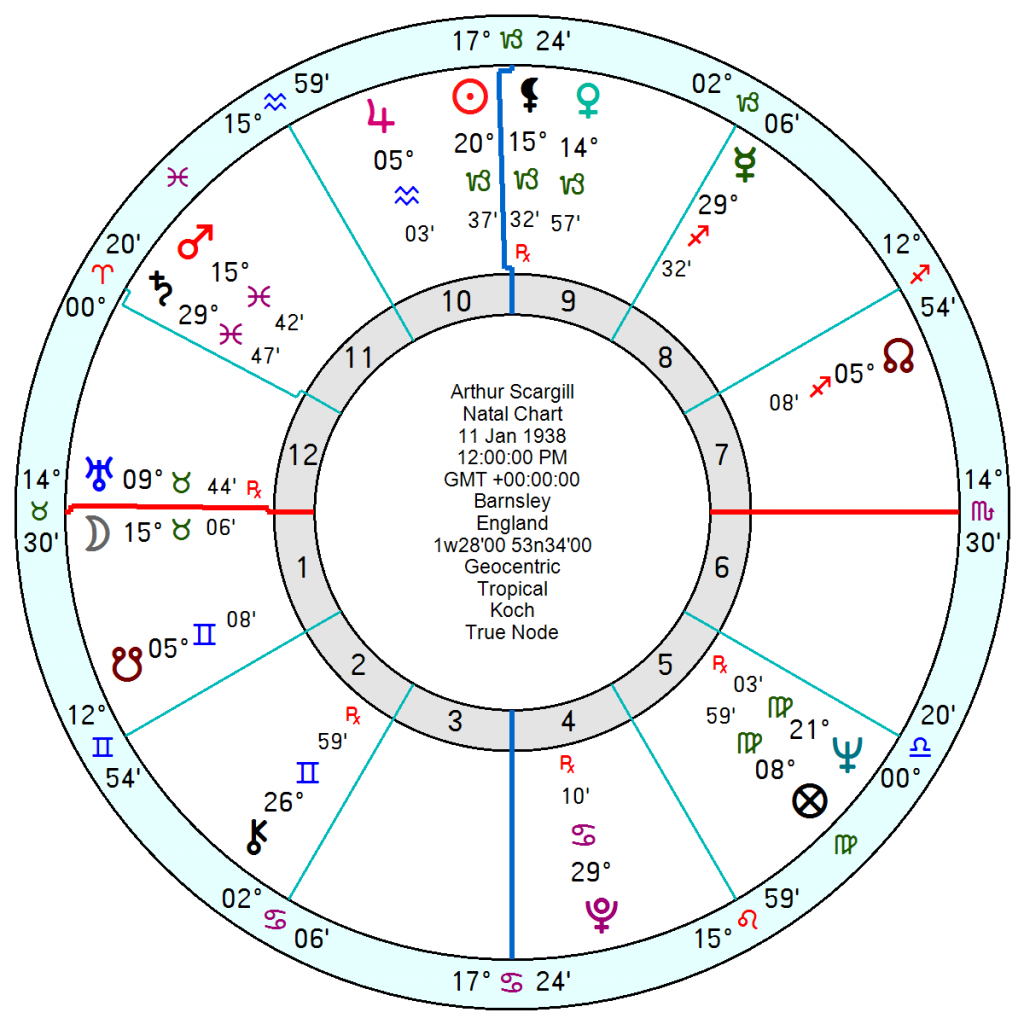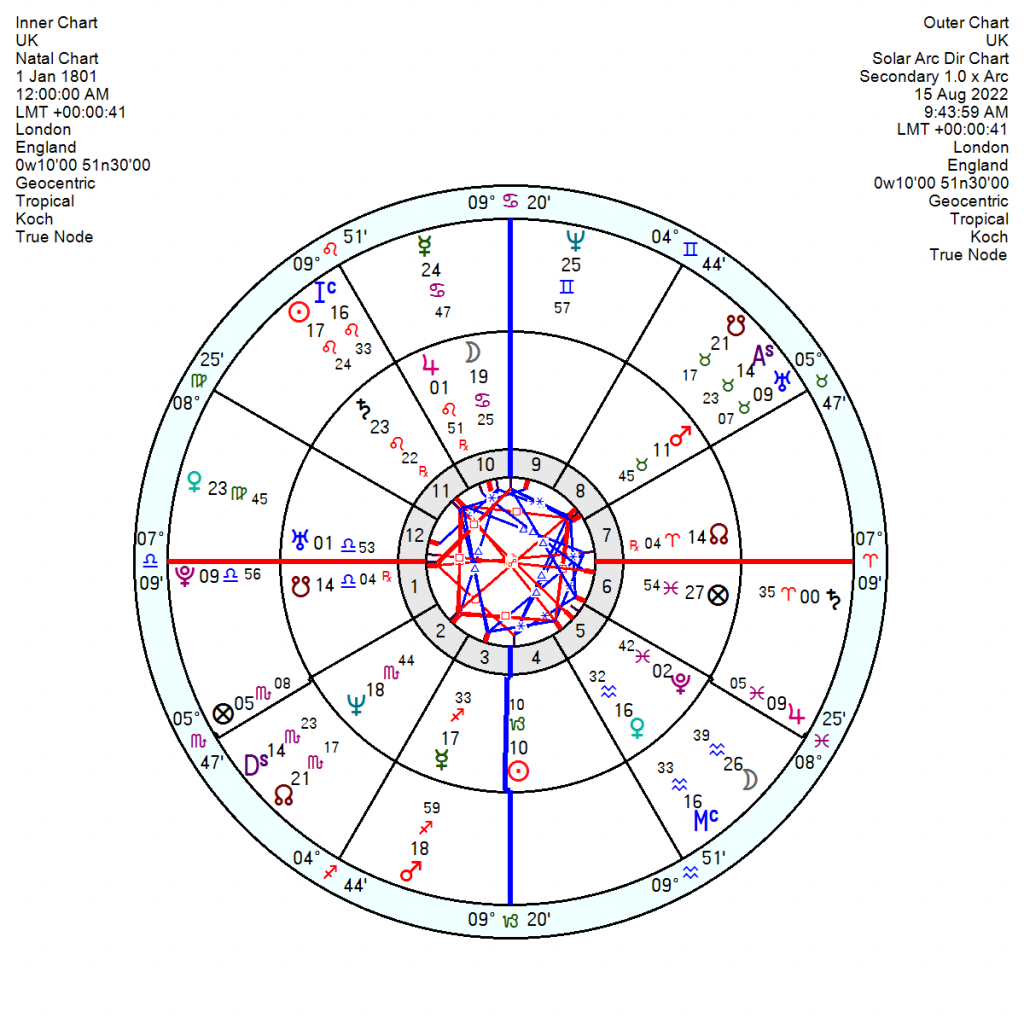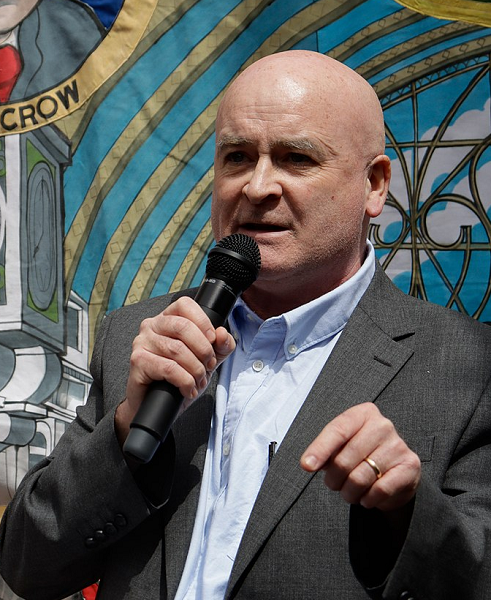 Trade unionist Mick Lynch, General Secretary of the Rail Workers and promoter of the recent strikes, is striking fear into the heart of the government and right-wingers about a return to the bad old days of constant disruption. Although there is widespread unease about financial hardship amongst the wider population which should garner sympathy for wage claims, he has two major problems. One is 'Spanish practices' in sections of the rail industry which halt modernisation; and the tilt towards Russia which has always been the trade unions' Achilles Heel. He recently said the EU had provoked trouble in Ukraine, when asked about the Russian invasion and has long-standing sympathies for the pro-Putin separatists who have been fighting in the east of the country for almost a decade.
Lynch was born 10 January 1962 (Companies House) in London and like Arthur Scargill, the miners leader who jousted with Maggie Thatcher, he is a Sun and Venus Capricorn – almost on the same degrees. Both have Jupiter in humanitarian Aquarius. Lynch also has a do-or-die-determined and ruthless Mars in Capricorn trine Pluto, sextile Neptune.
  Lynch's Sun and Scargill's oppose the UK's 10th house (= ruling classes) Moon with Lynch's Mars, Venus, Saturn also in the UK 4th which represents the masses and the UK's roots. His Pluto falls in the UK's 12th so he'll be drawn to wielding subversive power. His Neptune opposes the UK's 8th house Mars so he could undermine the UK's commercial ambitions.
Doing a quick skip round other UK and other trade union notables and campaigners for workers rights. Wat Tyler, who led the 14th century Peasants' Revolt may also have been a Capricorn.
There is a fair smattering of Aquarius through the charts, not Sun, but other planets. Bob Crow, 13 June 1961, had Jupiter in Aquarius as had Stalin (tho' he was hardly humanitarian). Jack Jones and Ernest Bevin had Mars in Aquarius.
Marx and Lenin were Sun Taurus – and there is a fair smattering of Taurus through the other charts as well.
  Mick Lynch ahead will be pushing on with confidence and running into massive resistance. He has several lucky and enthusiastic Jupiter midpoints being triggered for the next three years. Plus a discouraging tr Pluto conjunct his Saturn in 2023/2024 as well as a sinking Neptunian Solar Arc into 2024 alongside a Solar Arc Pluto conjunct Neptune which won't be encouraging.  He'll win some and lose more than a few.
He may well be a significant player in the UK's rocky ride through the blocked Solar Arc Pluto square Sun, exact in 3 months; and tension-erupting, can-be-rebellious Solar Arc Saturn opposition Uranus, exact in 18 months. Plus tr Saturn conjunct the UK Pluto from early 2023 and recurring throughout the year which will also be seriously stuck. Plus all the rest of the financial and economic jangles from transiting Uranus on the UK Neptune and Venus into 2023.
Eventually the storms will pass but it won't be a smooth passage for a year or several.
Pic: Steve Eason.