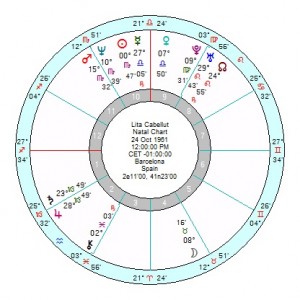 There's a magical story about a little gypsy girl whose mother ran a brothel in Barcelona. She lived as a street kid never attending school, ended up in an orphanage at 10, and was adopted aged 12. Her new parents introduced her to Goya's paintings in the Prado in Madrid, as well as getting her educated. She is now one of Spain's most successful artists, her portraits selling for $100,000 and more.
Lita Cabellut was born 24 October 1961 and she's a Sun Scorpio square Jupiter in Capricorn, sextile Uranus – so determined, lucky, adventurous. She's also got a showbizzy Neptune Mars in Scorpio sextile Pluto Her Taurus Moon may oppose Neptune, perhaps even Mars – so not an easy emotional life or relationship to her mother.
She has an idealistic Saturn Jupiter conjunction in Capricorn with Saturn 5 degrees before Jupiter, so her life pattern will always be difficulty before success.
When her grandmother died at 10 and she went into the orphanage her Solar Arc Uranus was conjunct her Pluto which would make for a significant change and with her Solar Arc Sun conjunct her Neptune would be confusing. Two years later her Solar Arc Jupiter was square her Neptune, restoring her hope.