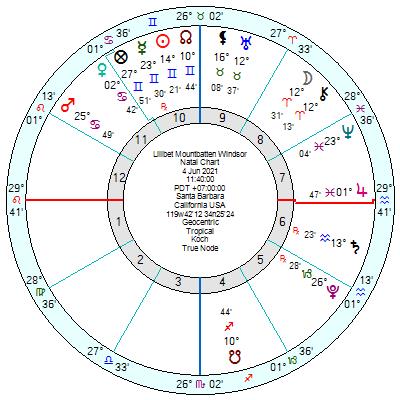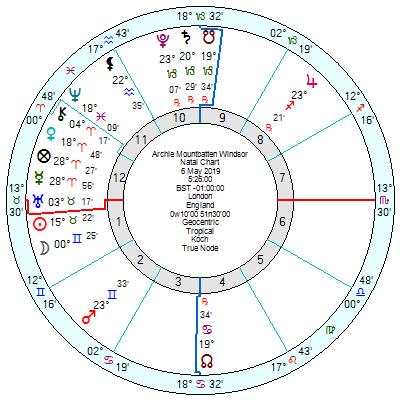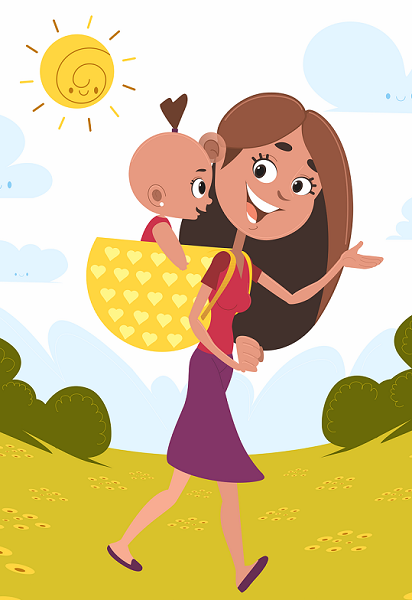 Lilibet Diana Mountbatten-Windsor arrived on Friday at 11.40 am in Santa Barbara, California. She has a public-career oriented and communicative 10th house Gemini Sun in a sensible, hard-working trine to Saturn in her 6th house, sextile a secretive, intense 8th house Moon in Aries. Her Saturn is in an erratic, can-be-dictatorial square to Uranus in the 9th, hinting she'll be pulled between alternative philosophies and conventional ways.
Both her Saturn and Uranus hard aspect her Sun/Moon midpoint so marriage and close relationships will not be easy despite her laid-back, expansive Jupiter conjunct her Descendant. She's also got a megaton Mars in Cancer opposition Pluto which may initially make her bury her anger and assertiveness though once/if she gets the right end of it she'll have driving determination.
A 10th house Sun is associated with a public career and points to a need to fulfil the mother's ambitions rather than her own. Though with Lili's Saturn and Uranus clashing with Meghan's Leo Sun, and Lili's Mars squaring Meg's controlling 4th house Pluto it won't be an easy combination.
It's a different chart from her older brother Archie, 6 May 2019 5.26 am London, who has a Taurus Sun conjunct his Ascendant trine an overly-dutiful and gloomy 10th house Saturn Pluto conjunction. His Gemini Moon isn't well-integrated into his chart.
  Lili's 8th house Moon is a hint of more than normal grandparental ties and the name selected is no doubt a nod in that direction. Though my first reaction was it was a crass choice, designed to curry favour/smooth over family hurt/set the Royal connection in cement.  If it was intended as an olive branch it isn't working, with the close family relationships going from bad to worse ahead.  See previous post April 24 2021 below.
Add ON: In some ways Harry should be a better fit with Archie since H's Taurus Moon chimes with A's Sun. But Harry's relationship chart with Lili is expansive, easy-going and supportive with a composite Sun opposition Jupiter and square the Moon.
What is intriguing is that Lili's ferociously determined Mars opposition Pluto falls across both her parents' 1st/7th houses which looks argumentative and then some.