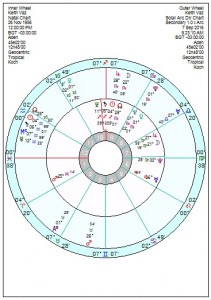 UK Labour MP Keith Vaz has stepped down from his hugely influential position as Chairman of the Home Affairs Select Committee which oversees policy on drugs, crime and sexual exploitation, after a media story about him paying for the services of two male sex workers. What he did was not illegal and he initially tried to blame the newspaper for scandal-mongering; but ultimately resigned because of conflict of interest issues.
Controversy has dogged him throughout his parliamentary career, not the least of which was on the expenses issue, but he has slid through until now without scandals impeding his upward trajectory.
Born 26 November 1956 in Aden to Indian-Goan parents, he came to England aged nine, was educated at a Catholic School and thence on to Cambridge. His father committed suicide when he was 14.
He's a Sun Saturn (Mercury) in Sagittarius square Pluto in Virgo – so he had a tough start in life which has left him with a very determined (and brass-necked) streak. His Sun Saturn is also trine Uranus, so innovative. He's got a charmingly evasive Venus Neptune in Scorpio square Uranus; and Mars in Pisces opposition Jupiter (Moon) in Virgo – extravagant, opinionated, a tendency to exaggerate, hint of mercenary motives.
He does have a high-tension/sudden change Solar Arc Saturn opposition his Uranus this year; as well as the meltdown Solar Arc Pluto conjunct his natal Venus Neptune. Plus the September Solar Eclipse is square his Sun Saturn which tends to be a time of chickens coming home to roost; and the mid September Lunar Eclipse is sitting almost exactly on his Mars opposition Jupiter (Moon). A game-changing moment of crisis in his life.
His 10th Harmonic (of self-undoing) is strongly aspected with a ruthless Grand Trine of Pluto trine Mars Neptune (loves publicity) trine Uranus.