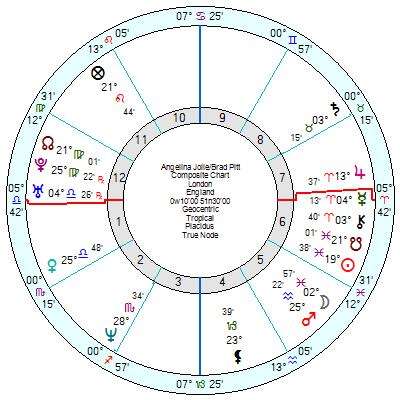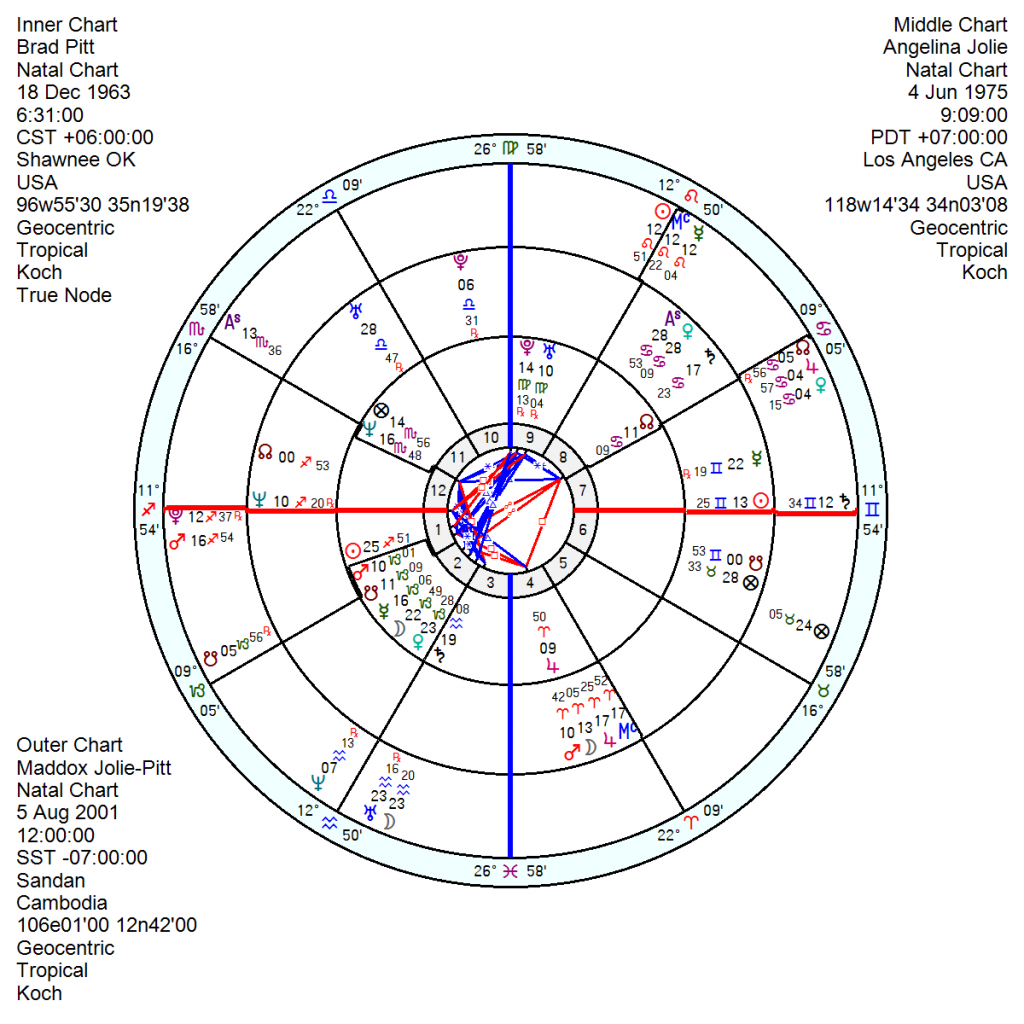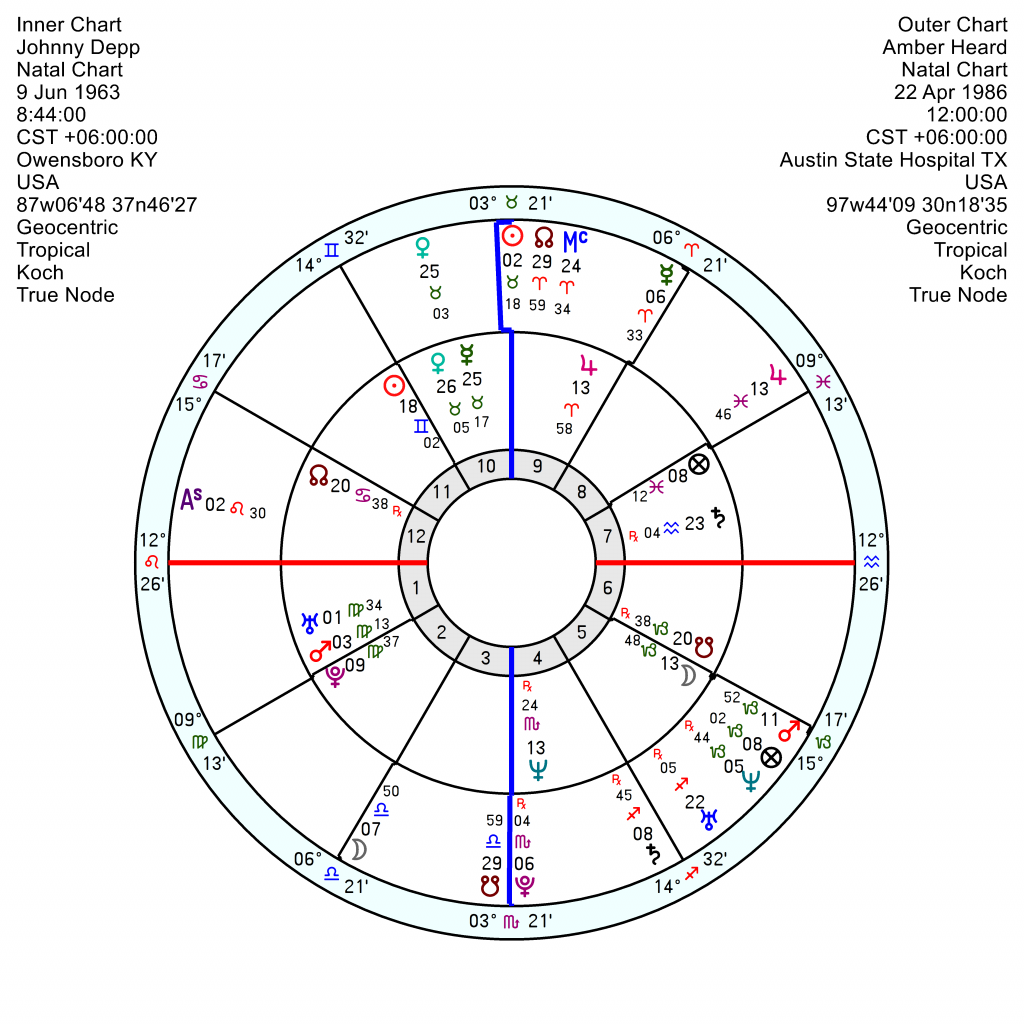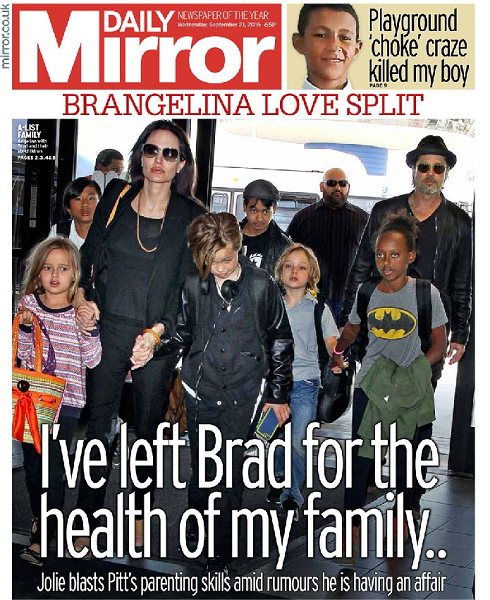 Pluto, lord of the underworld, is bringer of passion, possessiveness and jealousy. Overseer of five of the seven deadly sins  –  pride, greed, wrath, envy, lust – it has two primal urges. One is transformation and the other is power, drives which are frequently at war with one another. When Pluto is a strong element in a relationship it can initially arouse intense feelings of certainty, even 'fatedness', of a togetherness that is meant to be. Such bonds can have a transformative effect on both partners, but the tendency in the longer term is for one partner to want to be in control as top dog and it then descends into a bitter tussle for supremacy (or one partner remains resentfully tramped underfoot.) Splitting a Plutonic relationship, when one partner has had enough, is a long, messy, bitter battle with resentments and blame sprayed around.
  All of which is a prelude to the Angelina Jolie/Brad Pitt and Johnny Depp/Amber Heard all-too-public mud-slinging contests. While not wishing to take sides on who did or didn't do what, it's worth noting that an underlying theme in both is money, another of Pluto's territories.
Brad Pitt and Angelina Jolie separated and divorced in 2016, acquired legal single status 2019 but there is still an ongoing legal fight for custody and financial arrangements, with allegations from her this month of domestic violence. She has changed lawyers along the way, one retiring when the fight became 'venomous and nasty.'
The Jolie/Pitt relationship chart has a classic composite Sun opposition Pluto and a hostile Pluto inconjunct Mars; with Mars square Neptune, which last hints at an ego-clash of the only-one-can-win variety. If one succeeds the other loses. Jolie has her do-or-die determined Pluto in Pitt's 10th house so she would want to change him/be in control. Her aggravated and no doubt aggravating Moon Mars in Aries falls in his 4th house of home and domestic affairs.
It was undoubtedly a 'transformational' relationship for him since they got together when tr Pluto was conjunct his Sagittarius Sun and they split when freedom-loving Uranus was square his Moon Venus in Capricorn. She made the decision but it offered him a way out.
  One of the adopted children Maddox, a Cambodian orphan with Jolie since her Bob Thornton days, was born (if accurate) 5 August 2001, and intends to give evidence in court on Jolie's side. He has a truly difficult Mars Pluto in Sagittarius opposition Saturn which falls exactly on Pitt's Ascendant/Descendant axis so it would be a fractious relationship, largely stemming from Maddox's early damage. Though it also collides with Jolie's Gemini Sun – but kids in split relationships often pick sides and don't budge.
The Jolie/Pitt saga is likely to drag on for several years yet with tr Neptune opposition the Pluto until late 2023.
The Depp/Heard coming together was Plutonic from another angle, with her exceptionally stubborn and controlling Taurus Sun opposition Pluto falling on his Midheaven and IC. Not that he's anyone's idea of a dream partner with a volcanic Pluto Mars Uranus in Virgo and his Pluto square a Gemini Sun.
Their war of accusations and counter allegations continues in court with his appeal against his failed libel case about domestic assaults, claiming she did not hand over all of her $5 million divorce settlement to charity as she had promised. He's fighting for his career and money-making potential which has taken a substantial hit since it all became public.
Their relationship chart does have an affectionate composite Sun Venus conjunction; but there's also a chained-together and resentful Saturn square Pluto; and a wide power-struggling Pluto opposition Jupiter.
What would we do without celebrities and Royals to keep us entertained with their running soap operas?