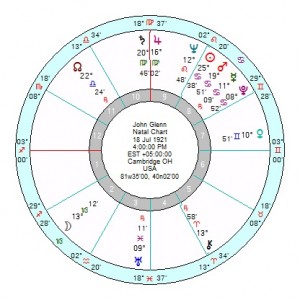 John Glenn, the astronaut, the first American to orbit the earth, has died. He was initially a much be-medalled fighter pilot in WW11 and Korea, joined NASA, and in later years became a Senator and tried for Democrat Presidential nomination.
Born 18 July 1921 4pm Cambridge, Ohio, he had some chart. His Cancer Sun Mars were in the 8th sextile an idealistic Jupiter Saturn on his Virgo Midheaven; with Pluto Mercury in Cancer also in the 8th. His Jupiter opposed Uranus and squared a 7th house Venus in Gemini – so quite a mix of light heartedly charming and utterly driven. He did have a couple of financial question-marks over his time in politics which may well have been his Pluto Mars in the 8th.
When he made his famous orbit on 20 Feb 1962 tr Pluto was opposition his Uranus; his Solar Arc Jupiter was square his Sun; and tr Uranus was conjunct his Solar Arc Mars – a turnaround point in his life, both successful and scary.
His Harmonics were interesting. The gutsy, utterly determined 8H and 16H are strong with indications of tremendous confidence. His inspired 7H is also marked. And his making-a-mark-on-history 17H even more so.
Buzz Aldrin (see previous post 1 Dec) also had an 8th house Sun plus two other planets and Mars on the cusp of the 8th – a desire to reach beyond.