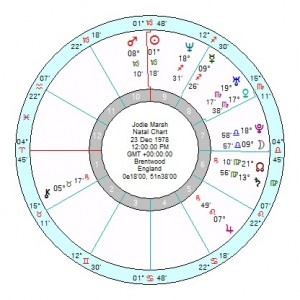 Jodie Marsh is an English media and reality star, bodybuilder, glamour model who posed topless for lads' magazines. Her love life, usually conducted in the headlines, is a car-crash, with short-lived rather sordid affairs, and in one instance complaints about her drinking and lack of personal hygiene. She has been booed, heckled and had eggs thrown at her on public appearances. She now insists she's gone celibate to get her life back. She's also fond of animals.
Born 23 December 1978 she's a high-octane Sun Mars in Capricorn witha tough Mars trine Saturn in Virgo; with Saturn in a neurotic square to Neptune; plus an emotionally intense and erratic Venus Uranus in Scorpio.
Her midpoints are both bleak and rather spaced-out. Her Sun is square the hard/deprived Saturn/Pluto.  Her Venus is conjunct the off-the-wall Neptune/Pluto as well as being = Saturn/Pluto.  Her Neptune = Venus/Pluto. But her Pluto is conjunct her Sun/Jupiter which gives her the confidence to plough ahead no matter what.
She's in for an unsettled year or two with tr Neptune opposition her Saturn in 2017; as well as tr Pluto sextile her Venus Uranus in 2016/17/18 so in an emotional upheaval.
She is a million miles different in temperament and talent from the late comedienne Caroline Aherne – except for the emotional instability. But they have certain similarities in their charts.  Both Sun Mars in Capricorn; both with Jupiter in a Fire sign; both with a Saturn Neptune square.