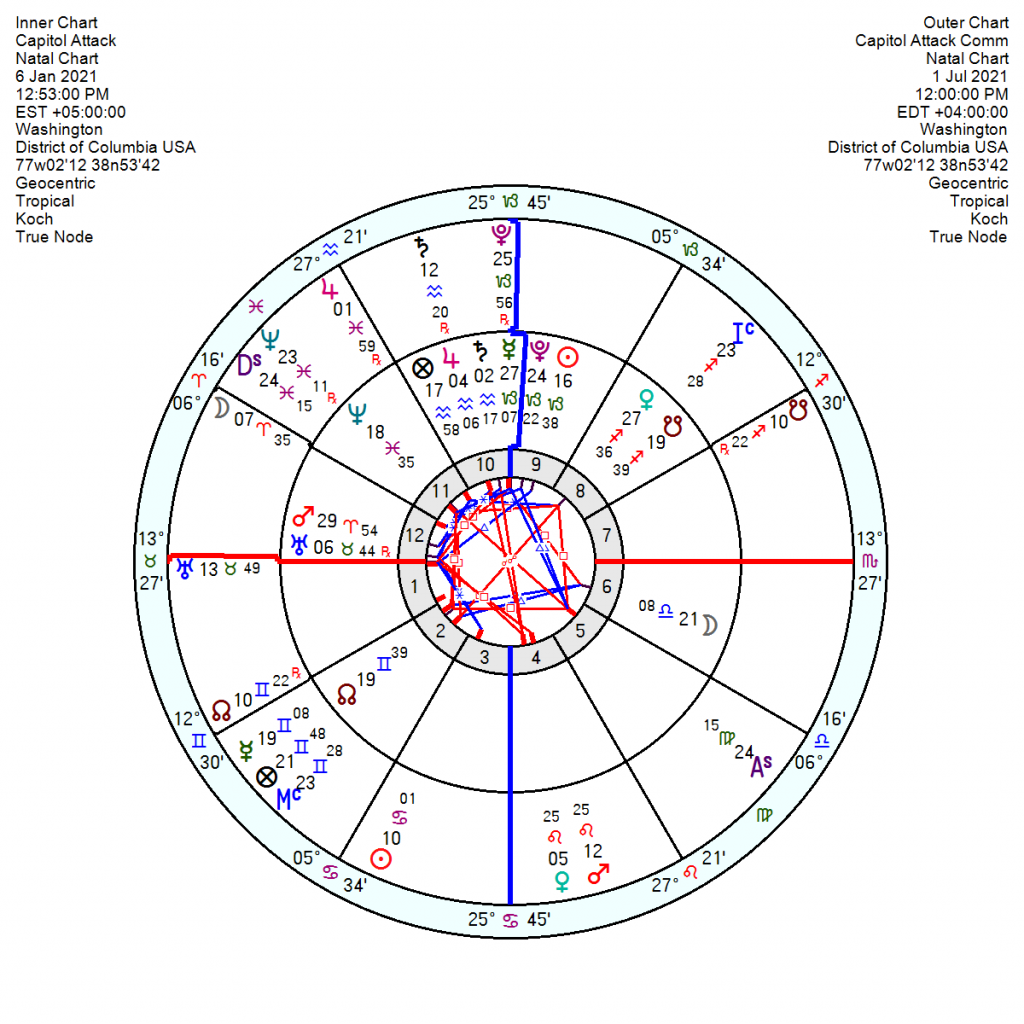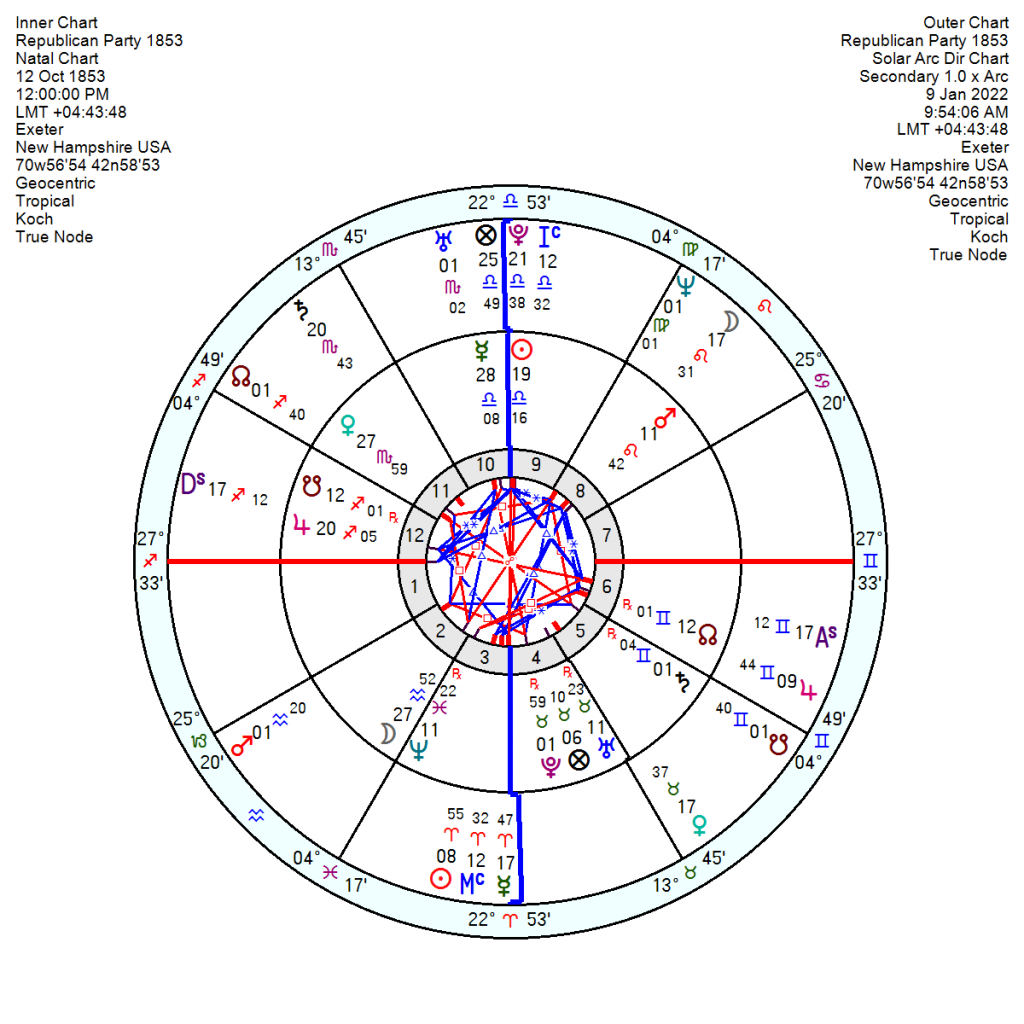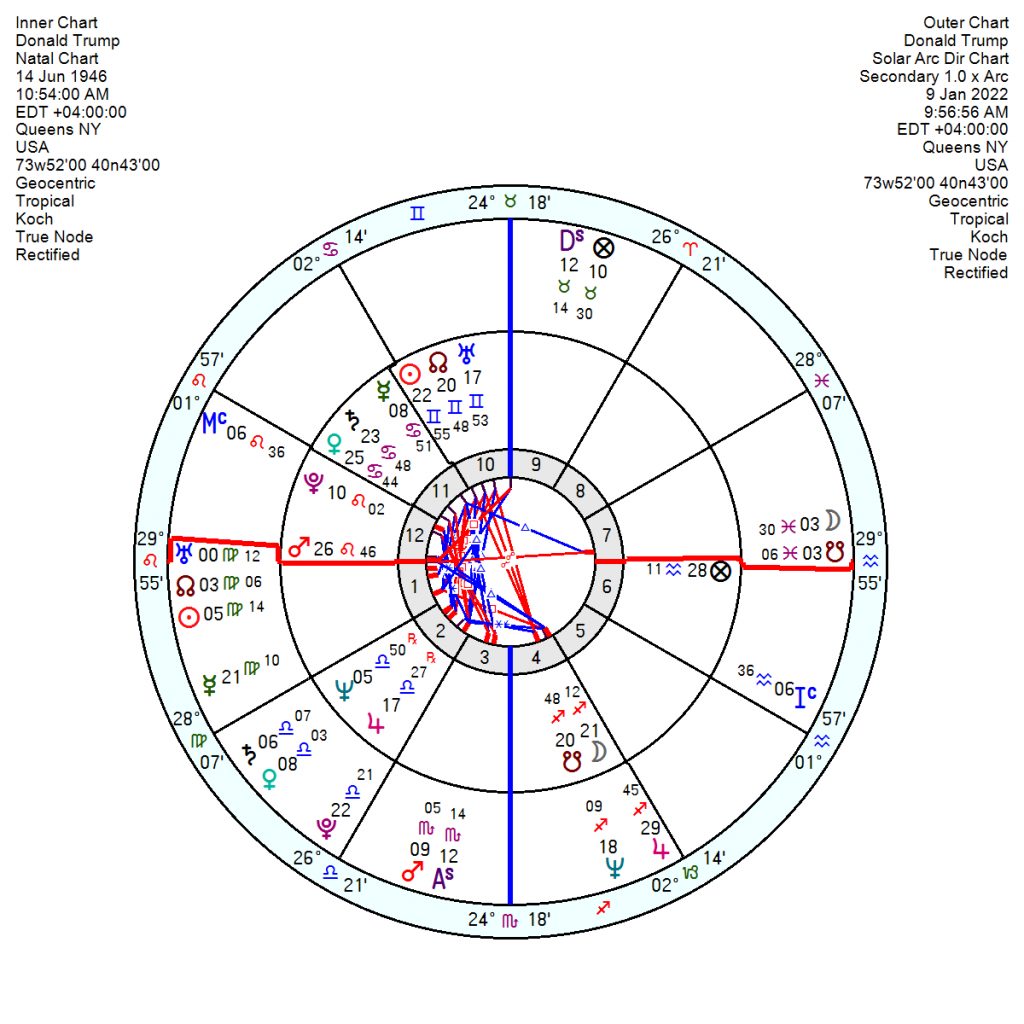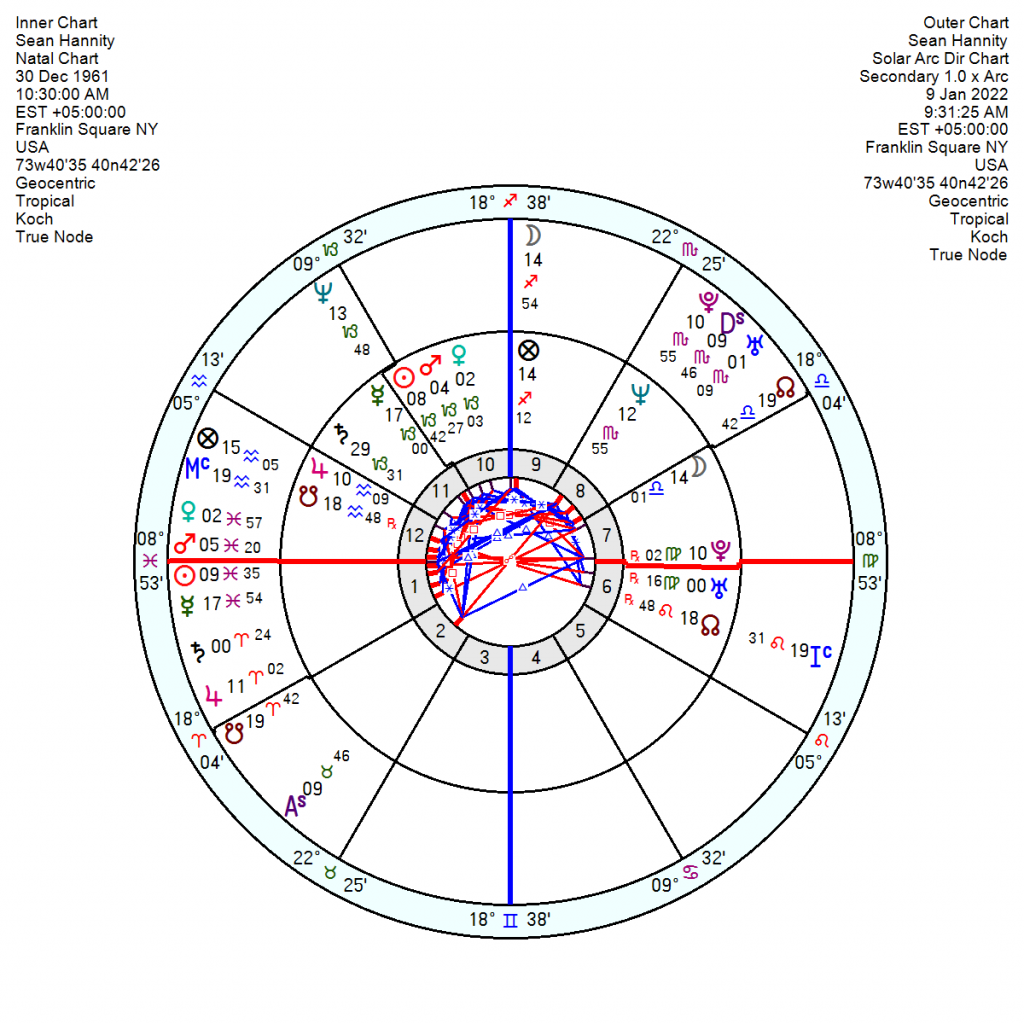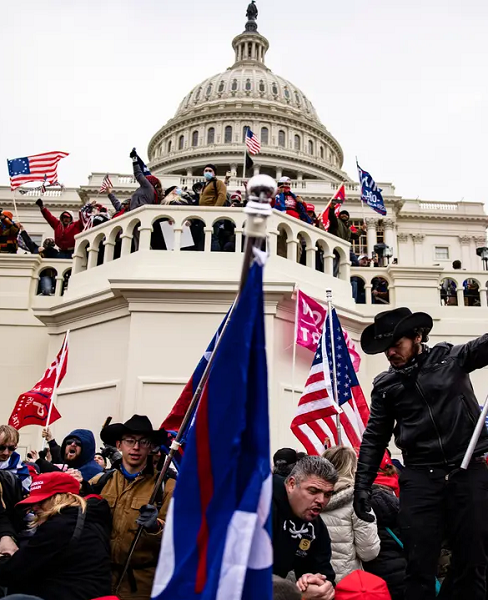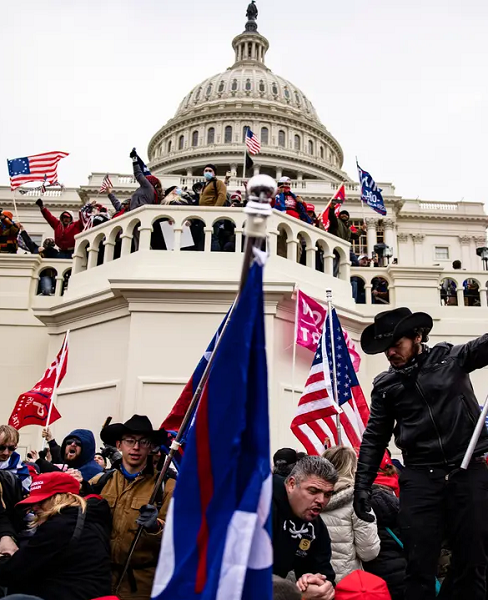 The January 6th anniversary of the Capitol attack by an angry mob, cheer-leaded on by Trump's false claim the election had been stolen, has come and gone. The House select committee set up in July 2021 to investigate, after an attempt to impeach Trump for incitement of insurrection fell short of the two thirds majority required, and a bipartisan independent commission was blocked by Senate Republicans, continues in an uphill battle to get Trump supporters to testify.
Despite none of the recounts showing any indications of mistakes or fraud, 58 percent of Republicans still say Biden was not legitimately elected, though that is down from 70 percent a year ago. About 7 in 10 Americans say Biden's election as president was legitimate.
The January 6 2021 attack happened with tr Pluto exactly on the opposition to the US Mercury which is natally opposition Pluto so it triggered that streak in the US temperament which gets obsessed by fixed ideas, won't listen to rational argument and dives headfirst into bitter, hostile arguments. It also tends to attract demagogues (= firebrands and rabblerousers) and frauds who misrepresent the truth.
Transiting Pluto has now moved on to square the US Mercury/Pluto midpoint and then conjunct the US Pluto for the Return, starting next month and running off an on till late 2024. This was always going to be a fraught few years with poisonous political debates.
The 1 July 2021 Committee chart has a Mercury square Neptune which isn't too hopeful for a decisive outcome; though there'll be plenty of heated outbursts with an enthusiastic Venus Mars in Leo opposition Saturn square Uranus. That later T square is being rattled through the next three months by the tr Uranus square tr Saturn so tensions will rise leading to eruptions.
There will be some sort of – maybe not closure – but a culmination in 2023 when there is an angry, argumentative Solar Arc Mercury square the Mars; and a reality-check Solar Arc Saturn is conjunct the Jupiter.
Political party charts are never a good guide and I never liked the Republican ones but Jessica Adams has a slightly different date for them of 12 October 1853, which looks marginally more illuminating. It has the persuasive and quarrelsome Mercury opposition Pluto as in the US chart and it too is catching the transiting Pluto square Mercury from this March on and off till late 2023 and then square the Pluto through 2023 to late 2024. So they will be fomenting harsh discussions. The Mars in Leo square Uranus in Taurus at 11 degrees seems from past experience to be particularly sensitive and it is being ignited February 7th to March 12th this year so there will be fireworks. Assuming this chart holds good there will be a frustrating setback of considerable proportions as Solar Arc Mars squares the Pluto, exact in six months; and considerable upheaval and turnaround in a year's time or just before with the Solar Arc Uranus opposing the Pluto.
The GOP has hitched its wagon to Trump for good or ill so his fortunes will impact on their future looks.
  For all the bombast his chart is not looking good. He's still wincing over a financial sinkhole from Solar Arc Saturn conjunct his 2nd house Neptune three months back;  and a nerve-wracked Solar Arc Neptune opposition his 10th house Uranus, also just passed but still in effect. Through this month and into early February he has tr Uranus square his 12th house Pluto which will be upsetting his stability and loosening his grip on his sense of power. Tr Pluto is also quincunx his Mars in Leo this month and again late in the year which will give rise to aggravations and outbursts of frustrated rage.
  The rest of February will be overly-excitable, rattled and could hint at health issues. Tr Neptune will continue to square and undermine his Sun all year, coming back onto the next exact aspect in late February.  He will have a sprinkling of luck at points but in a year's time he runs into a scary dead-halt from Solar Arc Mars square his Pluto; and into 2024/25 he has his Solar Arc Neptune conjunct his South Node and then his Moon and after opposing his Sun.
Sean Hannity of Fox News, whose texts to Trump pre-January 6th indicate he was an unofficial adviser and was warning in advance against any such escalation.
Hannity, 30 December 1961 10.30am New York, is an ambitious Sun, Mars, Venus in Capricorn trine Pluto Uranus in Virgo with an over-hopeful Neptune square Jupiter. He's anxious and uncertain now with tr Saturn square tr Uranus hitting his Jupiter and Neptune this month and the next two, deflating his optimism. By mid year he has a stuck Solar Arc Sun opposition his Pluto running for several months; with an unloved Solar Arc Saturn square his Venus in 18 months and setbacks in 2025.
Not his shining hour ahead.