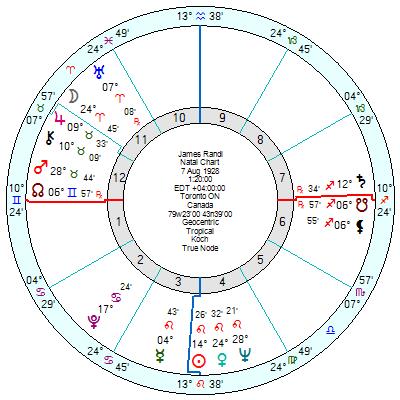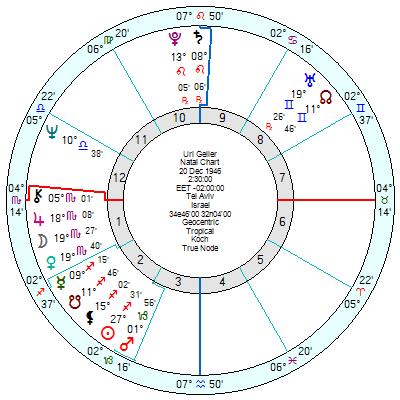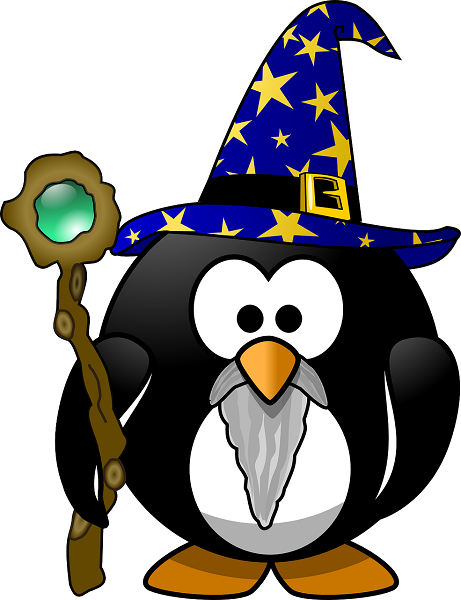 James Randi, the illusionist and magician turned paranormal sceptic, has died aged 92. He made a media career out of debunking healers, psychics, spoon benders, mind readers, fortune tellers, water dowsers, faith healers, lumping them altogether as fakes, frauds and cons. He was co-founder of the Committee for the Scientific Investigation of Claims of the Paranormal (CSICOP), which despite its title was not a scientific organization. More of a propaganda movement, it had a damaging effect on parapsychology and retarded its development. Likewise astrology, which it attempted to blow out of the water by repeating Michel Gauquelin's study showing that champion athletes are more likely to be born with Mars in certain positions in the sky. When the results of their study appeared to back up Gauquelin's results, they fiddled their conclusions to prove the opposite.
Randi was born 7 August 1928 in Toronto, Canada with an unverified time of 1.20 am. He had an entrepreneurial, attention-demanding Fire Grand Trine of a Leo Sun and Mercury trine Saturn in Sagittarius trine Uranus in Aries. A bulldozer Mars in Taurus (conjunct Algol) was square Venus Neptune in Leo. His Mercury was in an over-confident square to Jupiter in indulgent Taurus, so he'd over-promise. Not a subtle temperament.
He made his name on television attacking and undermining spoon-bender Uri Geller, 20 December 1946 2.30 am Tel Aviv, Israel. Though Geller said he always regarded Randi as good publicity and it didn't dent his career. It was more of a symbiotic relationship with Randi needing a windmill to tilt at. Protagonist and antagonist, one needs the other.
Randi's Sun was conjunct Geller's 10th house Pluto for an endless tussle.
   I would have to admit to a personal bias since I deeply disliked Randi. Not that there aren't charlatans out there in the psychic field but in many ways he was as big a chancer as any of the flakes he puffed up his career exposing. I was in a TV chat show with him many years ago and sharply attacked his blanket denials of all matters paranormal and he completely deflated to the extent the show was never transmitted. I also tripped across him in the 1990s during a child sexual abuse campaign where he was on the 'scientific' board of the False Memory Movement, whose raison d'etre was to write off allegations of abuse as fantasy. The Memory Wars of the 1990s pitted dinosaurs whose careers were built on outdated theories of how the mind and memory work against trauma specialists generating a flood of new research. Randi was, for sure, not on an open-minded voyage of discovery about new evidence in science and did considerable damage.
ADD ON: The Sun, Baltimore on Saturday June 5, 1993 reported that a US Federal jury ruled that the "Amazing Randi", a magician, defamed a Finksburg scientist by calling him a child molester and caused him to suffer humiliation, mental anguish, suffering and damage to his reputation because of the false statements.
"The scientist's lawyers sought to discredit Mr Randi by playing taped conversations of teen-age boys who called the magician's home allegedly for sex." A copy of that tape is part of the court record. [ Byrd v Randi (Civil Action No. MJG-89-636 in the United States District for the Court for the District of Maryland.] Transcripts of the tape are also part of the court record in Geller v Randi, (Civil Action No 91-1014-SSH in the United States District Court for the District of Columbia. The transcripts are contained in Exhibit 40 to Exhibit U]. James Randi claimed that this tape sought to "blackmail" him.