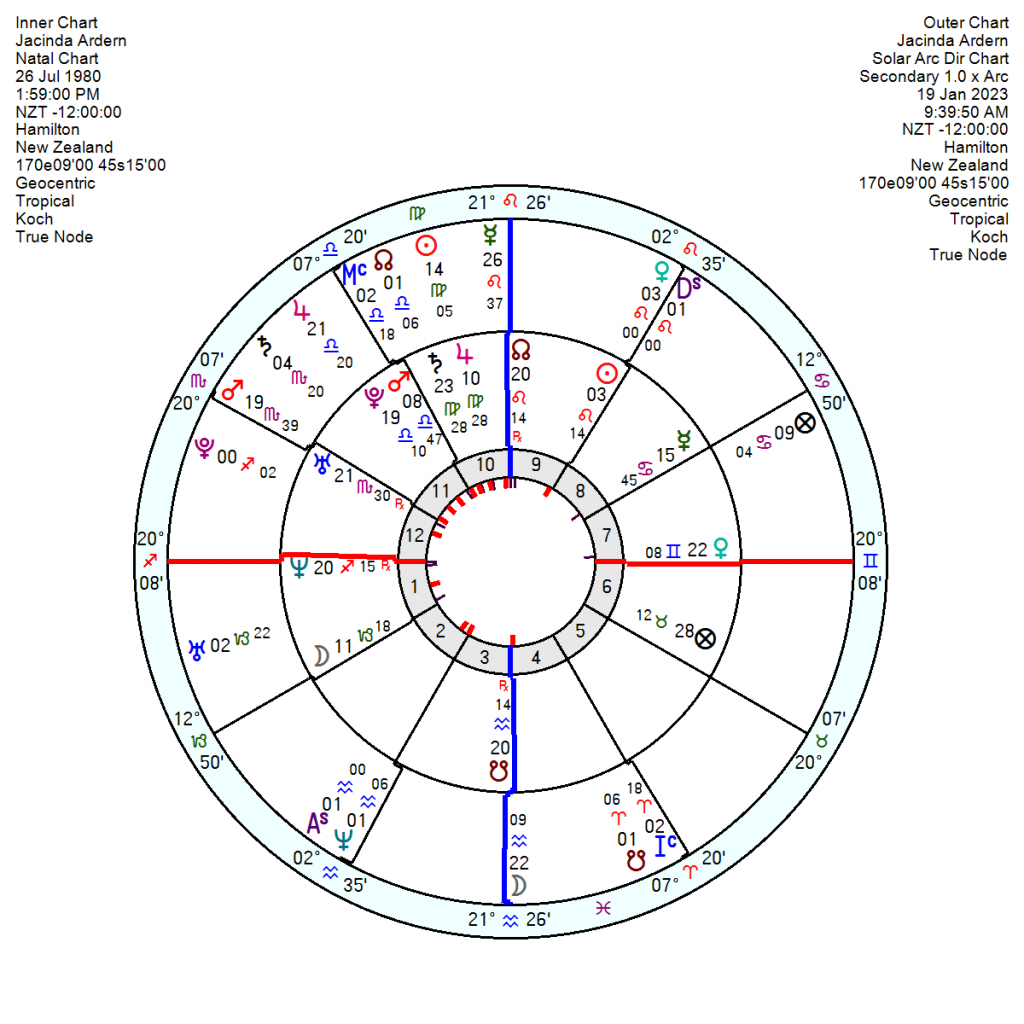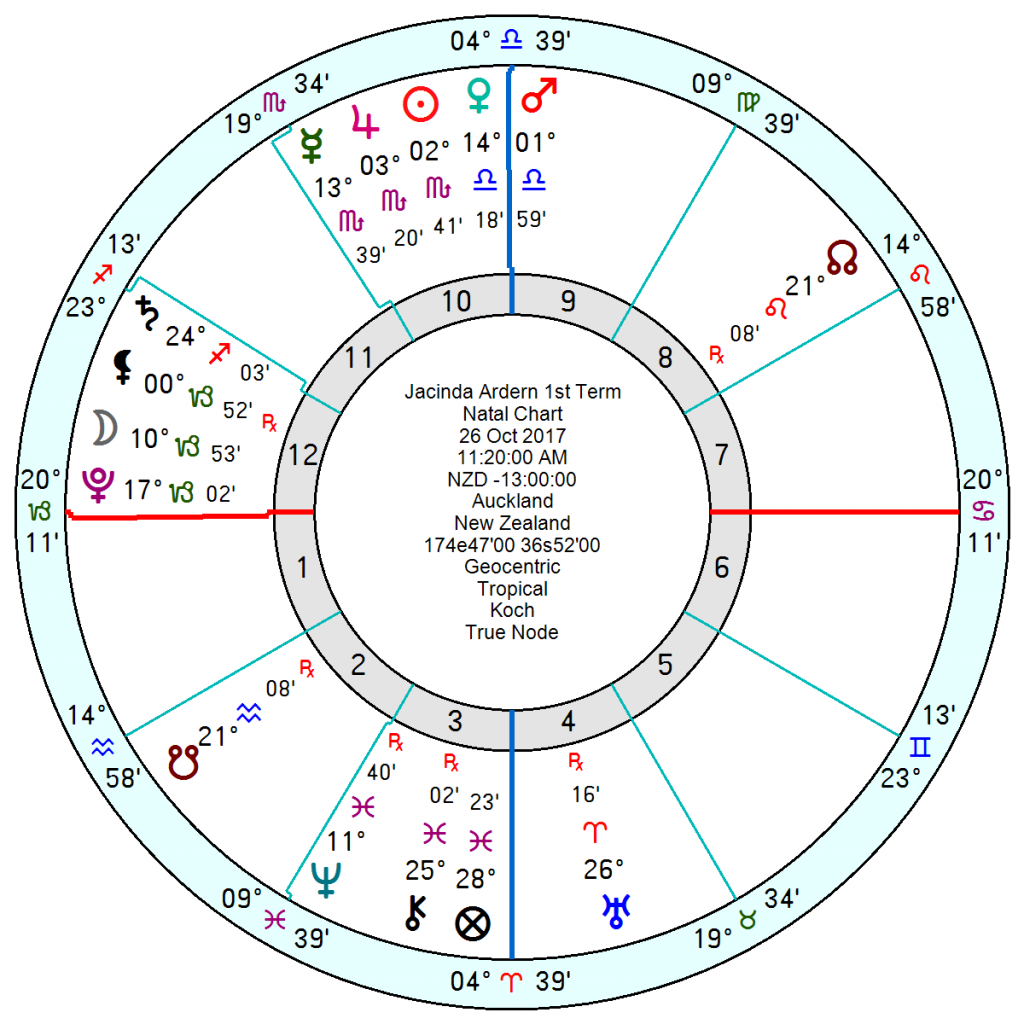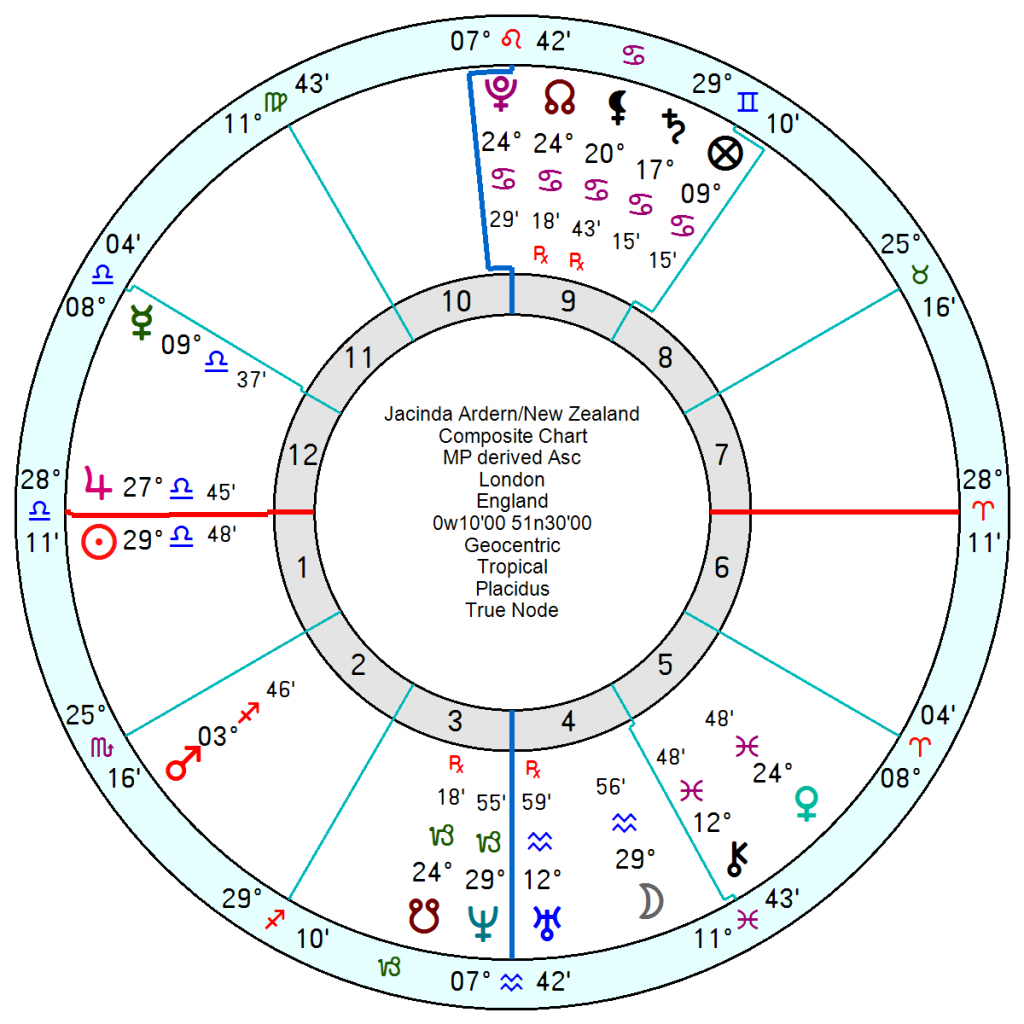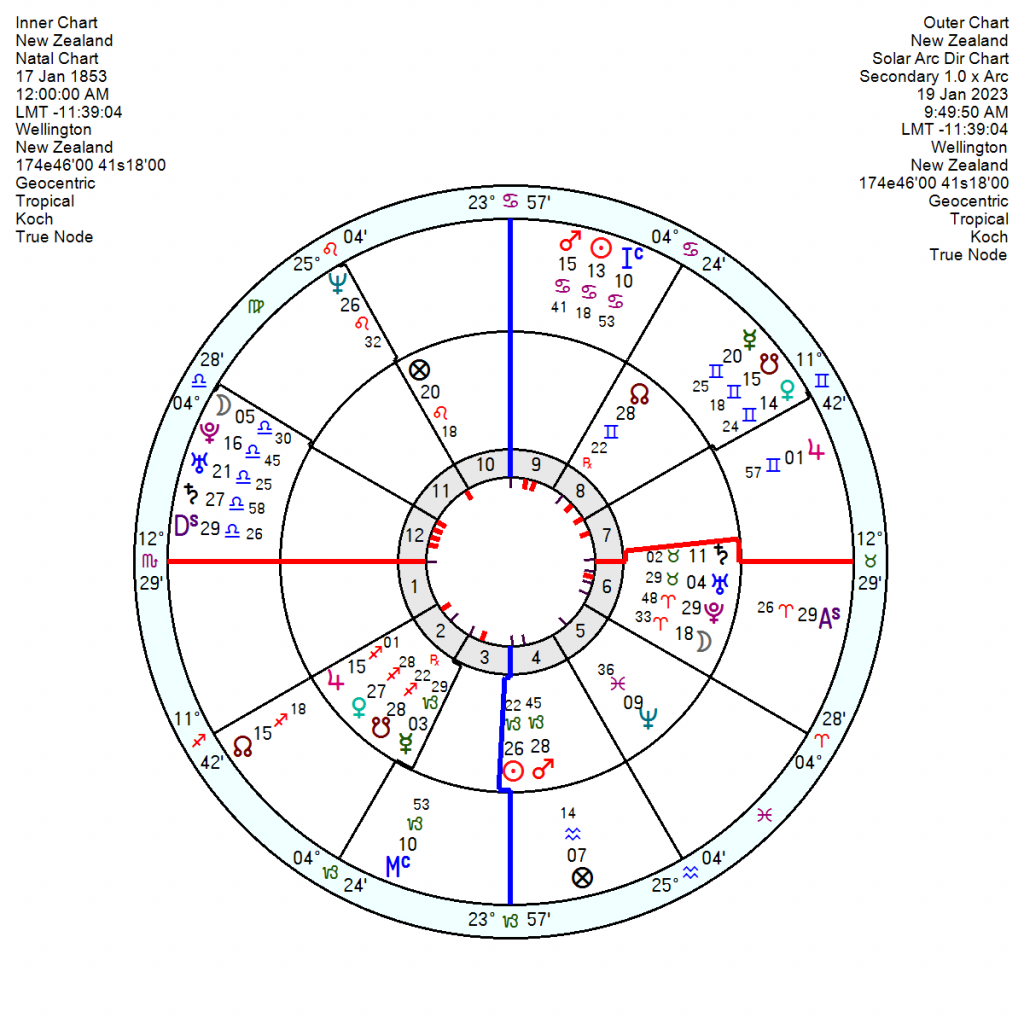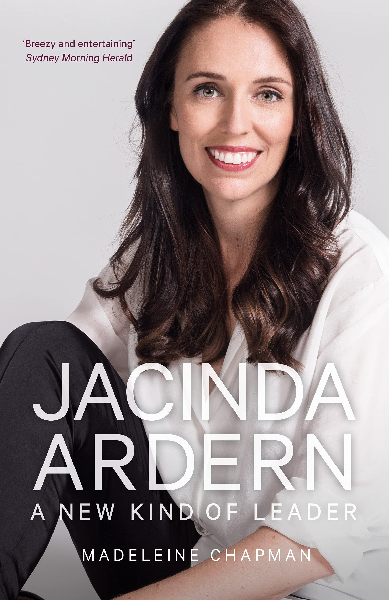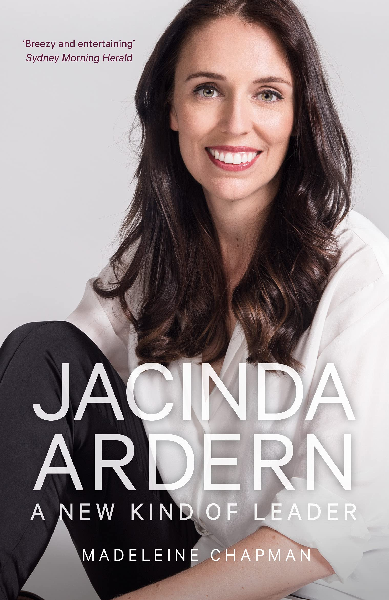 Jacinda Ardern, New Zealand's prime minister since 2017, once revered as a progressive and a breed apart, a counter to populist, reactionary politics of Trump, Brexit, Boris et al, is to step down saying she has run out of steam. In recent times she has been increasingly criticised for her hard-line Covid policies as New Zealand grapples with a cost of living crisis, a sharp rise in interest rates, lower house prices and a rise in crime.
She was born 26 July 1980 in Hamilton, New Zealand with a rectified birth time of 1.59 pm. Her father was a police officer and she was raised in the Mormon faith. She has an entertaining and knowledgeable Sun Leo with a hard-working Capricorn Moon. Her Saturn in conscientious Virgo is on the focal point of a T square to a Venus opposition Neptune, so she will have had a tendency to over work and over worry – Saturn square Neptune also suggests a hope for a fairer society. But she's also go-ahead and assertive with her Moon opposition Mercury square Mars and Pluto so has a steely backbone.
Tr Saturn on this birth time is now moving across her IC into her 4th house which makes sense of a change in her career and house move. She'll also have been undermined and racked with uncertainty as tr Neptune opposed her Saturn through last year and as she exits. She's unlikely to disappear into domestic retreat though the next two years look edgy.
  Her First Term 26 October 2017 chart with a Sun Jupiter conjunction was confident and lucky – though it indicates her departure with tr Pluto square the Uranus through till late 2022 when she made her decision. Her Second Term, 6 November 2020, was beset with difficulties from Saturn Pluto but if anything was a touch overly confident in laying down draconian Covid policies with a Jupiter, Pluto, Saturn conjunction.
Her connection with New Zealand is a powerful one with their relationship chart having Pluto opposition Neptune square Sun Jupiter – and she did propel New Zealand onto the world stage but Jupiter Pluto relationships do have a habit of going wrong down the road.
  New Zealand is moving through one of the more difficult periods in its history with tr Pluto moving across the massively frustrating conjunction to its Capricorn Sun Mars from 2021 till late 2023; with the additional setback of Solar Arc Saturn square the Mars through 2023 and further compounded by a challenging tr Pluto square Pluto in 2023/24. Tr Neptune is also in an undermining square to the financial Venus through this year. With further hurdles to overcome as tr Pluto is in a destabilising square to the NZ Uranus in 2026 and then square the NZ Saturn. Into the 2030s New Zealand will be a transformed country though the process of getting there won't be easy.